| | |
| --- | --- |
| Blackhawks reportedly linked to Jack Eichel | |
---
| | |
| --- | --- |
| Monday, June 21, 2021, 9:30 PM | |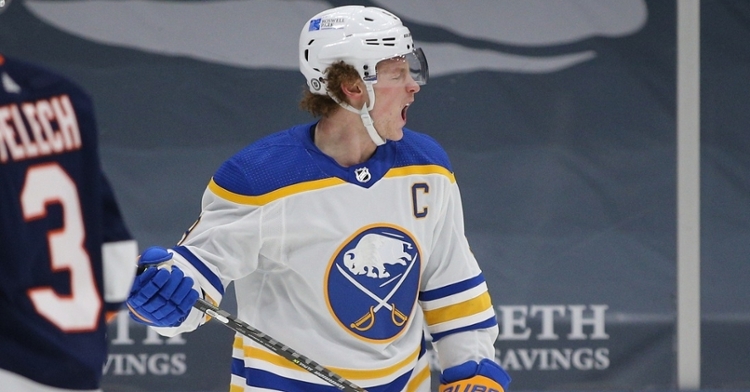 There wasn't much that went right for the Chicago Blackhawks this season as they finished sixth in the Central Division and missed the postseason by eight points. Considering where the team was early in the season, and you could call that a disappointment as they at one time were leading their division and looking like a team that could make some noise.
As the losses started to pile up, the season quickly became a developmental type of year for the young players, and they answered the bell. Guys like Alex DeBrincat, Pius Suter, Mattias Janmark, and Kevin Lankinen are just some of a long list of young stars that made their presence felt this season and give Blackhawks fans hope for a bright future.
Chicago still has Patrick Kane on the roster and Duncan Keith, but this team is starting to get younger, and those former faces of the franchise won't be the face much longer. With that in mind, the Blackhawks are already planning for their future and the possibility of bringing in someone who would not only be the face of the franchise this season but hopefully for many seasons.
After the Buffalo Sabres announced they plan to trade Jack Eichel this offseason, the Blackhawks have joined in on the conversation as they are reportedly interested in making this deal happen. This isn't the first report of the Blackhawks being interested in improving their team as they also appear to be monitoring the Dougie Hamilton and Seth Jones markets. On the other hand, Eichel is a franchise-altering move that the Blackhawks could make happen with their young talent pool.
The former second overall pick of the Sabres is just 24 years old but has already emerged as one of the young faces of the NHL. Throughout his brief NHL career, Eichel has plenty of experience playing in 375 games and a total of 355 points in those games. Eichel has also tallied 139 goals proving how lethal of a scorer he is when on the ice. Those numbers would look even better had a neck injury that limited him to just 21 games didn't happen this season. Still, Eichel tallied 18 points in those games, but a career-low two goals took away what he accomplished.
While injuries are part of the game, Eichel appears fed up with the Buffalo organization, and the injury is just one of the many reasons he wants out of Buffalo. Eichel will be not only rehabbing a neck injury, but he will be doing so coming off a COVID shortened season that was even shorter for him. In addition, he will be entering year four of an eight-year 80-million-dollar deal, so whoever can land him will be getting a great player for years to come.
Neck injuries are always severe injuries to deal with, and there is no way of knowing how a player will recover from them. However, should he get back to normal or as close to normal as possible, someone will be getting a top 20 player who has yet to enter his prime. That means the back end of this eight-year deal could bring the best hockey he has played, which would do wonders for this changing Blackhawks offense.
In terms of doing business to acquire Eichel's services, Buffalo will ask for a lot, and it won't come cheap or easy. Not only will the Sabres be looking for multiple first-round picks, but expect them to look at getting some highly regarded prospects also. The Blackhawks have the room and assets to make a deal like this happen, but there will be many moving parts if it comes full circle.
With any trade comes lots of challenges to make the deal happen. However, a deal like this will bring on more challenges than this organization has faced in the past, especially when you look at the young talent they have. This is a rebuilding team right now, but adding Eichel instantly speeds up that rebuild and could make them a playoff contender by next season.
The problem becomes, at what cost do the Blackhawks make this deal. Of course, they have the prospects to trade away, but several young players are on the NHL roster right now, so Stan Bowman may be hesitant to break up the progress his team made this season. However, Eichel is a once-in-a-decade trade candidate that you have to make a run for if you can. This is certainly a story to follow as the NHL offseason goes on, and should the Blackhawks be interested, let's see the package they put together.