| | |
| --- | --- |
| Takeaways from Chicago Fire loss to FC Cincinnati | |
---
| | |
| --- | --- |
| Thursday, June 24, 2021, 11:27 AM | |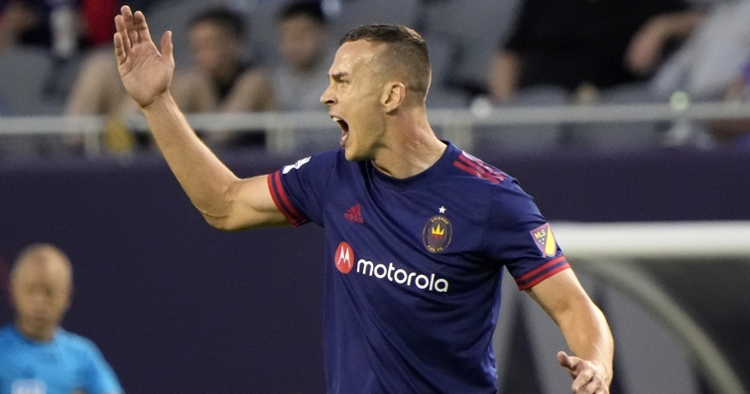 It is tough being a Chicago Fire fan right now. This team has played nine games this season and is sitting at 1-1-7 on the season. To make matters worse, they have scored a total of four goals in those nine games, with Luka Stojanovic credited with three and Robert Beric grabbing the other one. They have gone three consecutive games and five of their last six without scoring a goal as they lost yet again last night 1-0 at home against FC Cincinnati.
A team that many thought was the worst team in the league, the Chicago Fire proved they are the worst team in the MLS as they let Cincinnati come into their building and put them away. After a scoreless first half that saw Cincinnati own a slight edge in overall possession, the action began to pick up in the second half as both sides looked for the game's first goal.
Just five minutes into the second half, you had the Fire getting a bit too aggressive as Cincinnati was awarded a free kick outside the penalty area. 20-year-old Alvaro Barreal took the kick and put it past Firekeeper Bobby Shuttleworth for the 1-0 lead. That was the lone blemish on what was a solid night in goal for Shuttleworth as he finished the game with a career-high 11 saves.
Following that goal, Fire Head Coach Raphael Wicky made a trio of substitutions in hopes of delivering a spark to the sluggish side. That seemed to open things up for Beric and Stojanovic as they started to get some looks at Kenneth Vermeer in goal, only to have some of their attempts blocked by the defense. Chicago continued to have chances throughout the second half, but the Cincinnati defense was up to the task keeping them scoreless.
It was in the 90th minute when it looked as if the Fire drew even off a Beric header. However, upon further review, the replay indicated that Beric was offsides wiping away the goal and handing FC Cincinnati the 1-0 win. It was the second time in three games that the Fire had a late game-tying goal overturned for offsides as they continue to struggle to win games. Vermeer made two saves to post his first career shutout as the Fire couldn't get much going yet again.
It's time for Wicky to go
When the Chicago Fire elected to hire Raphael Wicky as their head coach, many mixed reviews came with it. Wicky was a former player turned coach who had some success on the European circuit, but how would he handle an MLS job.
After showing some promise last season, I think it is safe to say we have our answer about how he will handle an MLS job as Wicky needs to go. Not only has the team struggled to win games, but they have scored just four goals in now nine games. That is inexcusable at the professional level, and something needs to change.
Not only have the tactics been so far off, but his lineup changes are not helping this team as certain players on the bench should be starting and vise versa. His indecisiveness on the lineups and the inability for the team to create chances off his tactical formations are not working. The team has fallen into last place because of it, and they would be better off finding someone who can work with this group because the talent is there.
CJ Sapong and Nemanja Nikolic should never have been released
Speaking of offense, the Fire's offense has been nonexistent, with only Beric and Stojanovic earning goals this season. That comes as a huge shocker, especially when you look at a lot of the progress this team made last season. However, a big reason for their struggles has been the moves the front office has made, as they have gotten rid of two primary scorers in the past two seasons.
After finishing second on the team with nine goals last season, Sapong was not given a new contract and thus hit the free-agent market. The year before that saw Nikolic walk away after putting together an impressive run with the Fire. Not only did he bring home the Golden Boot with 24 goals in 2017, but he added 15 in 2018 and another 12 in 2019.
Sure, his production went down from year to year, but he still gave the Fire 51 goals across three seasons which comes out to 17 goals a season on average. His presence was missed last year even though Beric and Sapong picked up the slack, but both barely scored as many goals combined as he did on his own.
Can you imagine what this team would look like if Sapong and Nikolic would still be here or, at the very worst, one of those three to pair with Beric and Stojanovic? The offense would undoubtedly be a lot better, and this team would not be a last-place team. Unfortunately, these are just two moves the front office whiffed on, and now they are suffering the consequences.
Time to enter tank mode
The one thing I can't stand in professional sports is when a team tanks to earn a better draft pick. If you are going to do that, wait until the final week or two or the season when you have nothing to play for. In the Chicago Fire's case, I would honestly be ok with them tanking now as this team needs a franchise player in next year's draft.
While Beric and Stojanovic will most likely be off-limits as they have been the entire offensive force this season, no one else on this team should be safe. Guys like Przemyslaw Frankowski, Mauricio Pineda, Alvaro Medran, and Ignacio Aliseda are all critical pieces for this Fireteam, but their talent is being wasted here. They deserve to go elsewhere to have a chance to shine, and the Fire would net a good return in the process.
Even Shuttleworth, who is having a fantastic year statistics wise deserves to be a winner as he can't continue to perform the way he has with no support. What was looking like a promising year with so many rising stars on this team has turned into a disaster. This organization has no one to blame but themselves for putting them in this position.