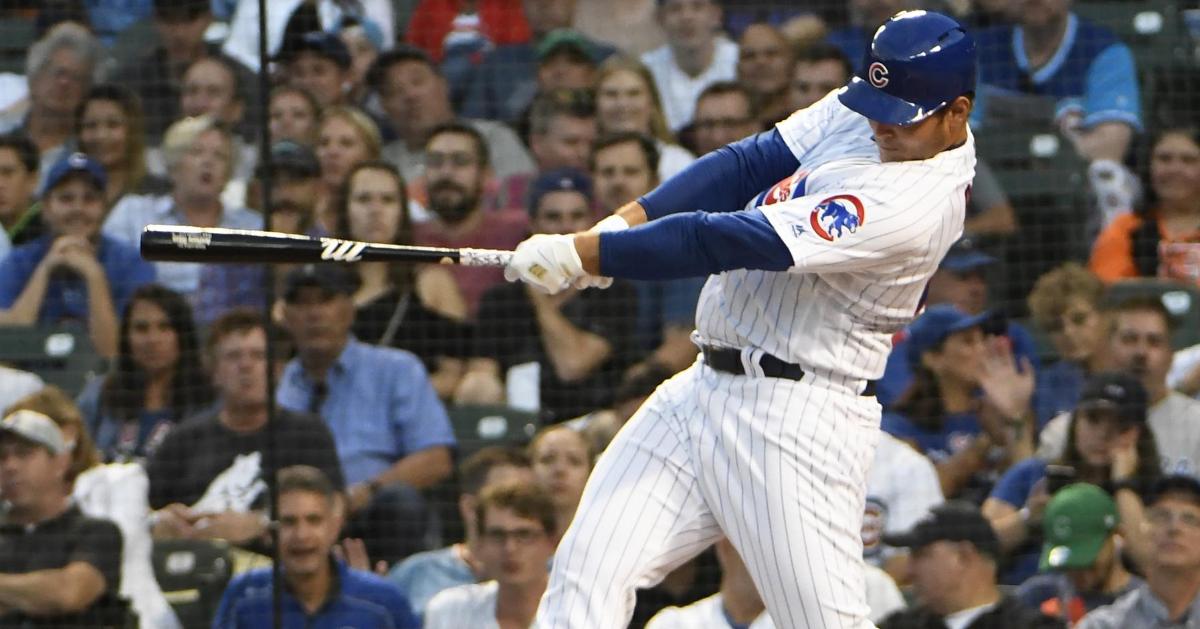 | | |
| --- | --- |
| 2019 Report Card Grades: Anthony Rizzo | |
---
| | | |
| --- | --- | --- |
| Tuesday, October 8, 2019, 8:39 AM | | |
The Chicago Cubs have been fortunate to have their share of great first basemen since the beginning of the 1990s. From Mark Grace to Derek Lee and now Anthony Rizzo, first base production has never been a problem as that has been a position the Cubs have filled quite well over the years.
This season was no different as Rizzo put together another solid season despite some of his numbers not reaching his career average levels. Coming into the season, Rizzo was a career .276 hitter who averaged 29 hrs and 105 RBI's per season. After having a couple of consecutive 30 homer 100 RBI seasons, the Cubs were hoping that type of production would once again help them stabilize the middle of the lineup in 2019.
Whether it was a lingering back issue early in the season or just some tough luck, Rizzo never seemed to get into his normal groove at the plate as the Powers numbers took a considerable dip mid-season. Once those numbers started to return, Rizzo was once again bothered by a bad back before an ankle injury put the rest of his season in jeopardy come September. However, Rizzo pushed through like the team leader he is and finished with still a great season.
Rizzo played in 146 games this season, which was his fewest since 2012 when he was called up midseason. It was also the first time since that year in which Rizzo failed to reach the 150-game mark. Rizzo did, however, deliver when he was in the lineup finishing the season with a career-best .293 batting average.
His 71 walks and 86 strikeouts are also a reminder that just because he is a slugger, doesn't mean he doesn't show great discipline at the plate.
The most alarming part of his season this year was his lack of overall power numbers. For the second straight year, Rizzo hit fewer than 30 homers as he finished off the year with 26. His 94 RBI's was also his lowest total since 2014, ending a streak of four consecutive 100 RBI seasons. The thing that stood out most about his season this year was when his power numbers were not there, and it took forever to bring them back.
At one point during the season, Rizzo went over a month without hitting a home run. That is unheard of for a guy with that much power, which caused some concern for Cubs fans. Despite not hitting homers, it wasn't as if Rizzo was struggling to get on base as he continued to take walks and had his average over .300 from June 1 through the end of the season. That is something he will look to build on for 2020 while also hoping to bring back his elusive power.
Season Grade A -: If I was basing this grade solely off his numbers alone, Rizzo would only get a B. However, there is more this grade than that. Not only has Rizzo been as consistent as any Cub hitter at the plate, but his defense at First continues to have him in the gold glove conversation every season.
Not to mention the way he established himself as a leader the final two weeks of the season.
After suffering that gruesome ankle injury, no one would have been surprised to see Rizzo on the shelf for the rest of the year. With his team fading in the standings, Rizzo put his team first and played through a painful sprain for nearly ten games until the Cubs were finally eliminated. Once that day came, Rizzo sat out the final three games, but he established himself as the unquestioned leader of the team. That is something the Cubs lacked all season, but it also gives Rizzo a better grade in the process.