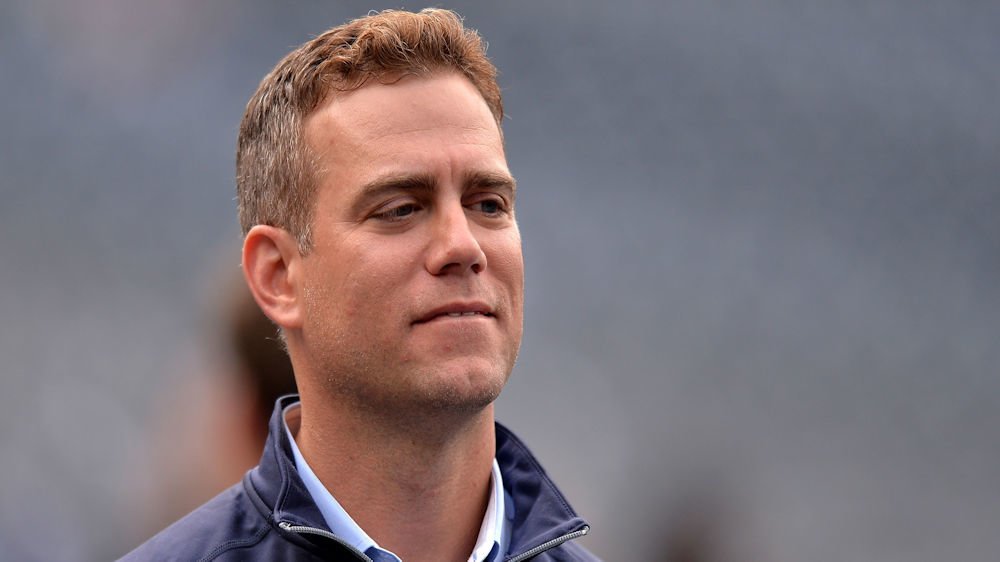 | | |
| --- | --- |
| A look at the Cubs' Hot Stove direction | |
---
| | | |
| --- | --- | --- |
| Wednesday, November 6, 2019, 8:30 AM | | |
Last year, Theo Epstein vowed that the Cubs would "value production over talent," an expression that was taken 100 different ways by as many people; to me, it translated to "play or be gone; and I don't give a damn what your last name is, or much talent you allegedly possess." Who did the Cubs lose last winter? Well, no big names other than Jess Chavez, Daniel Murphy, and Tommy La Stella, with only La Stella being traded.
This year, Epstein's end of the year press conference carried a similar message, but there seemed to be more sincerity this time, that is to say, that maybe this time he meant it.
The Cubs started post-2019 with a bang, announcing Joe Maddon's release before the season ever ended, then, just a few weeks later, naming David Ross as his successor – a move that still has some of the staunchest Joe Girardi supporters reeling. That alone should have served as a wakeup call to some in the clubhouse while constituting a cold slap in the face to others. I think that maybe Theo really does mean business this time around.
It's still early in the Hot Stove season, but in addition to Ross' hiring, the Cubs have already endured a lot of changes in the landscape. Free agency has recently claimed Cole Hamels, Ben Zobrist, Nicholas Castellanos, Pedro Strop, Steve Cishek, Brandon Kintzler, and Jonathan Lucroy from the 25-man roster. Then the Cubs decided that Brandon Morrow, Derek Holland, David Phelps, Kendall Graveman, and Tony Barnette had consumed enough payroll space. No qualifying offer was made to Cole Hamels, nor did Ben Zobrist – one of the most beloved Cubs ever – receive one. We may be seeing the winds of change; that list alone encompasses over 25% of the 40-man roster and damn near half of the 25-man.
Not that the Cubs could have kept every free agent or exercised every team option – they never do – and, quite frankly, more than a few on that list needed to go. There's still hope for reunions with Kintzler, Castellanos, and maybe even Zobrist, but I think realistically, Zo either goes to play for Maddon in Anaheim, or he retires. As for anyone on the rest of the list reuniting with Chicago? Not so much.
As fans, we feel as though we've come to "know" these guys. We see them daily. We watch their ups and their downs, we root for their success, and we're seldom happy to see players as vibrant as Strop, or as grounded as Zo leave the team; but change happens. What we've seen so far this offseason has been a series of no-brainers, but the hard decisions are yet to come.
On the up-side, Theo and the Cubs have exercised team options on both Jose Quintana and Anthony Rizzo, but that doesn't even scratch the surface of what needs to be accomplished this season. None of the position players (other than Rizzo) have had deals inked for the next year, and arbitration awaits others. Trades will occur, and the only names left on the 25-man roster are guys that at least some won't want to part with.
Not even Q is really safe, as the ever-changing whims of Theo (coupled with the constant needs of the team) could still result in Quintana's trade, but I don't think so; I believe Q is going to be a necessary and productive anchor in the lower portion of the rotation. Meanwhile, the names Kris Bryant, Willson Contreras (and allegedly) Javier Baez remain possible trade candidates. You wanted change … right?
The meat and potatoes of this winter is going to be getting the bullpen back in order while inking Javier Baez to a long-term extension. The void left by Hamels could (and should) be filled by Tyler Chatwood or Alec Mills – and forget signing Gerrit Cole or Stephen Strasburg, as that's simply not in the budget this year. Release from your mind, any desire to land a super high-level reliever, although Will Harris could fit nicely as a setup man for what we hope and pray will be a reinvented Craig Kimbrel. Trades, combined with a trimmed payroll, should be able to adequately piece together a bullpen that is capable of protecting a lead, and I'd guarantee Theo already has targets in mind.
I was more than a little skeptical when MLB Trade Rumors projected Kyle Gibson (age 32; 2019: 4.84 ERA, 29 saves) and Will Harris (age 35; 2019: 1.50 ERA over 60.0 IP; 2.1 WAR) would be signing with Chicago, but an insider described them to me this way: Will Harris is a lockdown arm at the back end of the game. Kyle Gibson keeps the ball on the ground and can eat innings. Hmm. Harris sounds a bit like a replacement for Kintzler or Cishek, and Gibson could feasibly replace Chatty in the bullpen, should Ross do what I think and make Chatwood a starter.
With the options decided and free agency declarations out of the way, Theo and the Cubs will steam forward through the GM meetings (Scottsdale, AZ) from November 11th through November 14th. The next things on the agenda will be the deadline for adding Rule-5 players to the 40-man (November 20) and the non-tender deadline, which occurs on December 2nd.
If Theo can swing a trade for Addison Russell, now's the time, as the Cubs cannot (and most likely will not) tender Russell another deal. Russell showed a little promise when he arrived back in Chicago from his sabbatical in Des Moines, but he fell off the pace rather quickly, slashing just .237/.308/.391 in 82 games this past season. Once a fantastic defender, Russell racked up a total of six errors (five at short, one at second) in just 277 chances, bad enough for an error rate of 2.2%.
Then there's the whole Kris Bryant debacle. After accusing the Cubs of tampering with his service time (allegedly causing a one-year delay in free agency), Bryant's fate is now in the hands of an arbitrator, who isn't expected to rule on his grievance for at least a few months. If (rather, when) Bryant loses, the situation will likely become a distraction in the Cubs' clubhouse; if he somehow wins, he'll earn free agency in a year. The Cubs need to trade him to procure some help in other areas, but now nobody knows whether or not this is going to be his walk year – not suitable for prospective buyers.
If nothing else happens all winter, there's already been enough twists and turns (aka drama) to make one wonder how the Cubs will recoil from 2019, while progressing in 2020.
Stay tuned. This should get pretty interesting in the next 60 days.

Tags: Chicago Sports Baseball
,
Tommy La Stella
,
David Ross
,
Cole Hamels
,
Ben Zobrist
,
Pedro Strop
,
Steve Cishek
,
Brandon Kintzler
,
Brandon Morrow
,
Kendall Graveman
,
Tony Barnette
,
Jose Quintana
,
Anthony Rizzo
,
,
Willson Contreras
,
,
Tyler Chatwood
,
,
Addison Russell
,
Joe Maddon
,
Theo Epstein