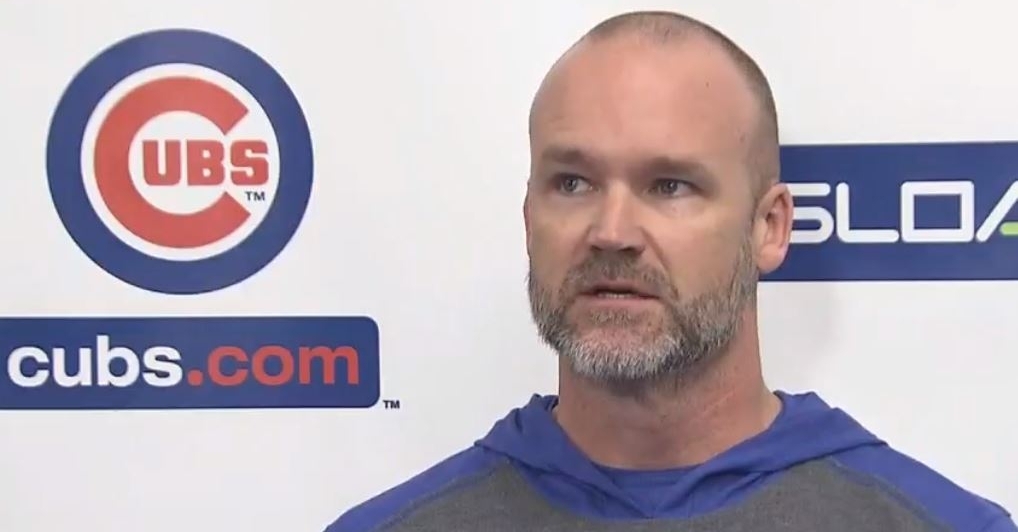 | | |
| --- | --- |
| Boss first, friend second: David Ross is just what the 2020 Cubs needed | |
---
| | | |
| --- | --- | --- |
| Tuesday, February 18, 2020, 1:30 PM | | |
Let's not kid ourselves here, the ending to Joe Maddon's tenure as manager was a somber one and led to a disappointing end to what was a tremendous five-year run. While a lot of fans don't think he should have been shown the door, the same number of fans thought it was time for a change as this organization seemed to become stale under his old school ways.
As the search for a new manager began, Joe Girardi appeared to be the hot candidate given his track record and ability to work with young and veteran players. However, David Ross was always lurking in the background. As the search dragged on, it was clear that it was his job to lose in Chicago before ultimately being awarded the managerial title.
While a lot of fans are on the fence about this decision and continue to wonder how a guy who played with a large chunk of these players will be able to manage them, some fans like this move and feel that this indeed was the right choice for the Cubs. Judging by the way the players are reacting to what they have seen from Ross as a manager thus far, not only are they backing him and ready to go, but it appears like Ross was indeed the very change that Cubs needed to get back to their World Series style of play.
A lot of what fans have seen in recent years came full circle when Javy Baez openly admitted that he wasn't as prepared for games as he should have been last season. It wasn't meant to be a direct shot at Maddon by any means, but when you hear that players were not prepared, that does indeed fall on the manager and how he goes about doing his daily job.
Maddon was an old school manager who had a particular way of doing things. He liked to have fun and wanted the players to have fun also. Maddon was also not one to call out players as often as he should, which is why the lingering sense of overall complacency in the clubhouse has lingered the past two seasons. It just never felt like anyone was being held accountable during their struggles as a team.
That is all about to change with a manager at the helm and one who has a reputation of being more of a traditionalist by his sense of structure and indeed someone important in this clubhouse three years ago. Knowing the way players respected and interacted with Ross when he was a member of the Cubs World Series run, it is not farfetched to say that maybe Ross is a better fit for the current Cubs situation than Maddon was.
This same phrase popped up when Maddon was hired back in 2015. At that time, he was the perfect fit for a young roster that needed that veteran manager in charge. Now with the team on the verge of going through a tenuous roster overhaul in the next few years, Ross is the right man for the job as he has been on his fair share of winning organizations and knows precisely what it takes to succeed long term.
Without anyone throwing Maddon under the bus, it appears that this roster is entirely on board with Ross and what he brings to this clubhouse. Kyle Hendricks, for example, put it like this.
"This is what needed to be done." Whether that is a direct shot to Maddon or not isn't clear, but that right there is an indication that players felt a move needed to be made sooner rather than later.
Hendricks also went on to say, "This is what we have been looking for, and what we needed. We need one unifying voice. We needed someone that is going to say what needs to be said and keep the accountability around here. It is as clear as day already that Ross is doing just that. I think that is why this group has so much excitement this early in camp. You would understand if you were in the room with us. You hear how he talks to us, and it is real. He is being the same guy he always has been, bringing that intensity he showed, the accountability, and it just fires guys up right away in the morning."
Make no mistake about it, Ross is going to go through his struggles in his first season, but the team will have his back and will help him through it. A lot of people don't give him enough credit and continue t no managerial experience and that he is friends with these players as their lone argument as to why he shouldn't oversee the Cubs.
While that is true in a sense, but how many of the most recent world series winning managers have had previous managerial experience. Granted, the 2017 and 2018 champions Houston and Boston are under investigation for some shady stuff, both A.J. Hinch and Alex Cora managed those teams to titles in their first managerial job. Add in Davy Martinez from the Nationals last season, and you have three first time managers as the past three world series champions.
Granted, those three had multiple years of experience apart from Cora, and the trend is an example that you don't need managerial experience to be a winning manager. Instead, you need to know the inside outs of the game of baseball, both from an analytics and playing standpoint. That is exactly what Ross brings to the table. He knows how the game should be played as he enjoyed a 17-year career, but also knows the analytics side of the game working for ESPN for three years before this.
Ross should have no issue adapting to the way the game is played now, which is something that Maddon often seemed to struggle with. The other misconception Ross has among some fans is that he won't be able to balance managing his friends with being buddy-buddy with them. I want to tell those fans that they couldn't be more wrong in that regard.
Yes, Ross is a fun-loving guy and has earned the nickname of Grandpa Rossy for a reason. However, and every player will tell you this. Fun and games aside, Ross was the one guy in the clubhouse that never shied away from calling people out when they needed to be held accountable for things. He did that as a player, often acting as a second manager, so make darn sure about it that he will continue to do that as the manager this season.
Like I said earlier, none of this is throwing any disrespect at Maddon, and I am almost positive Ross won't be able to duplicate what Maddon had done previously. Maddon was the perfect fit for the Cubs in 2015 and 16, and the results showed. Following 2017, we came to see that he was no longer the right fit for this franchise, and that was evident in the way the team played down the stretch the past two years.
With us seeing the same core group of players go through five years with Maddon and what the highs and lows looked like, it was easy for us to realize as hard as it will be, it was time for a change. I don't think it is reasonable to expect Ross to come in this season and win 95 games and lead them back to the World Series.
No first-year manager would be able to meet that kind of expectation. What I think we can expect this season is a much better fundamental team that will be more prepared and hold each other accountable for things that go wrong. I also believe that this roster, while they still have holes, is good enough to compete for a postseason berth this season, and those holes could be filled at the deadline.
What I want to urge to the fans who are still on the fence about Ross as manager. Don't expect the best season in his first year, but also don't expect the worst. Expect a team that plays with a high amount of accountability and respect for the game with a group of guys that will compete no matter what. Look for specific expectations to be put in place and expect consequences when those expectations are not met.
Boss first, friend second, Ross is just what the Cubs needed in 2020.