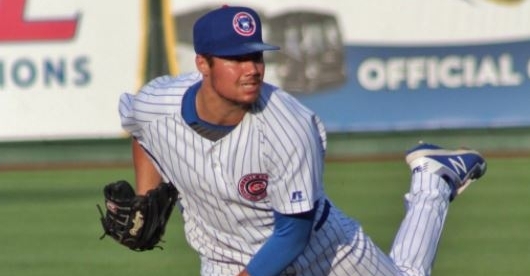 | | |
| --- | --- |
| Breakdown: Cubs 2020 Top 30 Prospects | |
---
| | | |
| --- | --- | --- |
| Monday, December 21, 2020, 1:49 PM | | |
We are getting to the end of 2020 and are set to turn the page for what will hopefully be a better 2021. Baseball is thinking the same thing as is every other sport, for that matter. After the year sports had in 2020, 2021 can't come soon enough as teams want to get back to normal or as close to normal as possible.
Baseball typically would be the first sport to start a near year, but with Hockey beginning in January this year, they will take over the first sport to be played in 2021. Still, baseball will take center stage come February, which could be a massive year for the Cubs farm system.
If you caught any of Jed Hoyer's recent press conferences, he came right out and said that this season could be the turning point for the team's farm. That means either good or bad; this is the year where fans could see what sort of future this team has beyond the MLB diamond. Baseball America has put out their organization's top 10 prospect list for 2021, and for the most part, this hasn't changed.
However, with no minor league season last year, several new names have been added to the Cubs top 30 prospect list as we transition into 2021. This will be a six-part series highlighting the Cubs current top 30 prospects as we transition into 2021. Once the new year hits, that list is likely to change. For now, here is what the future of the Cubs looks like.
30. Brendon Little (LHP): Remember way back when in 2017, when the Cubs planned to bulk up on organizational pitching. Little was supposed to be the first of those arms as the Cubs used both their first-round choices on college-level arms. Alex Lange was the other of the two arms taken and has since been traded, leaving Little as the one to watch.
Little has seen his stuff regress since embarking on pro ball, including a 5.05 ERA in 2019 across just 12 starts. What made him so intriguing was his ability to hit 96 on his heater mixed with an 83 MPH downward curve. However, since being drafted, his fastball is barely touching 93, and his curve doesn't have the movement it once did. He needs to be more aggressive, or he will be another classic case of a first-round bust.
29. DavidJohn Herz (LHP) A new name to the top 30 list is Southpaw DavidJohn Herz. One of the most electric prep arms in the 2019 class, Herz fell in the draft as teams thought it would be difficult to sign him. The cubs landed him in the eighth round and surprised a lot by signing him to a 500,00 contract. Since arriving at rookie ball in Arizona, Herz has impressed but lost his first full season due to COVID this year.
Since graduating high school, Herz has gained nearly five MPH on his heater. What was a 90-91 MPH heater is now 93-96, and there is a chance for more when he gets more physically sound. Herz features a low 80's slider with horizontal break and creates a lot of ugly swings along with that fastball. Still a work in progress, Herz hopes to develop a changeup to use in his first full season.
28. Alfonso Rivas (1B) In need of a replacement for Anthony Rizzo in the future, Rivas could be that option. A left-handed hitter, the Cubs loved him in high school, but the Oakland A's beat them to the punch in 2018. In his first full season, he started in Advanced-A before ending the year in AAA. The Cubs did their homework on him and traded away Tony Kemp in exchange for Rivas in January.
Not only does Rivas have a smooth left-handed swing, but a great feel and approach at the plate. He is a line-drive hitter to all fields and has quick hands to catch up to fastballs. Unlike Rizzo and most first baseman, Rivas doesn't have a ton of power and reminds me a lot of Mark Grace or someone who puts the ball in play without the power. It will be interesting to see if that power comes during the development process.
27. Jack Patterson (LHP): Unlike the Major league rotation, which currently has no lefties, the Cubs minor league system is loaded with left-handed starters. Jack Patterson is another one of them. A 32nd round selection in 2018, Patterson has made the biggest strides of any pitcher in that class and is inserting himself among the better arms in the system.
Looking back on his story, and amazing, he is even here as a line drive to the head forced him to miss all of 2015 and 16. Not only has he recovered, but he has turned into being quite a good pitcher posting an ERA under 2.00 in two seasons. Patterson features a solid sinker in the 92-93 range but can hit 95 on occasions. Watching him pitch in 2019, I saw a lot of 91-92 on the gun, but it didn't matter.
He has nearly a 3-1 grounder to fly out ratio, which comes in handy for hitter-friendly parks. Patterson pairs a 79-mph curve and an 85-mph cutter with that fastball, and when they blend, his high spin rate makes for easy outs. He is the Kyle Hendricks from the left side as no true elite pitch doesn't leave him with much margin for error. However, when he can locate, he is as tough as they come and could be knocking on the door come 2022.
26. Keegan Thompson (RHP): Taking in the third round of the 2017 draft, Keegan Thompson is waiting to break out as the Cubs have high hopes for him. In high school, Thompson won two gold medals before Tommy John surgery in 2016 forced him to fall to the third round. Fortunately, he was still available when the Cubs picked, and they snatched him up.
Thompson not only reached AA in his first full season but was off to a strong start in 2019 before spending most of that year on the IL with various injuries. He returned later that season in the Arizona Fall League and was one of the better pitchers in that league.
Thompson isn't going to wow you on the gun sitting around 92 at best, but his secondary pitches are what make him tough. Not only does he work off his slider, but his changeup also as those pitches rank among the best in the entire system. Both his slider and change are in the low 80's range, while his new curveball is touching 79.
Thompson, much like Patterson, does not overpower hitters, but he keeps them off balance by changing speeds effectively. That, along with the excellent command, will land him in the rotation at some point in time as the Cubs do have pitching help on the way.