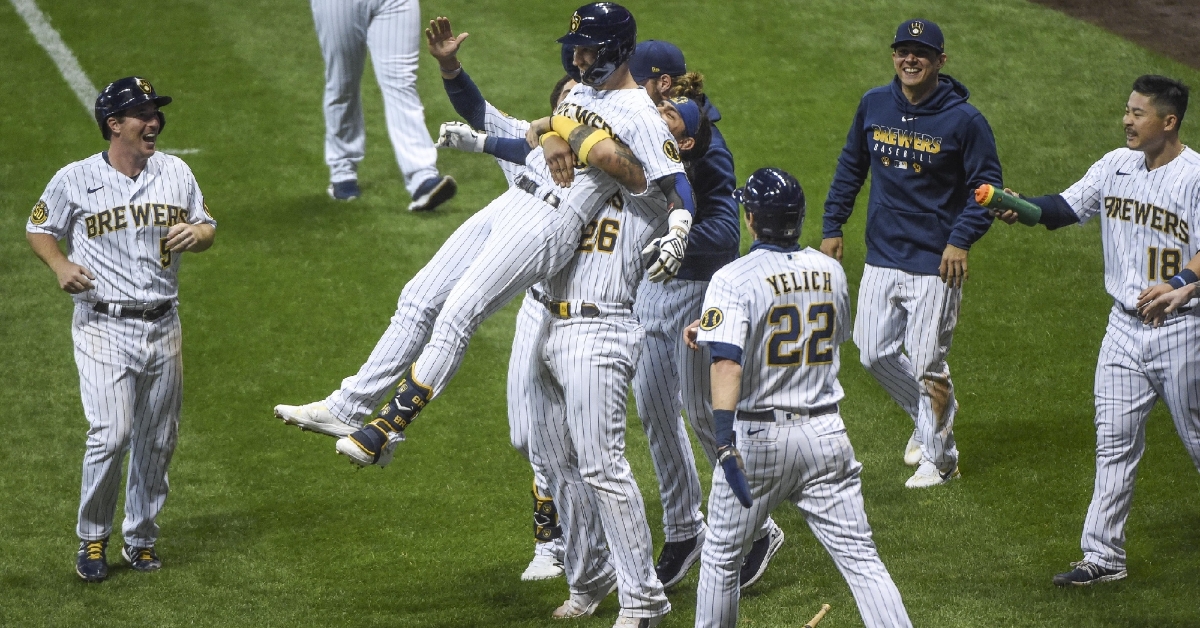 | | |
| --- | --- |
| Brewers win war of attrition versus Cubs in walkoff fashion | |
---
| | | |
| --- | --- | --- |
| Friday, September 11, 2020, 11:47 PM | | |
MILWAUKEE — Failing to score a run for the second time in three games, the Chicago Cubs (26-20) were shut out by the Milwaukee Brewers (20-22) in the opener of their three-game series at Miller Park on Friday. For what it is worth, the Brewers were shut out for eight innings at the plate before scoring with the winning run in the bottom of the ninth.
A pitching duel made for an old-fashioned duel, as the Cubs' Jon Lester, and the Brewers' Brandon Woodruff struck out 20 combined batters in their starts. The Cubs mustered just two hits and ultimately fell to the Brewers on a sacrifice fly that plated the winning run in 1-0 affair. Needless to say, Chicago also failed to homer on the night, making it five straight games that the North Siders have not gone yard.
---
Inning-by-Inning Breakdown:
---
T1: Woodruff went 1-2-3 his first time out, which was a theme of his seven-inning outing.
Score: Cubs 0, Brewers 0
---
B1: Jon Lester pitched six innings off three-hit ball. Surprisingly, Milwaukee's very first batter tabbed a hit off Lester, as Avisail Garcia smacked a leadoff single. Lester struck the next two batters out before Jedd Gyorko reached on a fielding error made possible by his grounder rolling through David Bote's legs at second base. Garcia reached third base because of the error. With runners on the corners, Lester escaped the inning by striking out Ryan Braun.
Score: Cubs 0, Brewers 0
---
T2: Willson Contreras was hit by a pitch to begin the second. With two away, the Brewers committed a fielding error of their own, as Luis Urias misplayed a Jason Heyward grounder. Just like Lester, Woodruff got out of the jam with runners on the corners by recording an inning-ending strikeout. Victor Caratini whiffed at strike three to leave Contreras and Heyward stranded.
Score: Cubs 0, Brewers 0
---
B2: The Brew Crew went down in order.
Score: Cubs 0, Brewers 0
---
T3: Two groundouts and one strikeout made up an uneventful top of the third.
Score: Cubs 0, Brewers 0
---
B3: Garcia walked with one out and stole second with two outs. Lester fanned Yelich to prevent Garcia from scoring.
Score: Cubs 0, Brewers 0
---
T4: Chicago failed to reach base.
Score: Cubs 0, Brewers 0
---
B4: Orlando Arcia's two-out double was followed by Urias striking out.
Score: Cubs 0, Brewers 0
---
T5: Woodruff plunked Caratini with two outs but struck Nico Hoerner out looking after that.
Score: Cubs 0, Brewers 0
---
B5: Tyrone Taylor drew a leadoff walk and reached third on a base hit by Garcia. Garcia tried for his second steal but was gunned down from behind the plate by Contreras for the second out of the inning. Lester struck out Keston Hiura to leave Taylor deserted at third and was fired up as he walked off the mound.
Score: Cubs 0, Brewers 0
---
T6: Ian Happ hustled for leadoff infield single and made it to second on a fielder's choice. The Cubs remained scoreless, though.
Score: Cubs 0, Brewers 0
---
B6: Lester went three up, three down in his final inning of work.
Score: Cubs 0, Brewers 0
---
T7: In his last inning on the bump, Woodruff struck out the side.
Score: Cubs 0, Brewers 0
---
B7: Craig Kimbrel pitched a scoreless seventh.
Score: Cubs 0, Brewers 0
---
T8: Devin Williams gave up a two-out triple to Kris Bryant that clanged off the wall in right-center. He bounced back and got Anthony Rizzo to chase a low changeup for strike three in the ensuing at-bat.
Score: Cubs 0, Brewers 0
---
B8: Rowan Wick kept the Brewers off the bases in the eighth.
Score: Cubs 0, Brewers 0
---
T9: Josh Hader continued his dominance of the Cubs with a 1-2-3 ninth. Contreras struck out swinging for the first out and aired his frustration out by swinging at the dugout bench.
Score: Cubs 0, Brewers 0
---
B9: Wick walked Yelich to start the bottom of the ninth. Jedd Gyorko followed that with a single to right that enabled Yelich to reach third. Javy Baez, who was expected to get the entire night off, was then inserted into the game as the left fielder because of his arm strength, but the substitution was made moot when Ryan Braun skied a fly ball to deep right field. Former Brewer Jeremy Jeffress was called out of the bullpen to face Braun, whose sacrifice fly scored Yelich with ease. Heyward did not even attempt a throw from right because of how deep he was upon catching the flyout, and the Brewers won the war of attrition in walkoff fashion.
Wick was handed the loss, making him 0-1 overall, and Hader was credited with the win, becoming 1-1 overall. Neither team collected a hit with runners in scoring position, and the Cubs did not draw a single walk.
Final Score: Cubs 0, Brewers 1

Tags: Chicago Sports Baseball
,
Jon Lester
,
David Bote
,
Willson Contreras
,
Jason Heyward
,
Victor Caratini
,
,
Ian Happ
,
Craig Kimbrel
,
Kris Bryant
,
Anthony Rizzo
,
Rowan Wick
,
Javy Baez
,
Jeremy Jeffress
,
Kyle Hendricks
,
Brett Anderson