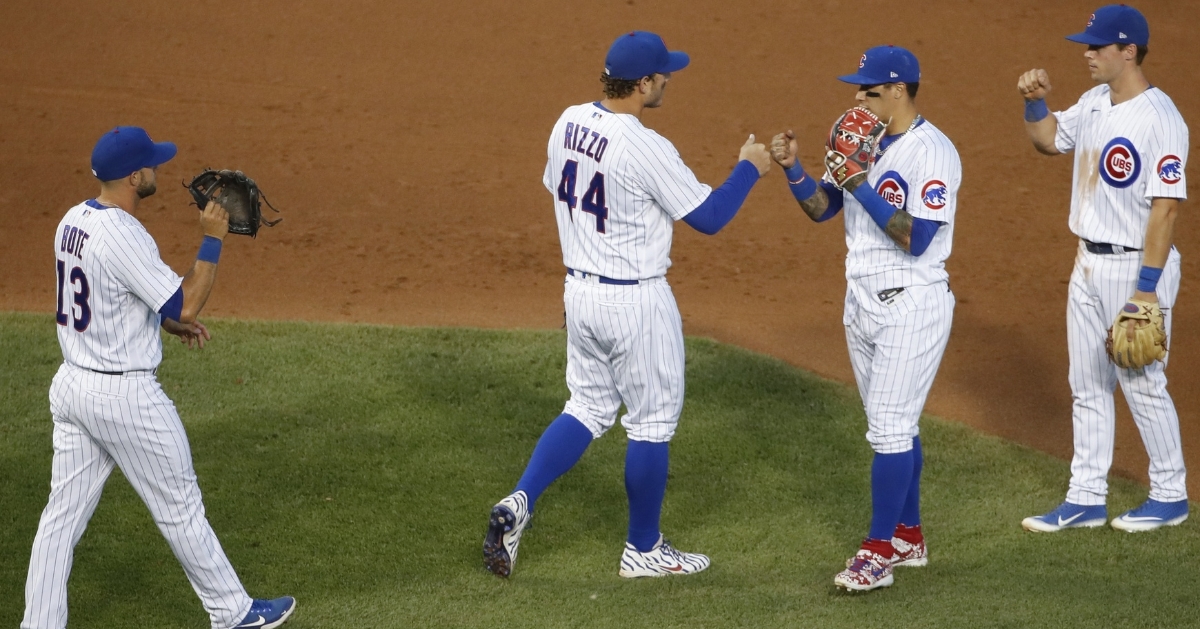 | | |
| --- | --- |
| Bye-bye, Birdies: Cubs finish off Cardinals series with 4-2 victory | |
---
| | | |
| --- | --- | --- |
| Wednesday, August 19, 2020, 9:25 PM | | |
CHICAGO — Coming up clutch for the second time in the five-game set, third baseman David Bote, who hit a critical three-run home run earlier in the series, recorded the winning hit for the Chicago Cubs (16-8) on Wednesday. In the second half of a doubleheader, Bote came through with a go-ahead two-run base knock in the final inning, and the Cubs downed the St. Louis Cardinals (6-7) by a final tally of 4-2.
The Cardinals won 9-3 in the early game at Wrigley Field on Wednesday, but the Cubs triumphed in the fifth and final matchup and took three of five from the Redbirds in the series. Since Wednesday evening's contest constituted a makeup game from a postponed series that the Cardinals were scheduled to host, the Cubs batted in the top half of each of the seven innings.
---
Inning-by-Inning Breakdown:
---
T1: Cardinals prospect Johan Ovideo started on the mound in his big league debut. He sat the Cubs down in order in the top of the first.
Score: Cubs 0, Cardinals 0
---
B1: Making his first start of the season, Adbert Alzolay toed the rubber for the Cubs and was solid in his five innings of work, striking out six and giving up just one run. He gave up a leadoff single out of the gate but worked a scoreless first.
Score: Cubs 0, Cardinals 0
---
T2: Oviedo walked Kyle Schwarber and Willson Contreras to start the second, and a wild pitch enabled them to advance to second and third. Victor Caratini then came through with a two-run base knock to center. Contreras slid in just ahead of the throw to the plate. Bote proceeded to ground into an inning-ending double play but redeemed himself later.
Score: Cubs 2, Cardinals 0
---
B2: Brad Miller drew a leadoff walk and took second on a wild pitch. Alzolay was able to keep the Cardinals off the scoreboard.
Score: Cubs 2, Cardinals 0
---
T3: Ian Happ laced a triple to left for his first three-bagger of the season. However, he was thrown out at home when attempting to score on a ground ball hit to second.
Score: Cubs 2, Cardinals 0
---
B3: Alzolay registered two strikeouts in a scoreless bottom of the third.
Score: Cubs 2, Cardinals 0
---
T4: Oviedo went three up, three down in the top of the fourth, despite narrowly avoiding getting hit in the face by a comebacker. Schwarber smoked a line drive directly at Oviedo, who was, thankfully, able to glove the baseball without getting drilled. Schwarber and members of the Cardinals' coaching staff checked on Oviedo to make sure he was all right before play continued.
Score: Cubs 2, Cardinals 0
---
B4: In the bottom half of the inning, Schwarber showed off his arm by gunning down Matt Carpenter at second. Carpenter nearly went yard, but his deep drive hit off the top of the left field wall. Schwarber fielded it and fired a perfect throw to Jason Kipnis, who applied the tag at second base.
Score: Cubs 2, Cardinals 0
---
T5: Oviedo, who was the lone Cardinals starter to pitch beyond the fourth inning in the series, kept the Cubs off the bases in the fifth.
Score: Cubs 2, Cardinals 0
---
B5: With a costly mistake that set up his redemption arc, Bote made an errant throw to Anthony Rizzo at first that allowed leadoff man Tyler O'Neill to reach base. As a result of the throw going out of play, O'Neill advanced to second. A groundout moved O'Neill to third, and he scored on a sacrifice fly off the bat of Andrew Knizner.
Score: Cubs 2, Cardinals 1
---
T6: Genesis Cabrera relieved Oviedo prior to the sixth frame and struck out two in a scoreless inning.
Score: Cubs 2, Cardinals 1
---
B6: Jeremy Jeffress relieved Alzolay and pitched the bottom half of the sixth. Jeffress issued a pair of walks and got taken for an RBI single by Miller, who had himself quite a series at the Friendly Confines. Miller's two-out base hit to left plated Dylan Carlson, tying the game at two runs apiece. O'Neill lined out in the next at-bat.
Score: Cubs 2, Cardinals 2
---
T7: Andrew Miller gave up back-to-back singles to start the seventh, as Schwarber and Contreras got on base. The speedy Albert Almora Jr. pinch ran for Schwarber. With one out, Nico Hoerner notched a single that loaded the bases, and Giovanny Gallegos then came out of the bullpen. On an 0-2 count, Bote smacked a Gallegos fastball into the outfield, scoring Almora and Contreras. Kipnis struck out to end the half-inning.
Score: Cubs 4, Cardinals 2
---
B7: Continuing with his recent string of bounce-back outings, Craig Kimbrel was solid as he closed out St. Louis in the bottom of the seventh. Kimbrel beaned Tommy Edman on the first pitch of his plate appearance but struck out the other three batters he faced.
Interestingly, the team that hit first went 4-1 in the five-game affair. Despite blowing a save opportunity, Jeffress tabbed the win to move to 2-1. Miller dropped to 0-1 with the loss, and Kimbrel finally recorded his first save of the season.
Final Score: Cubs 4, Cardinals 2
---
Statistical Breakdown:
Chicago Cubs: Batting: 4 R, 6 H, 1 3B, 4 RBI, 1 GIDP, 3-6 RISP, 2 LOB; Fielding: 1 E, 1 Assist; Pitching: 3 H, 2 R, 1 ER, 3 BB, 9 K, 0 HR, 1 HBP, 0 IBB, 1 WP
St. Louis Cardinals: Batting: 2 R, 3 H, 2 RBI, 1 2-Out RBI, 1 SF, 1-6 RISP, 5 LOB; Fielding: 0 E, 1 DP, 1 Assist; Pitching: 6 H, 4 R, 4 ER, 2 BB, 8 K, 0 HR, 0 HBP, 0 IBB, 0 WP
---
Studs of the Game:
Chicago Cubs: David Bote (3B): 1-3, 0 R, 2 RBI, 0 BB, 1 K, 1 GIDP, 1-1 RISP, 1 E
St. Louis Cardinals: Brad Miller (SS): 1-2, 0 R, 1 RBI, 1 BB, 0 K, 1 2-Out RBI, 1-1 RISP, 1 defensive assisted DP
---
Duds of the Game:
Chicago Cubs: Jason Heyward (RF): 0-3, 0 R, 0 RBI, 0 BB, 2 K, 0-2 RISP
St. Louis Cardinals: Andrew Miller (RP): 0.1 IP, 3 H, 2 R, 2 ER, 0 BB, 1 K, 0 HR, 0 HBP, 0 IBB, 0 WP
---
Up Next: Following an off day on Thursday, the Cubs will host the Chicago White Sox (15-11) in the first meeting of the season between the crosstown foes. The Friday, Aug. 21, opener of the three-game weekend series will likely be played under clear, hot conditions at Wrigley Field. In a battle of left-handers, the North Siders' Jon Lester (2-0, 2.74) and the South Siders' Dallas Keuchel (3-2, 3.07) will duel on the mound.
---
Highlights:

Tags: Chicago Sports Baseball
,
David Bote
,
Adbert Alzolay
,
Kyle Schwarber
,
Willson Contreras
,
Victor Caratini
,
Ian Happ
,
Anthony Rizzo
,
Jeremy Jeffress
,
Albert Almora
,
,
Craig Kimbrel
,
Jason Heyward