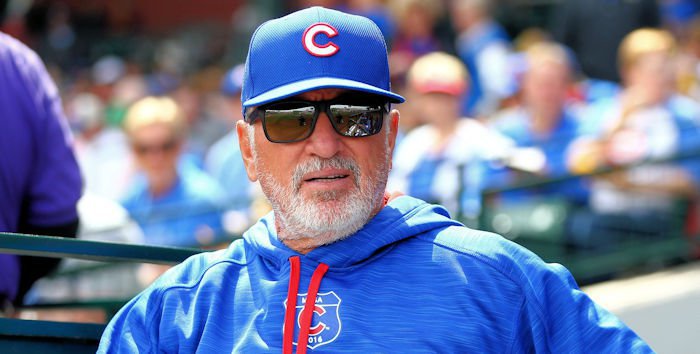 | | |
| --- | --- |
| Chicago Cubs 2016 roster -- Where are they now? (Part 4) | |
---
| | | |
| --- | --- | --- |
| Thursday, April 9, 2020, 6:15 PM | | |
It is no secret among Cubs fans that the 2016 Cubs were the best team in the history of the franchise. While a decent chunk of the core of that championship-winning team remains intact, as years go by, more and more players and coaches have gone their separate ways.
While many Cubs fans have spent their quarantined days by watching and reliving the magic of the 2016 Cubs, I assume some have begun to wonder what some of these players and coaches are doing now.
Here is an update on the 2016 Cubs coaching staff, right now, in 2020.
The Cubs, as of the 2020 season, have nearly made a complete turnover in their coaching staff from 2016. The only two coaches who remain are bullpen catcher Chad Noble and Catching Coach/ assistant pitching coach Mike Borzello. However, Borzello's role has increased slightly, and Craig Driver has been brought in to handle catcher coaching duties as well.
Joe Maddon — Manager
The most obvious of the bunch, Maddon has since been hired by the Los Angeles Angels of Anaheim and replaced by David Ross following the Cubs 'mutual' decision to let him walk after his five-season contract expired following the 2019 season.
When there is turnover at the top, there tends to be turnover below.
Dave Martinez — Bench coach
Martinez has been wildly successful since ending his career as his bench coach. He left after the 2017 season and has spent the last two seasons as manager of the Washington Nationals. He earned his first career World Series as a manager in 2019.
While he wasn't Martinez's direct replacement, the Cubs have a brand new bench coach in 2020 — that being former Padres manager Andy Green as David Ross' right-hand man.
Eric Hinske — Assistant hitting coach
After spending four years on the Cubs coaching staff from 2014-2017, Hinske moved on to an assistant hitting coaching gig with the Arizona Diamondbacks.
Termel Sledge is the Cubs' assistant hitting coach in 2020, which will be his second year with that title for the north siders.
John Mallee — Hitting coach
Mallee leaving the Cubs as hitting started a bit of a merry-go-round at that role in the Cubs' coaching staff. Mallee has since reunited with former manager Joe Maddon as an assistant-hitting coach on the Angels staff.
Hitting coach for the Chicago Cubs is now Anthony Iapoce, who will spend 2020 in his second year filling that role.
Henry Blanco — Quality Control Coach
After spending 2016 with the Cubs as quality insurance coach, Blanco joined former bench coach Davey Martinez in Washington as bullpen coach — where he earned another World Series ring.
The Cubs' quality assurance coach now is a man who was on the opposite side of the Cubs' game seven victory — former Indian Mike Napoli.
Chris Bosio — Pithing coach
Bosio spent six years as pitching coach of the Cubs and started 2018 with that same role but for a different team in the Detroit Tigers.
That position has since been filled by roster/front office favorite Tommy Hottovy who will enter his second season as pitching coach for the Chicago Cubs.
Lester Strode — Bullpen coach
Strode spent decades in the organization before being lifted off his bullpen coach duties following the 2019 season. However, the Cubs expressed their interest in keeping him in the organization in one capacity or another.
Chris Young will take the reins as bullpen coach for the Cubs in 2020 after spending 2019 as the Philadelphia Phillies' pitching coach.
Brandon Hyde — First-base coach
Hyde got promoted from first base coach to bench coach before leaving the Cubs to become manager of the struggling Baltimore Orioles.
Handling first base duties in 2020 for the Cubs is going to be Craig Driver — who, as mentioned above, will also serve as catching coach.
Gary Jones— Third base coach
After Jones moved on from the Cubs, Brian Butterfield took his place — but he will join the Angels on Maddon's staff. Jones is currently in the Phillies organization.
Will Venable will be in his third season with the Cubs in 2020. Despite getting multiple interviews for a managerial job, Venable will coach third base.
While most of the Cubs staff from the glorious 2016 run for the organization's first World Series title in over 108 years have since moved on to different jobs in baseball, their impact and contributions to the best team in Cubs history will never be forgotten.

Tags: Chicago Sports Baseball
,
David Ross
,
Joe Maddon
,
John Mallee
,
Eric Hinske
,
Chris Bosio
,
Brandon Hyde
,
Gary Jones
,
Lester Strode
,
Henry Blanco
,
Chad Noble
,
Mike Borzello
,
Tommy Hottovy
,
Anthony Iapoce
,
Will Venable
,
Brian Butterfield