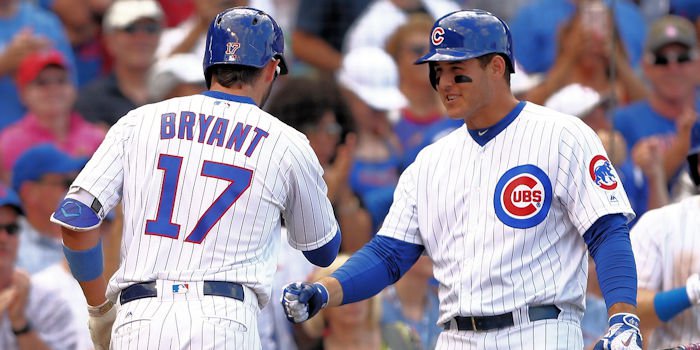 | | |
| --- | --- |
| Chicago Cubs 2020 Lineup Projections | |
---
| | | |
| --- | --- | --- |
| Thursday, February 20, 2020, 6:04 PM | | |
Projecting the Cubs lineup in past offseasons has been one of the most difficult things for media members as well as fans to do. Whether it be trying to predict who would be the team's leadoff hitter, who would play center field, where Joe Maddon would shift some of his stars or even whether or not guys like Kyle Schwarber or Ian Happ will be on the team are all questions needed some thought given to them in the past.
This offseason was no different until about 24 hours ago.
David Ross and the Cubs announced that the plan heading into the 2020 season will be to have 28-year old Kris Bryant be the team's leadoff man. This is a good baseball move, as Bryant is not only a power hitter, but also one of the best baserunners in the league and has some of the best on base skills in the MLB. But the move also adds some much needed clarity to the thought of the Cubs lineup, as Bryant in the one spot clears up a lot of the rest of the lineup.
With KB as the leadoff man, here's a look at what the 2020 projected lineup for the Cubs should be:
Kris Bryant 3B
Bryant is one of the best players in baseball, and having him at the top of the lineup adds an immediate battle to any pitcher's day. Bryant can hit them out onto Waveland with the best of them, but he can also leg out a chopper or go first to third better than most of the league. Having Bryant's tough at-bat at the beginning of the lineup is an excellent start for the Cubs.
Bryant's projections: 30 HR 79 RBI 98 RUNS .271/.369/.506
Anthony Rizzo may be the best statistical leadoff hitter of all-time, but he is also one of the best run producers in the MLB. Whether he is getting hit by a pitch, battling with two strikes or launching baseball's to the stands — Rizzo has been one of baseball's best and most consistent hitters. Stacking hm right behind Bryant to start off the game is a scaring thought for an opposing arm.
Rizzo's projections: 27 HR 101 RBI 82 RUNS .284/.388/.510
Javier Baez SS
He is ranked among MLB's best defenders, plus he is one of the most feared hitters in baseball. Javy adds a spark to the game on the base paths, in the field, at the plate and everywhere in between. Baez does not provide any relief for an opposing pitcher if they get through Bryzzo.
Baez's projections: 31 HR 97 RBI 87 RUNS .273/.312/.517
Kyle Schwarber LF
Schwarber broke out in 2019 with 38 home runs and over 90 RBIs. That type of power would play exceptionally well in the Cubs clean-up spot, especially with Bryant at leadoff. Schwarber will have plenty of run-producing opportunities and has protection with Baez in front of him and Contreras likely behind him. Schwarber is poised to continue his breakout with a consistent improvement on the defensive side.
Schwarber's projections: 32 HR 84 RBI 76 RUNS .245/.346/.509
Behind the plate, the Cubs have one of the best backstops in all of baseball. With a rocket of an arm, a powerful bat and the fact that he plays some of the highest energy baseball in the entire league, the Cubs are lucky to have such a good player in the five spot. Contreras has been working on his framing, which is his only knock as a player, and once he shores that up, Contreras becomes one of the most complete catchers in the game.
Contreras' projections: 19 HR 65 RBI 54 RBI .254/.342/.458
Before I continue, that top five could stack up with any team in the MLB.
This is where the lineup takes a bit of a drop-off. While Heyward has yet to live up to his monster contract truly, he is quietly coming off of one of the best years of his career, Cubs career specifically. His defense has never faltered, his base running is excellent, and he is trying to make it three consecutive above-average offensive seasons. Improvement from Heyward can only make this Cubs lineup better.
Heyward's projections: 14 HR 61 RBI 67 RUNS .253/.332/.403
Ian Happ CF
After spending the beginning of 2019 in the minor leagues, the back half of the season showed Happ make some vast strides to improvement, so much so that he earned NL Player of the Week honors in the final week of the season. Happ seems destined to continue that breakout in 2020, which could only add more depth to the Cubs' lineup.
Happ's projections: 23 HR 72 RBI 74 RUNS .245/.339/.446
Nico Hoerner 2B
While it is unknown whether Hoerner will be sent down to Iowa to start the season, it seems almost certain the keys to second base will be handed to Hoerner sooner rather than later. He plays above-average defense at all positions in the middle of the field and has a contact-oriented approach at the plate, which is what the Cubs have searched for. He is likely to play a majority of games this season with the major league squad, and if his skill translates as it did down the stretch in 2019, the Cubs' lineup will finish nicely.
Hoerner's projections: 8 HR 55 RBI 60 RUNS .270/.319/.395
Jason Kipnis 2B
It is my prediction that Jason Kipnis and Hoerner likely find themselves in a platoon righty-lefty situation once the season gets into form. Kipnis adds a veteran approach with some power but is primarily contact-oriented. Kipnis is excited to be back in his hometown on his hometown team, and if he can perform the way he has in his career - the Cubs will love the signing.
Kipnis' projections: 15 HR 65 RBI 57 RUNS .253/.320/.418
PITCHER
BENCH
David Bote- Is likely to be the top pinch hitter and most used utility man. Bote gives David Ross a solid right handed bat off the bench and a versatile plus defender at both second base and third base.
Albert Almora- Arguably the best defensive outfielder the Cubs have, Almora still has the potential to emerge into the everyday lineup. Happ seems to have the edge right now, but Almora will get his share of at-bats against lefties and innings in the field when the game matters most.
Victor Caratini- Caratini is the Cubs' backup catcher, but he is also one of the better catchers in the game — plus he has a bat that the Cubs want to get into lineups. Whether it be filling in at third or first, or behind the plate during Yu Darvish starts or when Willson Contreras needs a rest, Caratini provides a solid at-bat and a reliable fielder in any scenario.
Steven Souza Jr- Souza is coming off an injury-riddled campaign but has shown signs as being a competent fielder. The righty's spot is likely as a fifth outfielder, but one who will probably play a lot of corner outfield for Jason Heyward or Kyle Schwarber when there is a tough left-hander on the mound.
Daniel Descalso- Here's another middle infielder, but one who is coming off of one of the worst season's of his career. If Descalso can bring some of the spark and contact oriented approach back to his game, who knows how well he can fit on this roster… but as it stands his role is limited, if that.
IF
The Cubs could potentially carry another hitter with them. If they did it would likely be utility infielder Hernan Perez or third string catcher Josh Phegly — both veterans with a lot of experience. Robel Garcia falls just out of the mix on the major league roster along with Mark Zagunis, with potential prospects Zack Short and Miguel Amaya waiting in the wings.
The Cubs surprisingly have a deeper roster than you might imagine, and with KB adding some consistency to the top of the lineup — the rest of the pieces may just fall into place for the 2020 Cubs.

Tags: Chicago Sports Baseball
,
Kyle Schwarber
,
,
David Ross
,
,
Anthony Rizzo
,
,
Willson Contreras
,
Jason Heyward
,
David Bote
,
Victor Caratini
,
Yu Darvish
,
Daniel Descalso
,
Robel Garcia
,
Mark Zagunis
,
Miguel Amaya
,
Joe Maddon