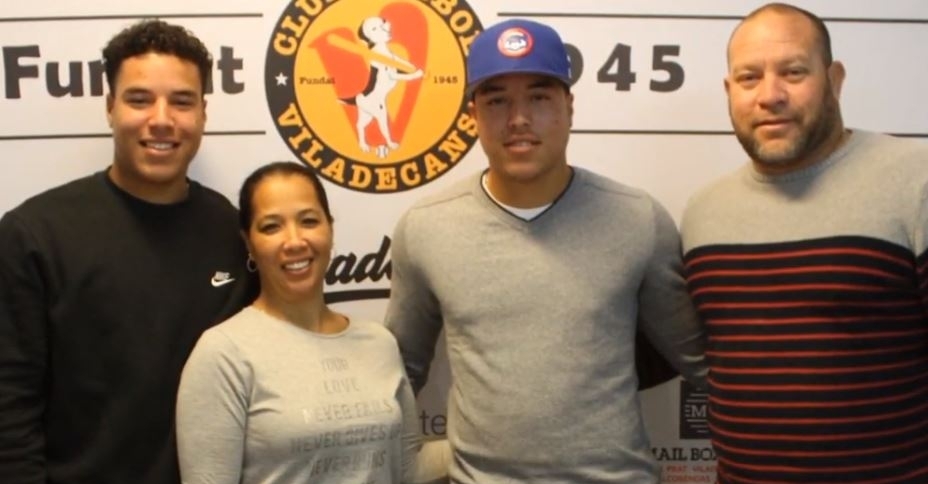 | | |
| --- | --- |
| Chicago sign two-way prospect to minor league deal | |
---
| | | |
| --- | --- | --- |
| Saturday, February 8, 2020, 1:09 PM | | |
By now, everyone knows the type of player Shohei Otani is going to be for the Los Angeles Angels after just one season under his belt. Not only is he a great starter, but Otani is the rare talent that could find success as a two-way player. The Cubs are hoping their most recent signing could go down a similar path even if not the same success as Otani.
That prospect is 18-year-old Frank Hernandez out of Spain. Yes, Spain. A year after the Cubs found a diamond in the rough in Robel Garcia out of Italy, the Cubs once again turned to the European shores to find Hernandez as they are bringing his talents to the states. Not only is signing a player from Spain not common, but he is the Cubs' first-ever signee from that country.
Frank Hernández nuevo jugador de los Chicago Cubs en la presentación que se ha realizado en las instalaciones del Club Béisbol Viladecans acompañado por Edgar Hernández (padre) Joan Rodriguez (Presidente del Club),Francisco Chacón (Aj Viladecans pic.twitter.com/oNvD1Nd2BD

— Béisbol Viladecans (@BeisbolVila) December 5, 2019
At just 18 years old, Hernandez is still very raw, but he does have some professional experience playing for the Spanish 18 and under international team the past two years where he played both outfield and pitcher. What people don't realize about this signing, is that to be signed by a stateside team, you must have been a standout start at your previous organization. That means Hernandez had to turn heads during his international team run.
Finding any information on a prospect is not only rare but hard enough as it is as currently there are no big leaguers who were born in Spain. I cannot even think of too many Spain born minor league players at this point, but I am sure some would come up if I dug into every teams' rosters. Going back to the rarity of this signing, the Cubs must have seen something in him; otherwise, they wouldn't have brought him across the ocean to be part of their organization.
Right now, there is so much information to sort out regarding Hernandez and what his long-term fit will be with the Cubs. Currently, he is listed as a pitcher on the Dominican Summer League roster, which is what it looks like the Cubs are targeting him to be right now. However, the signing was because of his ability to be a tremendous two-way talent, so I am sure, at some point during the summer, we will get a chance to see not only his arm but his bat.
The question becomes, when will that happen? When the Cubs elect to try him as both in the field and on the mound, then we will know when you do. Until that point, I think we can pencil him in as a pitcher for now. That is how rare a signing like this is, especially for a player at a young age. This shows you how much the game has changed and how far scouts are willing to travel to find the next group of players.
Look at last season when the Cubs brought in Garcia. A former big-league prospect for the Indians organization was never able to get his feet wet due to lack of consistency and playing time. That forced him to look elsewhere for a chance in baseball, which is why he elected to play professionally in Italy for a few seasons. That proved to be the best thing that could have happened to both him and the Cubs.
Not only did it give Garcia a chance to figure out who he was as a player, but it allowed the Cubs to find him without having to travel across the pond. It was during spring training last season when Garcia was discovered during an intra-squad game against the Reds. Team Italy was in Arizona playing against the Reds in which the Cubs had some scouts in attendance.
Garcia was immediately noticed as the ball was not only flying off his bat, but the sound coming from the bat was something that could be heard across the diamond. The Cubs made sure to find out who this man was and eventually signed him to their minor league roster, where he hammered 27 homers this season before adding five more in the bigs.
I'm not saying I expect the same type of production from Hernandez, but when you sign someone from that far away, there is a reason for it. The Cubs feel he is a special player that possesses a unique trait of being a two-way talent. Is one talent better than the other? Who knows at this point, but at least the Cubs can take their time and fight out with this guy.
Not only is he just 18 years of age, but the Cubs can explore with him early on to see what he projects long term. Whether he proves pitching is his true calling or playing in the outfield will take a lot of work, but the Cubs will certainly have some options with him and could certainly use him in different ways.
???? Omar Hernández -> @Royals
???? Marc Civit -> @BlueJays
???? Frank Hernández -> @Cubs
???? Justin Luna -> @Dodgers

??? ¡Cuatro prospectos del béisbol español firmados por organizaciones @MLB! ????????

Más que merecido para estos muchachos. Otro gran paso para la pelota española. pic.twitter.com/unAaedZ1rI

— C?rløs (@HerreraRBB) February 9, 2020