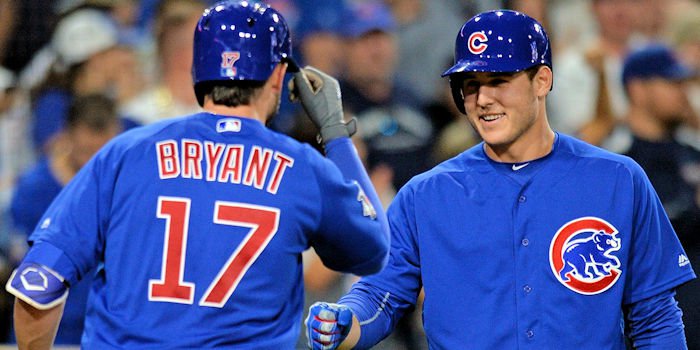 | | |
| --- | --- |
| Commentary: Bryzzo forever | |
---
| | | |
| --- | --- | --- |
| Tuesday, March 3, 2020, 12:44 PM | | |
On Monday afternoon, when the Cubs played the Angels on ESPN, it was Kris Bryant and Anthony Rizzo who stole the show and provided great entertainment for a national audience.
Not only did this give the MLB a great blueprint on how to market some of the games' biggest stars, but it also gave the brand new Marquee Network a clear way to promote two of the Cubs' most marketable players — mining them up and letting us hear from them directly, as much as possible.
On top of all of that, it reinforced the incredible relationship that Cubs stars Kris Bryant and Anthony Rizzo — also known as Bryzzo — have and how great that has been for Cubs fans to watch grow over the years… it is also important to remember that happy marriage between these two players nearly ended this offseason as the Cubs attempted to trade Kris Bryant.
Cubs fans were reminded at what a treasure they have in Bryant and Rizzo — and instead of pushing for that to end, Cubs fans should appreciate and enjoy these two players for as long as they have them, whether that be until the trade deadline, the following offseason, 2021 or beyond.
Bryant, who is 28 and Rizzo who is 30 have been cornerstones for this Cubs franchise over the last half decade-plus and it is important to remember the road these two players took to becoming polarizing figures in the city of Chicago.
Rizzo, before playing first base for the Cubs, was in both Theo Epstein and Jed Hoyer's former organizations (the Red Sox and Padres), and his acquisition was one of the first in the rebuilding process. The Cubs' lefty has thus become a fan favorite, one of the most consistent run producers in the league, a top defender in the MLB, as well as the captain of the team that eventually won the World Series.
Bryant was the poster boy of the Cubs' rebuild. After winning college player of the year, Bryant was drafted No. 2 overall by the Cubs. After that, he won a minor league player of the year. The next season, Bryant answered the call that was left on billboards around Wrigley as he was named Rookie of the Year in his first MLB seasons. The Cubs third baseman added on with an NL MVP award the same season the Cubs won that title.
And who can forget that the final out that clinched the championship came on a roundball to Bryant that he threw to Rizzo.
Bryzzo was born, and the legend continued to grow. Whether it be Spearheading David Ross' farewell tour, the Bryzzo souvenir company, or simply producing on the field — the dynamic duo has never disappointed.
And they did not disappoint when they were mic'd up on Monday.
With KB and Rizzo starting the game, Bryant's first at-bat was a treat. Bryant ripped the first pitch down the line, but it went foul, and he joked about how he was tired from running down the line. The little chirping back and forth between continued to entertain.
"Get fair! Get down! Now I'm tired."@KrisBryant_23 & @ARizzo44 mic'd up during KB's at-bat is gold. ?? pic.twitter.com/3GYmsoJCQr

— MLB (@MLB) March 2, 2020
At the bottom of the first inning, the announcers noticed Bryant and Rizzo wore different hats, and Bryant captured the audience with the one-liner of "we wear what we want."
Kris Bryant will not wear the new Cubs Spring Training hats (and I support him on this). pic.twitter.com/ff8qvGiFqO

— Matt Clapp (@TheBlogfines) March 2, 2020
After that, it was Rizzo who stole the show. The Cubs' first baseman talked about how he and his dad would heckle Chipper Jones back when Rizzo was a youngster. Then, when Rizzo was at the plate, he spoke about not knowing what pitch was coming and then delivered the line of the day: "somebody bang for me" — absolutely trolling the Astros and their sign-stealing situation.
"I'm doing some math in my head about where he is going to throw. ... Someone bang for me."

—@ARizzo44 went there pic.twitter.com/m4GOqb8NxL

— ESPN (@espn) March 2, 2020
Later in that same at-bat, Rizzo said, "I'm feeling a heater because I've only seen one today," and the lined a fastball into the gap for a single. Out of the box, Rizzo said, "I'm going two," and then as he rounded first, said, "no, I'm not."
Later in that same at-bat: "Feeling a heater right here because I've only seen one today..."

Hits a rope into right-center field, and has second thoughts about trying for two. pic.twitter.com/B6RxDds5xZ

— Matt Clapp (@TheBlogfines) March 2, 2020
Those were only some of the highlights of a truly memorable broadcast — one that included a service time grievance reference, Mike Trout destroying a golf ball, David Ross and Rizzo calling each other out, Rizzo singing, Kris Bryant's fake name and even an interview with Joe Maddon.
But the essential thing that came out of the broadcast to Cubs fans everywhere, it is important to appreciate the lasting bond that Kris Bryant and Anthony Rizzo share — for however much longer that may be.
If I can make a biased pitch to Theo Epstein and Jed Hoyer, it's this: Bryzzo FOREVER!