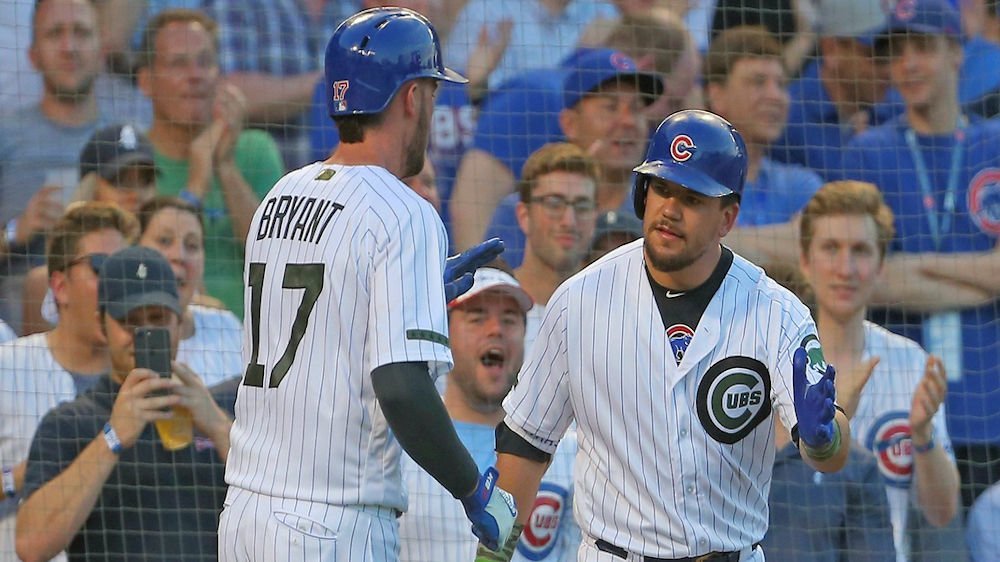 | | |
| --- | --- |
| Commentary: Cubs will undergo massive changes this winter | |
---
| | | |
| --- | --- | --- |
| Friday, October 9, 2020, 11:11 AM | | |
Earlier this week, I wrote about how I felt the Cubs were about to undergo some massive changes. Like him or not, Buster Olney seems to agree with that assessment.
Granted, it's just my opinion, but the Cubs should have already (long ago) started to make the necessary changes but continued to hold out hope. They say that the definition of insanity is doing the same thing over and over while expecting a different outcome. Well, they've been doing the same thing for several years.
The team did accomplish the ultimate goal - winning the World Series in 2016, but since then, it's been a downward spiral at best. Despite decent numbers at the plate for most in 2017 through 2019, the Cubs have had serious hitting issues, especially with runners in scoring position. This year's offensive numbers? Terrible.
Things have gotten so bad that Theo Epstein is planning his departure. The Cubs could feasibly buy out the last year of his deal (2021), but they're likely to give him next season to attempt to restock the system for his successor. While there is no shortlist of names, Jed Hoyer's name has been floated in rumors.
While ESPN's Buster Olney specifically mentions the Cubs might be moving on from Kyle Schwarber and Kris Bryant, I don't believe that will be the end of the ties to be severed. Bear in mind, the Cubs also have a plethora of free agents and/or players with either team options or mutual options. The unrestricted free agent class includes Tyler Chatwood, Jose Quintana, and Jason Kipnis, while those with team options include Jon Lester, Anthony Rizzo, and (cough, cough) Daniel Descalso.
Losing Descalso is a no-brainer, even though that will cost the Cubs a million in buyout money. With Lester, the question becomes whether or not he's worth $15M for 2021. Lester is due $25M for next season but has a $10M buyout, so it all boils down to $15M more and if the Cubs want to keep him. Lester doesn't seem to believe he'll be there; neither do I. If the Cubs let Lester go while failing to re-sign Quintana and Chatty, they'll be down 60% of their starting rotation, and without a southpaw starter. Not a good situation to be in.
I do have some trouble seeing the Cubs giving up on Schwarbs, especially if they implement the universal DH. Let's also not forget that Kyle's fielding has improved exponentially over the last few years. Kris Bryant? Well, haters are going to hate, so I may as well go ahead and say it: Bryant should have been traded the minute he lost his service time grievance. He only played about half the season this year, suffering injury after injury.
In his end of the year press conference, Epstein reiterated that "there are no untouchables" and that "clearly some change is warranted and necessary."
Epstein specifically referred to the offense during his statements.
What's concerning is that after extension talks faltered this past winter, Javier Baez went on to slash an abysmal..203/.238/.360 this season, netting only 24 RBI while fanning 75 times in 235 plate appearances (32% K rate). Will they attempt to deal Baez? That would be a brazen move, but if it looks like he won't re-sign after next season, anything is possible.
Interestingly, Epstein also mentioned assessing possible trades for players in their walk years - KB being one of those. On a happy note, Theo also pointed out that Ian Happ, Willson Contreras, and Jason Heyward (man, what a season J-Hey had) all remain under club control for years to come. Well, at least it sounds like the outfield will remain intact. Oh, wait…
Schwarber is also in his walk year… maybe Olney is onto something here.
Whether or not the Cubs re-sign any of their rentals (Billy Hamilton and Josh Osich, among others) remain to be seen, although I can't necessarily see them keeping Hamilton on the books. Despite the Cubs needing speed on the basepaths - and Hamilton certainly possesses that - his batting isn't great. Osich? Guys like that are a dime a dozen, but Ryan Tepera, Jeremy Jeffress, and other bullpen arms contributed big this season.
Free agency begins just a few days after the final game of the World Series. Don't be surprised to see the Cubs' eligible players declare themselves free agents, as it's unclear what Tom Ricketts is willing to spend this winter. Epstein seemed to be very stern about changes, saying that some younger players (age 27-30) would be part of Cubs' history moving forward, while others would be making history elsewhere. While I believe the Cubs need to undergo some radical changes, I've also heard that rhetoric from Theo before.
One thing is certain: This may prove to be a fascinating offseason for the Chicago Cubs.

Tags: Chicago Sports Baseball
,
Kyle Schwarber
,
Kris Bryant
,
Tyler Chatwood
,
Jose Quintana
,
Jon Lester
,
Anthony Rizzo
,
Daniel Descalso
,
Ian Happ
,
Willson Contreras
,
Jason Heyward
,
Ryan Tepera
,
Jeremy Jeffress
,
Theo Epstein