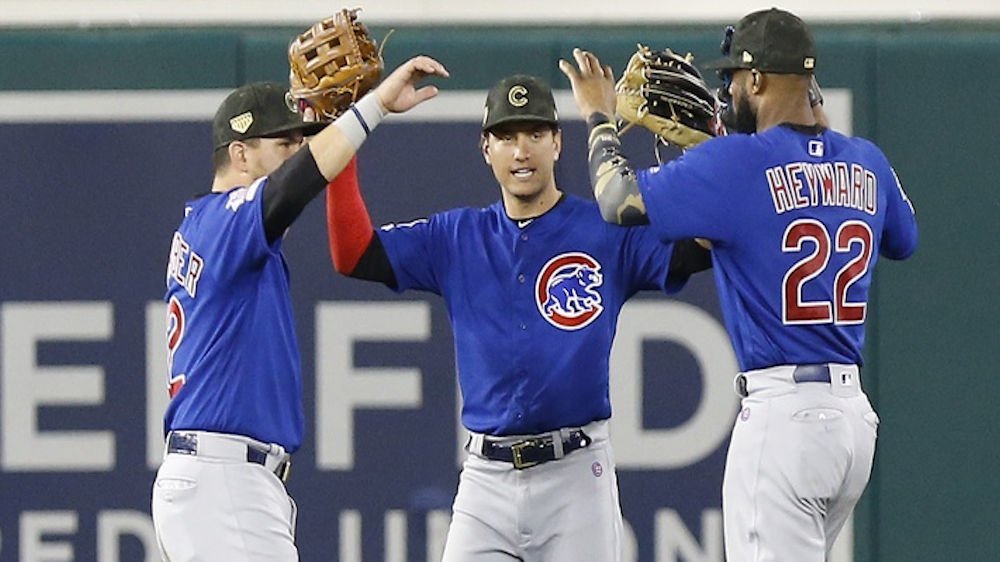 | | |
| --- | --- |
| Commentary: My take on the Cubs' 40-man roster - Outfielders | |
---
| | | |
| --- | --- | --- |
| Monday, July 20, 2020, 9:11 AM | | |
The official 2020 season starts this week. Please take a look as I share my views on the Cubs' 40-man roster. Yesterday, I covered the Cubs' infield; today, it's the outfielders.
Albert Almora Jr.: It's no secret that Joe Maddon always preferred Ian Happ over Almora, causing Albert to miss a lot of opportunities for appearances both in the field and at the plate. At one point in 2019, Maddon remarked that Almora wasn't "ready to be an everyday player yet." What the hell, Joe?
By far, Almora has the best defensive skills in that outfield roster, save for Jason Heyward and his collection of five Gold Gloves (2012; 2014-2017). I won't dispute that Almora has struggled some at the plate, but then again, when you only play every other game (or less), the lack of reps will hurt the slash line. Almora has been working on his swing, and despite going 0 for 3 in the scrimmage the other night, he had good at-bats. There's no doubt in my mind that Almora could (should and will) earn the coveted Gold Glove Award, but to do so, he needs consistent playing time – something he may find under David Ross' direction.
Kyle Schwarber: Schwarber, Schwarbs, or Bam-bam as I like to call him, has come a long way since returning from a knee injury in 2016. He's trimmed down, his bat speed has improved, and his fielding looks 100% better than it did just two years ago.
While the Cubs could feasibly use Schwarber as the DH, I think his fielding is sufficient enough to keep him in the outfield, however, with all of the new additions to the roster, you may very well see Kyle batting in the DH spot. Schwarber produced 38 homers last season, and the Cubs could certainly use his power.
Jason Heyward: I'd play J-Hey every chance I had, as his defense is second to none. There is one problem, though – his at-bats. In four seasons with Chicago, Heyward is only batting .253 (combined). His lowest average was .230 in 2016 while peaking at .270 in 2018. Heyward has crazy power but has only logged 47 round-trippers for Chicago in four years. Meanwhile, he's fanned 330 times over that same time frame.
The Cubs are upside-down and sideways in Heyward's 8-year/$184M contract, and despite his defense, nobody's going to inherit the remaining millions through a trade. Heyward has opt-out clauses (as well as a partial no-trade clause for certain teams in 2020), but he won't opt-out, he'd be a fool to do so. This year the Cubs owe him a hefty $23.5M then 10.277M in 2021.
Over the next two years (2022-2023), J-Hey nets a lofty $24.5M. At this point, the Cubs need to lick their wounds and play on until Heyward reaches free agency after the 2023 season). Hopefully, he finds his groove at the plate.
Ian Happ: I can't say enough about the way Happ's improved at the plate. Whatever they did with him in Iowa last season worked, as he consistently seems to crush the ball these days. Happ is my choice for the leadoff spot, but Rossy seems content on using Bryzzo as the 1-2 punch – a mistake, in my humble opinion.
Happ's defense is solid, but I still think he plays second fiddle to Almora in center (in terms of defense). You won't see Happer sitting if his at-bats hold up, but where to play him becomes a question. He plays all three outfield spots, as well as 3rd, 2nd and 1st, so Rossy has choices. Does he replace Almora in center? Or perhaps Schwarbs in left? Surprises await, as the season gets ready to launch.
Steven Souza Jr.: The Cubs signed Souza as a free agent this past winter, hoping to get a bounce-back season out of him. Chicago's outfield is a log jam, and Souza only adds to the issues for getting guys some regular playing time. Souza is coming back from a catastrophic series of injuries, leaving fans to literally cheer as he walked out the door in Phoenix, leaving as a free agent.
Souza has heart and wants to prove his worth. Video has shown the knee injury to be healed, and he hopes to earn his keep playing in Chicago. During Spring Training 1.0, Souza was making good contact, slashing .273/.360/.364. Not sure where you put him in the outfield, especially if it displaces Almora, Schwarber, Happ, or Heyward.
Ian Miller: Last but not least, I still say Ian Miller can and should make the roster as the 26th man. The kid can play the field, and he can swing a bat. Look at the videos below. He plays with as much heart as anyone on the Cubs roster. Yes, he's a rookie, but I can't understand why Minnesota let him walk as a free agent when he showed promise.
Miller batted just .176 in 17 plate appearances last year for the Twins (12 games), but despite the low average, he still seems to have shown potential. During Spring Training 1.0 this past March/April, Miller killed it. In 40 plate appearances for Chicago, the kid slashed an astounding .382/.462/.471 while carrying an OPS of .932. In those at-bats, Miller also tallied a double and an RBI, while fanning only three times (7.5% strikeout rate).
That's it for the outfield. Stop back tomorrow as I tackle the starting rotation – oh wait… tackling would violate MLB's new social distancing rules… Oh well, you get the point.