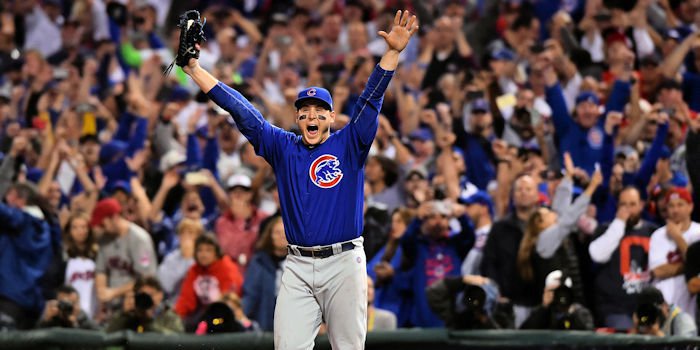 | | |
| --- | --- |
| Commentary: Oh Captain, My Captain! | |
---
| | | |
| --- | --- | --- |
| Friday, September 20, 2019, 11:39 AM | | |
Anthony Rizzo was sidelined due to a gruesome-looking ankle sprain suffered against the Pirates just five days ago. He was expected to wear a boot for at least seven days, maybe longer. But all of a sudden, 20 minutes before Thursday's crucial game, Rizzo was warming up.
He lost the ginormous boot on his foot, and he lost the decked-out scooter with bells, whistles and streamers and the Cubs were glad to have him back.
In what was very much a comeback from the dead, Rizzo's surprise was punchline by walking up to the Undertaker's (from WWE) theme song for his first at-bat.
Rizzo even completed the story for his legacy by homering off of Jack Flaherty, who is on a 2015 Jake Arietta-esq run.
Leadership personified. #TeamRizzo #EverybodyIn pic.twitter.com/RHGdJhC3EM

— Chicago Cubs (@Cubs) September 20, 2019
The Cubs, however, were unable to ride the momentum from Rizzo's return to a win - and the Cubs now fall four games back of the Cardinals, a game behind the Brewers, two games behind the Nationals and out of the playoff race for the first time since April 30th.
In what looked like it could be the next comeback win that rejuvenates this team, defines the season and parks the run, turned in to yet another gut-punch to knock this team down once again.
The Cubs certainly were inspired by Rizzo, who selflessly sacrificed his body through immense pain to play and contribute to the most important games of the year.
"I was doing everything I can to play," Rizzo said to the media Thursday, before explaining his work nearly around the clock with medical staff to get his ankle in an okay place to play.
Once he knew he could not re-injure the ankle, but rather just had to tolerate the pain, Rizzo gave it a go.
After telling the ankle it didn't stand a chance, Rizzo lit a fire in Wrigley Field when he launched Flaherty's pitch into the seats… all the Cubs need now is a bit more from everyone else.
"I love this team," Rizzo said, which simply shows how much he cares about this team.
When asked about potentially being out a couple more days, Rizzo responded:
"We don't have a couple more days. We need to win now."
If that doesn't define what Anthony Rizzo, the captain of this team, is all about, I don't know what will.
He's tough. He's a fighter. He's a leader. He's a captain. He's a champion. He's a Cub - and boy are the Cubs lucky to have him back.
They now need to finally gel completely for a hot streak to ride into the playoffs. Not easy or likely, but possible. It sounds a lot like Anthony Rizzo's comeback to me.