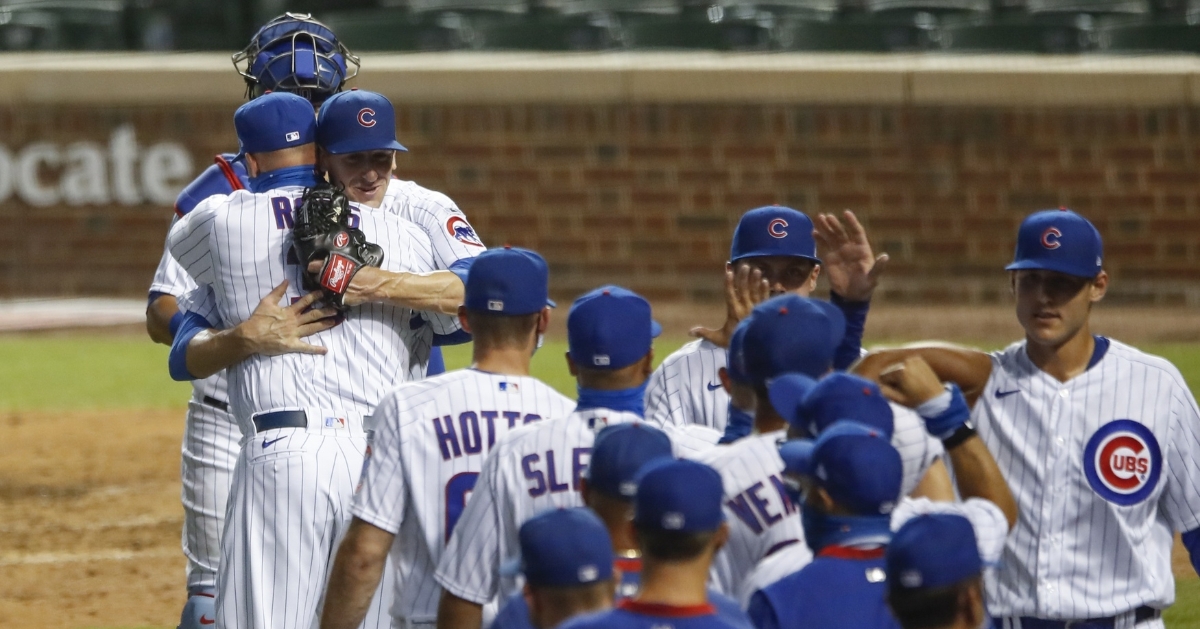 | | |
| --- | --- |
| Commentary: The clock is ticking and the Cubs might be slipping | |
---
| | | |
| --- | --- | --- |
| Tuesday, August 18, 2020, 2:27 PM | | |
Over the last couple of weeks, I've watched the Cubs with some very cautious optimism. I haven't been overly optimistic, nor have I been pessimistic - just sort of neutral, while remaining realistic. There's no logical reason that Chicago should have started the season 13-4, yet there was no expectation that they'd lose four in a row - at home - against a struggling Milwaukee team and a Cardinals team that had only played eight games in nearly a month. Yet, here we are, 14-7 (.667), and in first place in the National League Central.
When the starters were (or, are) getting quality starts, the team seems to win, but without the starters going deep - or if and when the Cubs relinquish the lead - it seems like most of the time it's "game over." David Bote was a hero again last night, but I must say that I had my doubts after Kyle Ryan gave up back to back homers in the bottom of the fourth in Game-2.
The Cubs' offense seems to be fading back to the days of "swing for the fence or go down swinging," something that they seemed to have gotten away from during their winning rampage just over a week ago. Kris Bryant (now batting all of .177) has not done much of anything from the leadoff spot, and I can only wonder when David Ross will have finally have had enough.
Ian Happ has been productive out of that spot, slashing .250/.333/.750 with an OPS of 1.083, with a double, a home run and a walk, while collecting two RBI. During his nine at-bats from the leadoff spot, Happ has fanned twice. Meanwhile, Bryant has slashed just .177.271/.323, with a .594 OPS. In 70 plate appearances, KB does have three doubles, a pair of dingers, six walks and four RBIs, but proportionately, he doesn't hold a candle to Happ's production. If you were to set Happ's current stats based on 70 at-bats, you'd wind up with some astronomical numbers- eight each for the doubles, walks and homers, while he'd have 16 RBI.
Then there's the bullpen. The Cubs have a closer who is unable to be trusted to close (much like the previous multi-million-dollar closer), making the acquisition of Jeremy Jeffress all that much more important. Ryan Tepera (as I predicted) has been a blessing, and Rowan Wick has been solid as well. Dan Winkler has struggled but is starting to put together some quality innings, however, Kyle Ryan - last season's go-to lefty has been terrible for the most part this season, which is something that the Cubs could not afford to have happened.
Want to hear something crazy?

Despite an almost comically rough start, the Chicago Cubs bullpen actually has a 3.38 ERA and 3.43 FIP in the month of August, spanning 45.1 innings pitched.

That's the 8th best ERA in MLB and fifth best in the National League.

— Michael Cerami (@Michael_Cerami) August 18, 2020
With so many pitchers on the expanded roster, it's a tough balancing act for David Ross to get guys innings without overworking some, all while avoiding the use of others. There are just 13 days until the trade deadline, and the Cubs might do some dealing.
I don't think it should come as a surprise that the core is going to be broken up. If not this month, then certainly by the start of the 2021 season. Just last week, Anthony Rizzo offered the following quotes: "I'm not going to shy away from this, this could be our last year together," he said. "I think we all know that. Especially with the state of the game, and who knows what's going to happen. This could be our last run with all our core guys. This could be my last year, who knows. So, I'm enjoying every second of it."
Rizz went on to say, "When times get tough, I've obviously been through tough times before, you start appreciating all the little things again that you maybe take for granted," he said." I'm a victim of it. I'm sure you're a victim of it. But it's the joy of the game that we're playing for right now. I think it's really showing. We're just playing, really, high school summer baseball right now. That's how we feel we're playing, just going out and playing baseball and not worrying if someone's hitting .500 or someone's hitting under .200. It's just, let's win, let's pick each other up, and figure it out."
Anthony Rizzo didn't shy away from reality that this could be the last run from this Cubs core. If 2020 is the last run.... do the damn thing boys.

(Edit: Cubsedits/IG) pic.twitter.com/9L5AZifoAw

— Cubs Live (@Cubs_Live) August 16, 2020
Rizzo sees the writing on the wall. To what extent Tom Ricketts and Theo Epstein react within the next two weeks remains to be seen, but changes are coming - they must come if the Cubs are to have any shot at a true postseason bid.
I wouldn't be surprised to see the Cubs finally trade Bryant. Bryant gains free agency after 2021, and if the Cubs want anything of value for him, they need to be able to up the ante with more than a year of controllability. No matter who KB might go to, Scott Boras won't make it easy for a team to be able to re-sign him once that free agency stage kicks in.
I would also think that Jose Quintana may be on the shortlist, and now that David Ross has named Ian Happ as the everyday centerfielder, you might see Albert Almora's name on trade papers as well. I think a trade for Almora would probably please all sides, especially if it were to mean that Albert gets some regular playing time. He offers a Gold Glove-caliber defense, and I truly think with regular playing time, his bat would improve tremendously.
The clock is ticking and the Cubs have been slipping. Theo Epstein said that only "a legitimate World Series contender" might be enough to keep the team intact. If you've noticed, most of the happy-go-lucky dugout has been silent as of late. Is it because the team is losing a few games in a row, or is it because they know they won't be an intact unit in two weeks?

Tags: Chicago Sports Baseball
,
David Bote
,
Kyle Ryan
,
Kris Bryant
,
David Ross
,
Ian Happ
,
Jeremy Jeffress
,
Ryan Tepera
,
Rowan Wick
,
Anthony Rizzo
,
Jose Quintana
,
Albert Almora
,
Theo Epstein