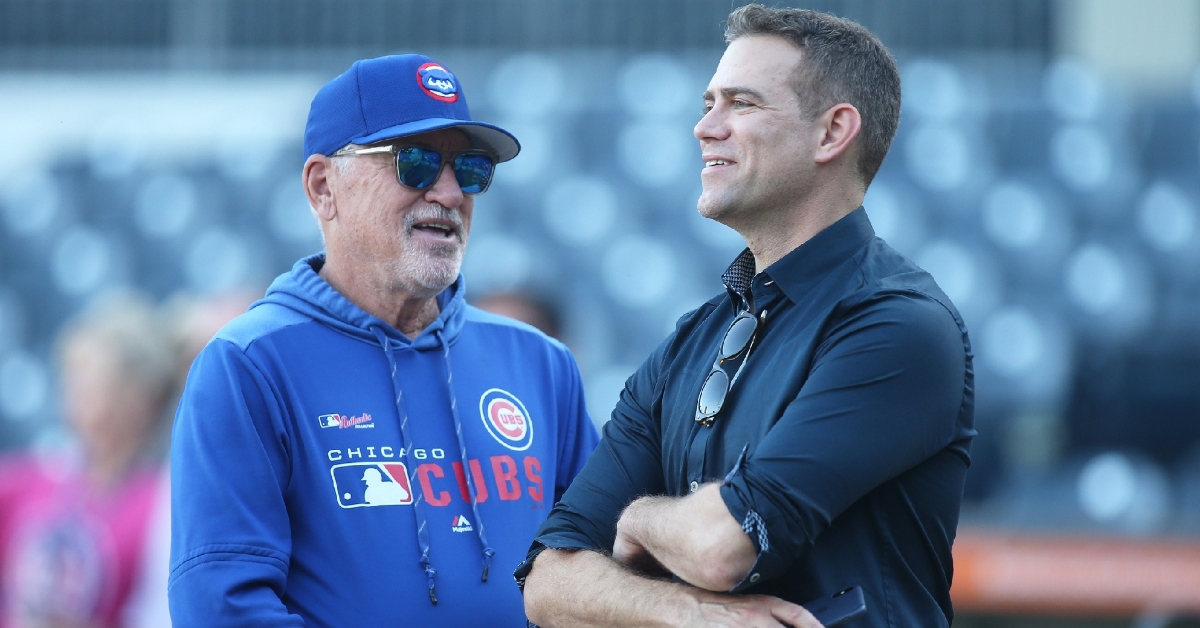 | | |
| --- | --- |
| Commentary: Theo Epstein is staying, better prove why | |
---
| | | |
| --- | --- | --- |
| Saturday, September 28, 2019, 1:14 PM | | |
Theo Epstein made mention of some rumors in the Boston Globe that we would look to return to the Red Sox with an executive position open and the Cubs on a downward slide.
Epstein dismissed those rumors.
"Yeah, I saw that. There's nothing to that story," he said. "I'm here. We have a lot we need to work on to get back to the level we're accustomed to. I'm invested in that. That's what I'm focused on, so yeah, there's nothing to that. "
Epstein now needs to make the most of his opportunity. The past few seasons have seemed to have pre-planned blame to give if the end of the season did not end in a championship, Chili Davis among the victims, Joe Maddon is the most recent one, and Theo Epstein has yet to be included on that list.
Although he should be.
The general management team is responsible for the players who come to and from the organization.
I'm sure it's not fun watching players that the Cubs traded away almost win batting titles or hit 40 plus homers over in the American League - not to mention on the other side of Chicago.
Some moves were made with a win-now thought behind them, others to fuel a team and others made with the future in mind It's important to remember that hindsight is 20/20 when it comes to these situations.
Although Joe Maddon receives a lot of the blame, it is hard to be better than last year when the biggest offseason acquisition is Daniel Descalso, who has struggled all year long.
Epstein was handicapped by a budget he has wasted in previous years, spending far too much money on Jason Heyward, Yu Darvish, Tyler Chatwood and Brandon Morrow.
Those players have certainly contributed, some more than others. But so far into any of those contracts, it is hard to say that any of these players have lived up to their contracts.
Let's not forget the Cubs are on their fifth closer in five seasons (Hector Rondon, Aroldis Chapman, Wade Davis, Brandon Murrow, and Craig Kimbrel) and for those closers, Theo Epstein has given away Gleybar Torres, Jorge Soler, and over 60 million dollars. The Cubs nearly lead the league in blown saves this year, and almost watched a blown save cost them the most crucial contest in franchise history.
I love the Gleybar move as I think it was crucial to winning the World Series. But why not re-sign Chapman then? Why waste a 45 homer player for one season for Wade Davis and then throw 60 plus million dollars at an issue that still isn't quite fixed.
Let's not forget to mention that Theo' scouting department has failed to develop homegrown pitching, leading Theo to spend vast amounts of money on options of Cole Hamels, or the contract of Yu Darvish to name a few.
Theo Epstein is a phenomenal executive. He has hit on prospects like Kris Bryant and Kyle Schwarber. He has nailed trades for Anthony Rizzo and Jake Arietta. He put Chicago back on the map by signing Jon Lester and Joe Maddon ahead of 2015. He assembled the roster that won the most games from 2015-2018 and the roster that broke the curse and won a World Series. He also absolutely won the trade deadline by acquiring Nicholas Castellanos.
AND he's here to stay — time to get to work then.
Theo may let Maddon go and search elsewhere for managerial services for this team, but his eyes are set on returning to and winning the World Series.
Epstein mentioned that players have been approaching him, asking how they can avoid a collapse in 2020 and return to the dominance they once had.
It will start with being confident in the leader of the club.
After that, it certainly starts with pitching. The Cubs' rotation struggled massively down the stretch due to age. Hendricks and Darvish were great and will return. Lester will be back as well but not as the ace he once was. Theo will have decisions to make regarding Jose Quintana and Cole Hamels and the rotation of the future as the farm replenishes.
The Cubs will return many players under contract in the primes of their careers. Some of those include Kris Bryant, Javier Baez, Willson Contreras, and Kyle Schwarber. Anthony Rizzo is under contract for next year as well as Jason Heyward. That core will be a solid foundation for Theo Epstein to work with as he looks to replenish the depth on the bench, find the answer at second base, the outfield and leadoff. All while waiting and asking decisions on Ben Zobrist and Nicholas Castellanos. Nico Hoerner certainly seems to be in the picture come opening day 2020, and for many Cubs fans - they hope Addison Russell is not.
However, that is up to Theo Epstein to decide. As is retooling a bullpen that was brutal at the beginning of the year, solid down the stretch but never hesitated to blow games.
The Cubs will return Craig Kimbrel, Brad Weick, Rowan Wick, and Kyle Ryan to the 2020 team which is a solid start. The club will need to make deacons about Steve Cishek, Pedro Strop, Brandon Kintzler and Brandon Murrow who are all free agents this offseason. Not to mention, the Cubs have a club option on David Phelps to decide on.
Epstein could decide to trade some of these players for either win-now or build for the future goals. Many have made speculation that the Cubs will try to extend their young stars or attempt to trade them to at least get some return.
Epstein has his work cut out for him but also has kept his goal clear.
"The goal is to win a championship next year," Epstein said. "One-hundred percent. That's what this organization's about, and I think the thing that gets you excited — even in the face of this adversity — is waking up and trying to build the next championship Cubs team."
Epstein even upped the ante on his urgency for next year.
"We want that to be as soon as possible. We have to build the next championship Cubs team," he said.
There are decisions and moves to make for Theo Epstein and Jed Hoyer. There is also a free agent class headlined by Anthony Rendon, along with plenty of starting pitching options.
What the Cubs look like come 2020 will have a lot to do with Theo Epstein and co. and the decisions they make. It's time for Epstein to prove why him staying with the Cubs is worth it, as they attempt to stay relevant in a competitive NL and grueling NL Central, and try to get back to the top of the mountain once again.

Tags: Chicago Sports Baseball
,
Daniel Descalso
,
Jason Heyward
,
Yu Darvish
,
Tyler Chatwood
,
Hector Rondon
,
Aroldis Chapman
,
Wade Davis
,
Jorge Soler
,
Cole Hamels
,
,
Kyle Schwarber
,
Anthony Rizzo
,
,
Jose Quintana
,
,
Willson Contreras
,
Ben Zobrist
,
Addison Russell
,
Rowan Wick
,
Kyle Ryan
,
Steve Cishek
,
Pedro Strop
,
Brandon Kintzler
,
Joe Maddon
,
Theo Epstein
,
Chili Davis