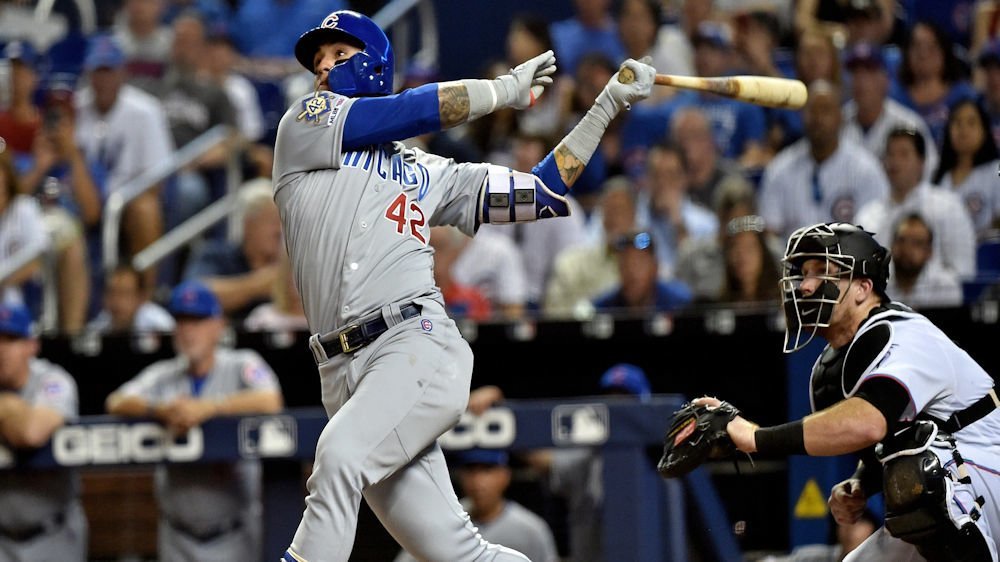 | | |
| --- | --- |
| Cubs Flashback: First round picks of the last decade | |
---
| | | |
| --- | --- | --- |
| Wednesday, June 10, 2020, 12:10 PM | | |
As draft day is almost here, we can start to focus on who the Cubs will take at No. 16 and how they will fit into the organization. Given the way, the Cubs finished last season, and this franchise will have to deal with in the coming offseasons, it is safe to say anything is wide open at this point as they have more holes to fill than in drafts past.
Leading up to tonight, I would like to look at who the Cubs drafted in the first round over the past decade and how they panned out then give my take on No. 16 for this year's draft.
2011 Pick 9: SS Javier Baez: The final pick of the Jim Hendry era happened to be a home run as he took prep phenom, Javier Baez. Known for his bat speed going back to high school, no one at that point knew the type of player he would become. Yes, he has gone through his share of struggles at the plate, but one thing is for sure, he is one of the most exciting players on the field today.
From his light-tower power to his skills on the base paths, to his play in the field, Baez has earned the nickname EL Mago for a reason because he is undoubtedly a magician. With the end of his contract nearing, the Cubs need to decide if they view him as a franchise player. Given what we have heard this offseason, I believe they do.
2012 Pick 6 Albert Almora: Since arriving in Chicago, Theo Epstein has been all about offense first and pitching second when it comes to the MLB draft. He started things off by taking another prep star in the first round in Florida product Albert Almora. Known for his pure hitting ability on the high school circuit, Almora has blossomed into one of the better defensive outfielders in the game while his offense continues to be a work in progress.
It appeared as if he turned a corner in 2018 when he was given a more everyday role, but a very disappointing year both at the plate and in the filed in 2019 leaves a big question mark for his future. Almora has already proven what he can do with the glove and against left-handers. Now it is time for him to break out and prove he was a first-round talent. The Cubs also added a pair of first-round pitchers later in the round in Pierce Johnson and Paul Blackburn.
2013 Pick No. 2 Kris Bryant: Perhaps the first of the many puzzle pieces that came together for the Cubs world series run was that of drafting 2013 Golden Spikes winner Kris Bryant. The moment he arrived in the Cubs system you knew he was going to be a star as he won the Minor League player of the year after belting 42 homers in his first season full season.
The next season he was called up three weeks into the season and went on to win the 2015 rookie of the year and followed that up with an MVP in 2016. Since that season, however, Bryant hasn't lived up to his numbers, which is causing some questions about his future. Yes, injuries have played a role in that somewhat, but he hasn't delivered MVP numbers in three seasons now. With his contract nearing an end, a big season from him could make things interesting for the Cubs in 2021 when a decision is looming.
2014 Pick No. 4 Kyle Schwarber: When you talk about attractive power bats, look no further than Kyle Schwarber. Taken by what many felt was a reach at NO. 4, Schwarber had the most power of anyone in the 2014 class and was a solid college level bat. He proved to be just that flying through the minor league system to earn a call up in 2015 before putting on a show that postseason. The next season, Schwarber suffered a horrific knee injury the third game of the season, which ended his season only to make a triumphant return for the world series.
In the three years since Schwarber certainly has gone through his growing pains as that injury and some uncharacteristic lineup spots may have slowed his development. After what he did the second half of last season, it appears that he has figured out the hitter he wants and needs to be, and the Cubs may have their best left-handed bat since Billy Williams anchoring the middle of that order.
2015 Pick No. 9 Ian Happ: Sticking with the bat theme, Epstein made another bold selection by taking Cincinnati University utility man Ian Happ at No. 9. Primarily a second baseman in college, the Cubs had a decent group of players at that spot and moved him to CF. Happ got off to a slow start his first season in pro ball but put together a strong showing in 2016 and a strong beginning of 2017 to earn the call-up.
Once he arrived in Chicago, Happ amazed us with his switch-hitting power ability, although his strikeout totals are very worrisome. Those strikeouts became too much for the Cubs to handle as he was optioned to AAA last spring for four months before returning. Happ looked like a completely different player once returned, and the Cubs are hoping that is a sign of things to come.
2016: NO first-round pick.
2017 Pick No. 27 Brendon Little: With the hitting side of things taken care of, the Cubs now needed to stock the farm with talented arms to replace the ever-aging staff. Taking Little at Number 27 was a good start. The lefty out of UNC nearly went pro after being drafted out of high school in 2015, but chose to come to school and allowed the Cubs to nab him.
However, Little has been less than overwhelming, and his time is running out to prove he deserves to be on this roster. Not only has he gone 7-15 over his minor league career, but his ERA is also 5.05, which are two huge red flags. The only promising sign I see was the adjustments he made this season, mainly once he got to High A Myrtle Beach. For the year, Little went just 2-2 in 12 starts but pitched a career-best 3.58 ERA.
2018 Pick No. 24 Nico Hoerner: While many expected the Cubs to go arm here, Theo went back to his early roots in drafting for the Cubs and took one of the best pure hitters in college in Hoerner. While that appears to be a smart decision now given how Hoerner has risen to the Cubs top prospect spot in just two years, there is still a lot unknown about his game.
For starters, Hoerner has played in less than 100 career minor league games as he has had to deal with his share of injuries. Second, Hoerner made a surprising big-league appearance last season and proved he could hit and field. However, his approach was vastly different at the MLB level, and the strikeouts were way up. The exciting thing about Hoerner is how much more development does he need. Do the Cubs feel he has seen enough to be a big-league starter this season?
2019 Pick No. 27 Ryan Jensen: Looking toward the future once again, Epstein made the big move for a potential impact starter by drafting flame-throwing Ryan Jenson from Fresno St. Known for having the best fastball in the draft and a wicked slider command has also been the concern for him as he tends to miss on location at times.
In his first go-around in pro ball for Eugene last season, Jensen proved he has the stuff and velocity to be a front-line starter, but once again, the command needs work. I expect to see tons of improvements this season or next season, as he will be looking to lock down a rotation spot by 2023.