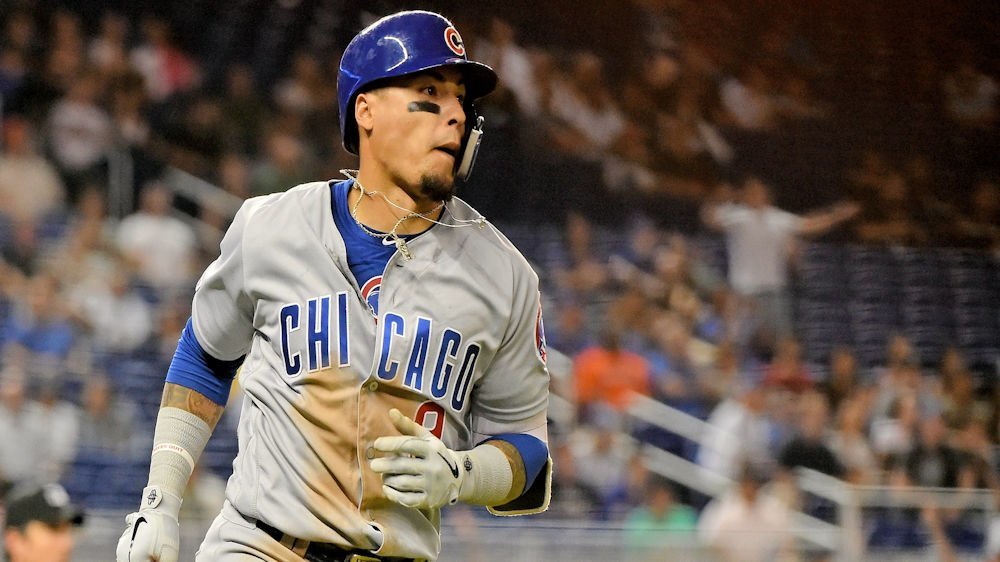 | | |
| --- | --- |
| Cubs News and Notes: Baez contract talk, El Mago voted 'coolest' by ESPN, more | |
---
| | | |
| --- | --- | --- |
| Monday, May 11, 2020, 8:28 AM | | |
CUBS NEWS AND NOTES
Happy (belated) Mother's Day to all you moms out there! I have it made on that deal, as my wife doesn't care for cards and she has flowers. When we first met, she asked me," Why spend all that money on something that'll die in a week?" Works for me… Instead, I bought her authentic Mexican food from a taqueria nearby, and we spent the day working on remodeling our house. Win-win for Ken…
Baez Contract Talk: I wish I could tell you that the Cubs and Javier Baez have reached the contract extension that everyone wants to see, but I can't. In a radio interview with Marly Rivera (ESPN), El Mago said, "Obviously, we want to reach an agreement, but right now everything is on hiatus. Just like it happened with baseball, we decided to leave it there. We haven't talked about it anymore."
It's sad to think that with almost literally nothing to do these days, Theo Epstein and Javier Baez's agent would be discussing Javy's future in Chicago on a near-daily basis. After all, that was supposed to be at the top of the Cubs' to-do list this winter. One would think that while we (impatiently) await baseball's return, the two sides would be talking on a near-daily basis until a deal was reached, but alas, that's not the case.
Baez went on to say that he enjoys playing with the Cubs and that he's like to stay with the team. "I'm very happy in Chicago. I believe it's one of the best organizations in the major leagues. It's a blessing when a player can wear the same uniform their whole life -- but it's a business. For me, it's about loyalty. This is the team that has seen me grow up,"
With Baez, Kris Bryant, Kyle Schwarber, and Anthony Rizzo all earning free agency after the 2021 season, the chances of keeping them all are nearly nil. I've maintained for almost a year now, that Bryant would be traded before his time comes for free agency. Schwarbs could possibly be re-signed, though his salary is creeping up there via arbitration. If Rizzo stays, he's going to demand big bucks and rightfully so, as the Cubs took him to the cleaners on his current deal.
Baez isn't only the face of the Cubs; he's the cornerstone of their future. They need to reach an agreement with him before it's too late.
Javy voted "Coolest Cub": If the elite fielding, the havoc he wreaks on the basepaths and the home runs aren't enough for the Cubs to get an extension deal struck, Javy has been named the coolest Cub by ESPN.
By his own admission, there isn't much to write about baseball these days. Will Leitch (ESPN) says, "Who is the "coolest" person in baseball? That's the sort of question during these sad days without live Major League Baseball that gets our engines motoring over here. That'll continue to fill the days." (I know the feeling, Will). Leitch sat down and came up with who he feels is the "coolest" player from each of the 30 MLB teams, and Javy won the honors for the Cubs.
Leitch says, "A strong argument that he is the coolest player in the game. If an alien came to Earth and you needed to explain to them why baseball is so fun, having them watch Báez play a game would be an excellent place to start." I think Leitch is wrong on one point – I'd be surprised if even aliens didn't know who Javier Baez was.
Other winners from around the NL Central included Christian Yelich (Brewers), Josh Bell (Pirates), Kolten Wong (Cardinals), and Joey Votto (Reds).
Trade deadline: In the wake of the COVID-19 pandemic, MLB just doesn't look or feel the same. We've had no baseball, the draft has been tweaked into some owner-friendly, five-round extravaganza, and the All-Star Game has been canceled. Ironically, however, nothing has been said either way about the July 31st trade deadline.
The Cubs were expected to make some swaps this July, most notably, the possibility that KB could be traded while his trade value is at its peak. Forget about Bryant for just a minute and ponder this question: Why hasn't MLB cast a decision on a major MLB event that's less than 12 weeks away? Granted, the trade deadline is still almost three months, but the league started talking about changes (or at one point, the possibility of canceling) the June Amateur Draft almost two months ahead of time.
Cubs' Birthdays: Celebrating (all posthumously) yesterday, were ex-Cubs Tim Hosley (73), Merritt Ranew (82), Jim Hickman (83), Russ Bauers (106), Freddie Maguire (121), Bill Davidson (136), and Charlie Ferguson (145).
Baseball Quotes: "Baseball is like a poker game. Nobody wants to quit when he's losing; nobody wants you to quit when you're ahead." - Jackie Robinson
I see the hitter when he's moved in the box, like when he's moved closer to the plate or changed his stance.

I see when the batter has moved his feet, and then I make my own adjustment. -Mariano Rivera pic.twitter.com/1atSe1EXTr

— Baseball Quotes (@BaseballQuotes1) April 28, 2020
Just for Laughs: On Sunday, ESPN's Jessica Mendoza and Jon Sciambi were announcing a KBO game between South Korea's NC Dinos and the LG Twins. The broadcasting duo decided to FaceTime Trevor Bauer during the broadcast, but when the call was connected, ESPN failed to block out Bauer's number, broadcasting it to the world.
Bauer initially decided to ride the wave, offering a pair of signed cleats, with rules to his impromptu contest on his voicemail. By Sunday afternoon, the amount of calls he'd received were so numerous, that Bauer was forced to have his number disconnected.
So @espn has just leaked my number to truly the entire world lol in honor of this...shall we call it...massive screw up...I'm doing a giveaway! I'll be giving away a pair of signed cleats and an autographed baseball over the next 48 hours. Rules are in my voicemail! Good luck! pic.twitter.com/luEqvwGtxW

— Trevor Bauer (@BauerOutage) May 10, 2020