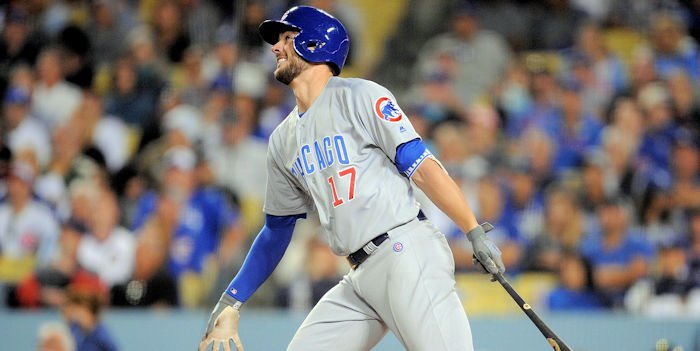 | | |
| --- | --- |
| Cubs News and Notes: Bryant trade talk, MLB vs MiLB, Hot Stadium, Hot Stove, more | |
---
| | | |
| --- | --- | --- |
| Saturday, December 14, 2019, 6:52 PM | | |
CUBS NEWS AND NOTES
KB market: After a recent inquiry about Kris Bryant, the Nationals are reportedly now focused on free-agent third baseman, Josh Donaldson. According to Jon Heyman, the Nats love KB, but the belief is that the Cubs want Victor Robles in return, which, according to Heyman, is "likely a no-go."
The Nats would have some competition for Donaldson, as the Braves, Dodgers, Twins, and Rangers are also reportedly "in" on JD.
If it weren't for the lack of potential trade pieces, the Rangers could be in on KB, as they'd submitted a $192M offer to Anthony Rendon's camp, which turned out to be $53M to little. Texas is serious about landing a big name on the hot corner, so if they can swing dealing pitchers, prospects, and a hitter, they may just end up winning the sweepstakes.
The Rangers now have a bigger problem than signing KB, Josh Donaldson, or others, as without explanation (yet), they're brand new ballpark in Arlington was on fire on Saturday.
This is coming from the new Rangers ballpark right now. pic.twitter.com/iKxDlCitQa

— Anthony Andro (@aandro) December 14, 2019
"Does this mean there's a new pope? On Saturday in north Texas, strange smoke was seen emanating from Globe Life Field in Arlington, which also perfectly symbolizes the Texas Rangers' mediocre offseason thus far." -12 Up
Video of the new Rangers Ballpark from Snapchat pic.twitter.com/0qEMLYDY1s

— Rangers Weatherman (@RangersWeather) December 14, 2019
I'll quit you: As tensions continue to rise between MLB and MiLB, Commissioner Rob Manfred has now threatened to pull completely away from the minor-leaguers. In an already toxic environment, MLB is looking at doing away with several minor league teams, one of which could be the Eugene Emeralds (Cubs affiliate).
Major League Baseball threatens to walk away from Minor League Baseball entirely https://t.co/jySGUgBU22 via @HardballTalk

— Craig Calcaterra (@craigcalcaterra) December 14, 2019
Manfred: How do we fix baseball
People: Make it more affordable to go to games, get rid of the blackouts
Manfred: You want a crazy ball?
People: Well, no. But you coul-
Manfred: PITCH CLOCKS
People: No...
Manfred: You drive a hard bargain. Okay. We'll get rid of the minor leagues

— Thickie Don (@AstrosCounty) December 14, 2019
Brandon Morrow: There seems to be a lot of confusion surrounding just what the Cubs have offered Brandon Morrow, and strangely, the team hasn't made the official announcement yet. We know that if Morrow makes the major league squad, that his salary is $1M, with another $1.25M available if he appears in 65 games; the confusion comes with the minor league portion.
Some media outlets have reported this as a firm minor league deal, meaning that Morrow would be earning at least the league minimum salary of around $600k. Still, others are making this sound as though he is a non-roster invite to spring training, meaning that if he fails to make the squad, they owe him nothing — big difference.
If the latter is indeed the case, then no, there is absolutely no risk involved at all, and this deal could only benefit both team and player. If there is any guaranteed money – no matter the amount – is when I believe this becomes more of a liability. I used the words "high risk" in my Odds and Ends commentary from this morning and, in retrospect, maybe that was too strong. I guess what I was trying to say, is that at some point, Theo has to be able to say, "Enough is enough" with Morrow. When the guy was healthy, he was a golden child, but our bodies are machines, and machines eventually wear out.
The Cubs haven't (outwardly) approached Pedro Strop yet, nor have they had any reported talks regarding Steve Cishek, both of whom would be far less risky than Morrow. While it's conceivable that Shrek wants to move on to another contract and more money, Pedro Strop has made it clear that he wants to stay in Chicago. Make no mistake, if Morrow can return to the majors while staying healthy and productive, this is absolutely a win-win, but the number of continuous setbacks that he's suffered since joining the Cubs seems to make his potential comeback unlikely.
Happy Holidays! pic.twitter.com/OmsDvtUCRI

— Iowa Cubs (@IowaCubs) December 14, 2019
Cubs' Birthdays Celebrating today, were ex-Cubs Donn Roach (30), Ángel Guzmán (38), Rod Lopez (44), and posthumously, Bill Buckner (70), Pete Whisenant (90), Sam Jones (94), Bobby Adams (98), Paul Erickson (104), Les Bell (118), Harry Wilke (119), and George "Lefty" Tyler (130).
Baseball Quotes: "Baseball is littered with obstacles. You have to learn how to overcome them to be successful." -Dave Winfield
You have to have fun. This is a great game and you have to enjoy every moment of it. -David Ross pic.twitter.com/irVwBDnQBd

— Baseball Quotes (@BaseballQuotes1) December 13, 2019
MLB and the Hot Stove
NL Central News:
Brewers: Milwaukee is now showing interest in free agent OF Avisail Garcia.
Reds: With everything that the Reds have already accomplished this offseason, it's a little surprising that they weren't more active at the Winter Meetings. Although they did make some inquiries about players, little was mentioned in terms of what they may be willing to give up in the trade market.
Cincinnati picked up some functional pieces last year, but cohesion seemed to be their biggest problem, as the roster never seemed to meld itself together. If David Bell can get the gears in sync, there's no reason that the Reds can't reinvent the Big Red Machine in 2020. I still say to look for them in third place or better this season.
From the Rest of MLB:
Braves: Atlanta has re-signed utilityman Charlie Culberson to a minor league deal. This includes a non-roster invite to Spring Training. Culberson can earn a million if he makes the majors.
Rangers: Texas has signed RHP Jordan Lyles to a two-year/$16M deal. The team has also re-signed LHP Jeffrey Springs to a one-year MLB deal.
Royals: KC has re-signed RHP Jesse Hahn to a one-year deal worth $600k (an $200k available in incentives).
Padres: San Diego is looking for a starter or two and are now reportedly pursuing Dallas Keuchel and Madison Bumgarner.