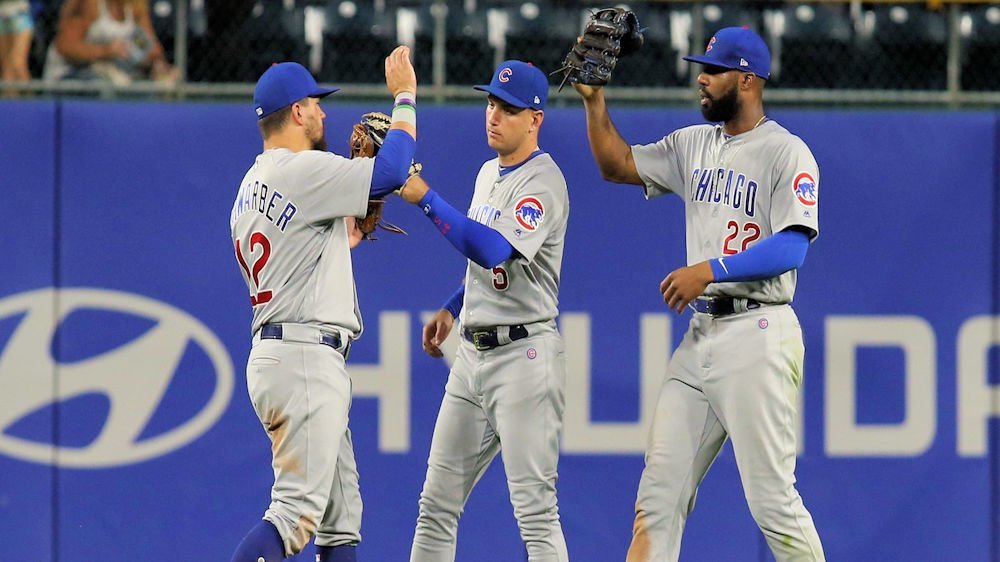 | | |
| --- | --- |
| Cubs News and Notes: Cubs Convention 2020, Arbitration deadline, El Mago 2.0, Hot Stove | |
---
| | | |
| --- | --- | --- |
| Friday, January 10, 2020, 8:10 AM | | |
CUBS NEWS AND NOTES
Next Game: Next Game: 43 days – Saturday, February 22, 2020: Athletics vs Cubs (Sloan Park)
Opening Day: 76 days – Thursday, March 26, 2020: Cubs vs. Brewers (Miller Park)
The Cubs' pitchers and catchers hold their first spring workout on February 12th, with the full squad starting on February 17th. According to Bruce Miles, "Theo, Jed and Joe, er, David, likely to meet media Feb. 11."
Cubs Con: Next week (January 17th through the 19th) marks the 35th Annual Cubs Convention.
As per the the Cubs' Press Release, this year appears to be full of entertainment for the attendees and from the looks of things, fans will have a chance to meet a plethora of players from today and the past.
You can see more info at https://t.co/KhO0vWYkYM. Here's a rundown of current/former players planning on attending: pic.twitter.com/BetZIKuroI

— Jordan Bastian (@MLBastian) January 9, 2020
Jon Lester will not be there due to a prior commitment, nor will Craig Kimbrel, as he's dealing with a family medical issue.
Third base watch: Four things seem to be affecting Theo's ability to trade Kris Bryant this winter: (1) A decision on his grievance (expected to come shortly); (2) Josh Donaldson remaining a free agent (with four known suitors); (3) Theo's asking price (which is still outrageously high) and;
(4) the uncertainty of what the Rockies intend to do with Nolan Arenado (flip a coin).
Much like the Cubs, rumors go back and forth about Nolan Arenado being traded, but at some point, Donaldson will choose to sign, and the arbitrator will render a decision on KB's grievance. I'd expect Theo Epstein to come down on his asking price for Bryant, but not so much that he ends up giving him away.
Keeping KB until the July trade deadline is another possibility, as, by that time, the decision on KB's grievance will have been rendered, and there won't be any free agent alternatives for other clubs to consider. Not that I would want to see Willson Contreras or Kyle Schwarber dealt, but the same could hold for them, concerning the July deadline.
Arbitration deadline: Today marks the deadline for teams and agents to exchange figures, before going to arbitration. The Cubs have seven players due for arbitration.
Maybe the Cubs should consider signing Adrian Javier Baez Marquez to a futures contract...https://t.co/yM4cu2ouI0

— Tony Andracki (@TonyAndracki23) January 9, 2020
Wrigley Field: Take a new look at Wrigley Field, as you've never seen it before.
A fresh new look at Wrigley Field ??@Cubs pic.twitter.com/NGK0jCHrad

— Colin Hinkle (@hinklecolin) January 9, 2020
El Mago 2.0: The Cubs may also want to consider a future's contract with Javy's son. For a toddler, this kid has quite the (left-handed) swing and a corresponding bat flip in his repertoire. Go El Mago 2.0!
Like El Mago, like son ??@javy23baez's son already has the bat-flip swag down: https://t.co/18yDEET4aM

(??: @PlayBall) pic.twitter.com/1znPOESfVY

— Cubs Talk (@NBCSCubs) January 9, 2020
Cubs' Birthdays Celebrating yesterday, were ex-Cubs Iván de Jesús (67) and Joe Wallis (68).
Baseball Quotes: "You know, catching the knuckleball, it's like trying to catch a fly with a chopstick." -Jason Varitek
"I'm just gonna keep playing my game" - Javier Baez #Cubs #TBT #ThrowbackThursday #ElMago pic.twitter.com/drVmureHZR

— Tennessee Smokies (@smokiesbaseball) January 9, 2020
MLB and the Hot Stove
NL Central News:
Brewers: According to an MLB Trade Rumors article from yesterday, "There has been a lot of turnover for the Brewers this winter, though it seems fair to say the approach has been one of seeking incremental, cost-efficient improvement. Certainly, there hasn't been a marquee addition. The organization may or may not have something bigger up its sleeve, but it likely isn't done making moves."
GM David Stearns told reporters that he'd be "surprised" if he isn't able to make any additional moves to shore up Milwaukee's roster. The team did sign outfielder Logan Morrison and catcher Tuffy Gosewich to minor league deals on Thursday.
Cardinals: The Cardinals still remain interested in re-signing Marcell Ozuna, although talks haven't progressed. The Red Birds are also in the running for Nolan Arenado, but it remains unclear as to whether they've exchanged proposed trade candidates.
The team did, however, swing a big trade yesterday.
The St. Louis Cardinals are trading OF Jose Martinez, OF Randy Arozarena and a Compensation A pick (after 1st round) to the Tampa Bay Rays for LHP prospect Matt Liberatore, a low-level catching prospect and Compensation B pick (post-2nd), sources familiar with the deal tell ESPN.

— Jeff Passan (@JeffPassan) January 10, 2020
Pirates: Hey! Somebody finally woke up in the Pirates' front office. Yesterday, the team signed free-agent outfielder, Guillermo Heredia, to a major league deal. Heredia is capable of playing left, right and center, and could help the Pirates' decision to move Starling Marté.
On the other hand, Heredia's batting average has declined yearly since coming to the majors in 2016, dropping from .250 to just .225 last year (231 plate appearances).
Reds: Even after signing Shogo Akiyama, Mike Moustakas, and other high-level players, Cincinnati is still "surely contemplating additions," as per Jeff Todd of MLB Trade Rumors. The team is reported to be showing interest in Corey Seager.
#Reds have targeted one of the game's top shortstops https://t.co/YeD3bb7gNW pic.twitter.com/cOqeKnJnMc

— MLB Trade Rumors (@mlbtraderumors) January 10, 2020
From the Rest of MLB:
White Sox: In the wake of the Edwin Encarnacion signing (one-year/$12M), the Sox have designated LHP Kodi Medeiros for assignment. Maybe the Cubs take a look? Medeiros is a former first-round draft pick (12th) in 2014, though he has struggled in Triple-A (Birmingham) the last two seasons.
- Yasmani Grandal played in each of the last five postseasons.

- Dallas Keuchel played in four of the last five postseasons.

- Edwin Encarnacion played in each of the last five postseasons.

Sox have injected an awful lot of winning experience into this roster this winter.

— Vinnie Duber (@VinnieDuber) January 9, 2020
"They have a lot of great young hitters, and I am very close with Eloy Jimenez. I have known him since he was 14 years old" -Edwin Encarnacion on joining the Sox
Yankees: The Yankees have signed veteran catcher, Chris Iannetta, to a minor league deal.
Diamondbacks: It's official. Arizona has signed RHP Héctor Rondón to a 1-year deal with a club option for 2021, and in turn, has designated RHP Jimmie Sherfy for assignment.
Marlins: Miami has designated outfielder Austin Dean for assignment.
Orioles: Baltimore has outrighted RHP Marcos Diplan to Triple-A Norfolk, after clearing waivers.
Nationals: Washington has signed RHP Tyler Epler to a minor league deal.