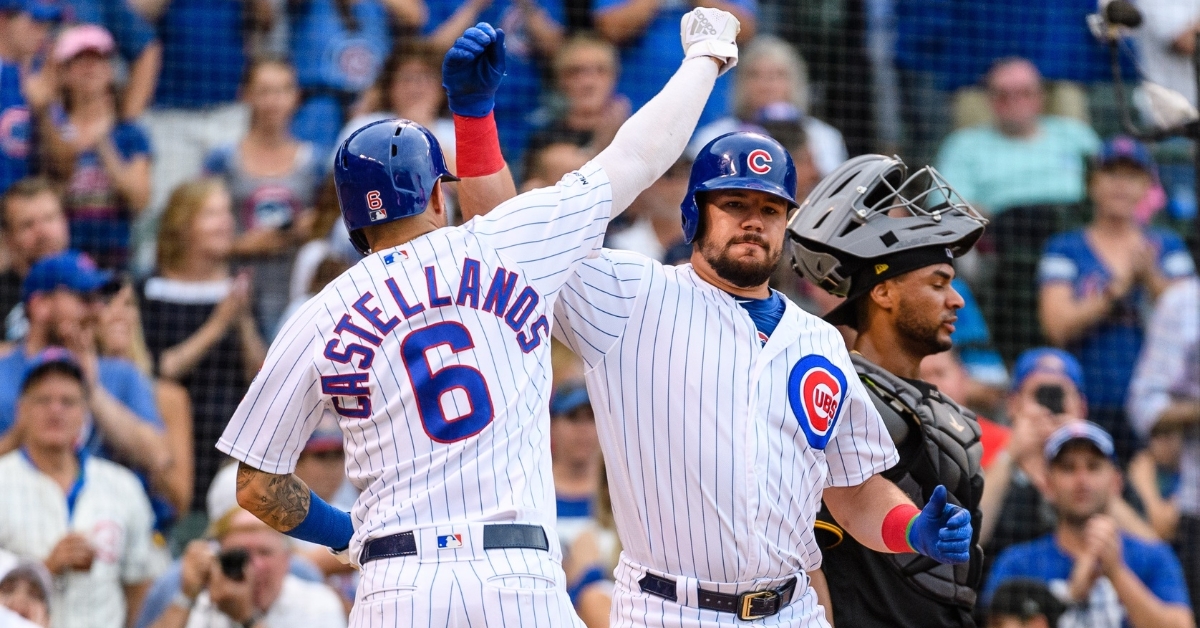 | | |
| --- | --- |
| Cubs News and Notes: Cubs TV, Quotes on David Ross, Castellano's value, Hot Stove, more | |
---
| | | |
| --- | --- | --- |
| Saturday, October 19, 2019, 8:38 AM | | |
MLB Postseason
ALCS: After a makeup game (rainout) on Thursday and a scheduled Game-5 last night, the Yankees are still alive, now trailing the Astros 3-2 in the best-of-seven series.
The Astros managed to win Thursday's game by a final of 8-3 but blew the chance to win the series last night, as James Paxton outpitched Justin Verlander on the way to a 4-3 Yankees win.
Game-6 is set to be played tonight in Houston at 7:08 PM Central (FS1), both starting pitchers to be determined. If needed, Game-7 – also in Houston, will be played at 6:38 PM Central tomorrow on FS1, with Luis Severino tentatively slated to pitch against Gerrit Cole.
NLCS: The extended ALCS should help the Nationals, as Washington has been sitting idle since Tuesday night when they completed their sweep of the Cardinals. Houston and the Yankees are giving the Nats plenty of time to rest up and regroup, but the Nationals cannot afford to lose the momentum that they've carried throughout the Wildcard Game, ALDS and ALCS, if they want any shot at winning the World Series.
World Series:
On Friday, MLB released the times and TV schedule for the World Series, which are as follows:
Tuesday, Oct. 22: WSH at NYY/HOU Game 1, 8 p.m., FOX
Wednesday, Oct. 23: WSH at NYY/HOU Game 2, 8 p.m., FOX
Thursday, Oct. 24: Travel day
Friday, Oct. 25: NYY/HOU at WSH Game 3, 8 p.m., FOX
Saturday, Oct. 26: NYY/HOU at WSH Game 4, 8 p.m., FOX
Sunday, Oct. 27: NYY/HOU at WSH Game 5 (if necessary), 8 p.m., FOX
Monday, Oct. 28 Travel day (if necessary)
Tuesday, Oct. 29: WSH at NYY/HOU Game 6 (if necessary), 8 p.m., FOX
Wednesday, Oct. 30: WSH at NYY/HOU Game 7 (if necessary), 8 p.m., FOX
All games telecast on MLB Network, TBS, FOX, and FS1 will be available to MLB.TV subscribers who are authenticated subscribers to the applicable network through a participating pay-TV provider.
Bryce Harper on the Nats' success: "I've been watching a lot of it. Those are the guys I played with and came through the organization with. …I wish them nothing but the best. And that's real. I have no hard feelings toward them, or Mike Rizzo, or anything like that. You know, they're a great team. And that's why they are where they are.
"They made their decision, and I made my decision as well," Harper continued. "I made the best decision for my family. And I am so happy to be in Philly. It's the place that I wanted to be."
CUBS NEWS AND NOTES
Marquee Network: Details are finally starting to emerge as to how fans will be able to see the Cubs' new Marquee Network. On Thursday, the Cubs issued the following press release:
"Baltimore, MD (October 17, 2019) – Sinclair Broadcast Group, Inc. (Nasdaq: SBGI), and AT&T have agreed on a multi-year agreement across DIRECTV, AT&T TV and U-verse for continued carriage of Sinclair's owned local broadcast stations and Tennis Channel, for future carriage of Marquee Sports Network, a regional sports network featuring games of the Chicago Cubs launching in 2020, as well as for the 21 RSN brands Sinclair recently acquired and the YES Network, in which Sinclair is a joint-venture partner."
The Cubs will be issuing more announcements about future partnerships with other carriers. I'm praying that Chicago will have Roku channel, as I've "DirecTLY" told DirecTV what I thought of their service a few years ago, and I have also since ditched the Dish. Pardon the mini-rant here, but I'm too busy to watch a ton of TV as it is, and I got sick and tired of paying $100.00 a month for a 200+ channel "basic package" (over half of which were shopping channels) that I never watched. I've trimmed that down to $49.99, which I stream through Roku, and I couldn't be happier – that is, so long as I can get the Cubs.
I'd be surprised if MLB TV doesn't carry the new network, but from what I understand, the Cubs will also be airing a lot of thing besides the games (think Ryan Dempster's shows, press conferences, perhaps Cubs' Con and other things) which MLB TV wouldn't air. I'm already hearing people complain about the (still unannounced) price, but I think it'll be worth it. Rant over.
Cubs' managerial candiadates: As the time for the announcement draws closer, Theo is reportedly down to just two candidates: David Ross and Joe Espada. According to Jesse Rogers, though, Espada may come with a bit of a trait that pushes Theo away from choosing him.
"Espada is so impressive, say those in the game, that if the Cubs were starting a team from scratch, he might be their choice for manager." … "But as Epstein repeated numerous times in his postseason news conference, his team, at this particular time, has particular needs. First and foremost, the Cubs want someone who can manage their players, not necessarily be an in-game expert. Espada is likely to be better at the latter than the former, say those who know his strengths. That might not be right for the Cubs right now."
Damnit Theo, just announce Rossy, and let's get on with the show.
Hoyer on David Ross: "His mere presence is helpful. Those guys trust him. The timing of David Ross being on this team was perfect in that those guys were 21, 22, so he had such an influence on those guys. I think they still look up to him. When he's around, they will gravitate toward him and talk to him in a way -- we couldn't hire someone from the outside that could have that kind of influence."
Bryant on David Ross: Although this is an old quote from Kris Bryant (exact date unknown), it should serve to illustrate to some that Rossy isn't just a "fun guy" to be around. "I've always looked at Rossy as a coach when he played here. Yeah, it was goofy, it was fun, it was energetic, but when he needed to tell you something, he let you hear it. From the very get-go, I felt like this guy will be a manager someday for sure."
Nick Castellanos: According to an article in MLB.com, Nicholas Castellanos' defense could potentially drive down his free-agent value. The best thing in the world for the Cubs would be to have teams shying away from a bidding war, which could make Castellanos even more interested in staying with Chicago. For the money (I estimate $20M-22M per year for 5-7 years), I don't think Theo Epstein can risk not having him aboard.
Cubs' Birthdays: Celebrating yesterday, were ex-Cubs Don Young (74) and posthumously, Allen Ripley (67), Sumpter Clarke (122), John "Hans" Lobert (138), Walt Wilmot (156), and Cliff Carroll (160).
Baseball Quotes: "When you go to home plate with a lot of confidence, you feel that you can hit any pitch." -Adrian Beltre
Lou! Can I have a word with you, here?

Sure.

See, I've got it right here in my contract. It says, "I don't have to do any calisthenics that I don't feel are necessary." So what do you think about that? pic.twitter.com/qdEHaiuI3D

— Baseball Quotes (@BaseballQuotes1) September 19, 2019
MLB and the HOT STOVE
Bruce Bochy: Contrary to all of the speculation, former Giants manager, Bruce Bochy says that he's not going to be managing anywhere – at least not this year. Bochy has already informed all teams who showed interest that he wouldn't be interviewing. The former SF skipper is not ruling out managing again in the future, but for right now, he's going to remain employed with the Giants as a special assistant.
Several clubs have reached out to Bruce Bochy about their managerial vacancy, including the #Padres, who offered him a job, but Bochy says will take the year off before deciding whether he wants to return in 2021. He will be a #SFGiants special assistant during the 2020 season.

— Bob Nightengale (@BNightengale) October 18, 2019
Rangers: Elvus Andrus is staying put.
Elvis Andrus will not opt out of the $43M and 3 years remaining on his Rangers deal, remains their SS. Not a surprise. 2019 wasn't his best season.

— Jon Heyman (@JonHeyman) October 18, 2019
Dodgers: Rumors are now floating around that the Dodgers could pursue Nationals' third baseman, Anthony Rendon. Justin Turner has just one more year left on his deal (worth $20M to him in 2020), and while the team hasn't splurged on any free agents since Andrew Friedman took over as President of Baseball Operations, that approach may change in 2020. Los Angeles has now won seven straight NL West titles but continues to fall short of either making it to the World Series or losing when they're in it.
Angels: According to Ken Rosenthal, the Angels are now the "overwhelming favorite" to land Gerrit Cole. Cole was born in Newport Beach, California, and attended UCLA, making southern Cali an attractive landing spot for him.
Despite hiring Joe Maddon and having Mike Trout, the Halos will need a lot more help if they're to make any serious noise in the AL West. Los Angeles finished in fourth place this year, 35 games back of the Dodgers and eight games behind third-place Texas.
Padres: According to AJ Cassavell (MLB- Padres' beat writer), much like the Cubs, San Diego is now down to just two candidates for their next manager: Jayce Tingler (currently serving as Texas' Major League development coordinator) and Ron Washington, the Braves third-base coach.