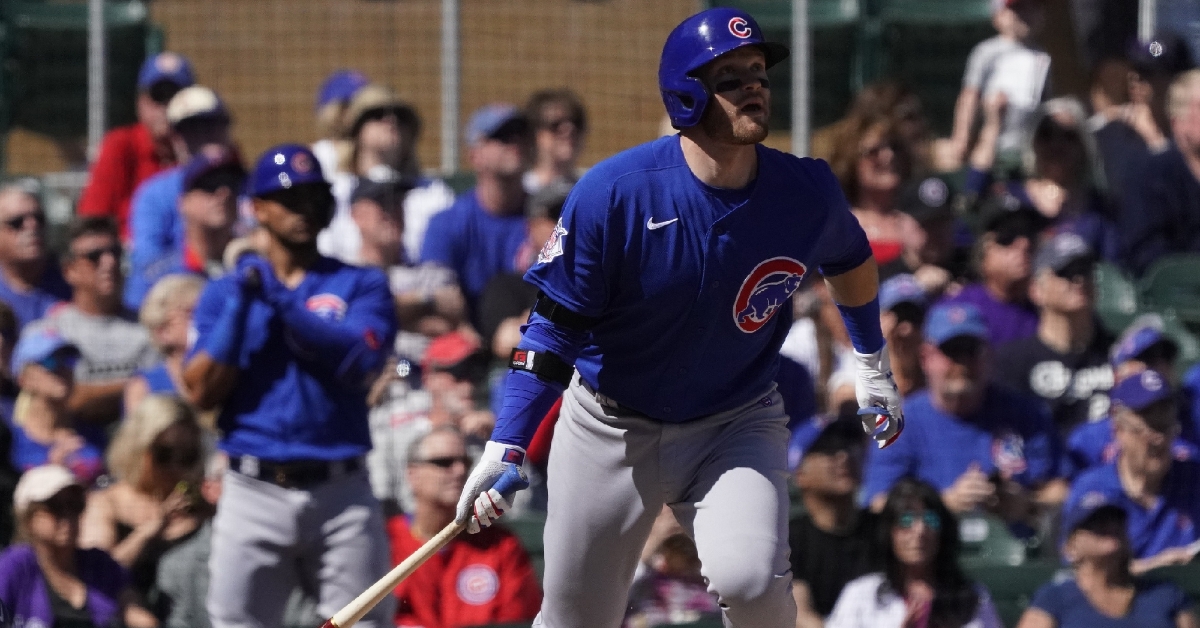 | | |
| --- | --- |
| Cubs News and Notes: Cubs eliminated, Hendricks' Maddux, Cubs all-time HR leaders, more | |
---
| | | |
| --- | --- | --- |
| Sunday, May 3, 2020, 5:01 PM | | |
CUBS NEWS AND NOTES
No Baseball: Day 39.
Cubs (virtually) eliminated: Ian Happ fought hard in the virtual MLB season being played via MLB The Show, making it to the semifinal round. In the end, it would be Lucas Giolito (White Sox) who'd advance to the World Series round, where he'll face Blake Snell (Rays) for bragging rights.
Giolito clinched in Game-3 against Happ, who was seeded 7th overall. Happ and his virtual Cubs rallied late, loading the bases, but Giolito was able to kill the rally, helping the Sox to a 3-1 win over the Cubs.
Atta boy happer @ihapp_1

— Willson Contreras (@WContreras40) May 2, 2020
It was a nail-biter, but @LGio27 hung on to advance to the championship series. pic.twitter.com/uv0FHlWBy5

— MLB Gaming (@MLBGaming) May 2, 2020
It's Snell vs. Giolito in the Players League finals https://t.co/6QCvttUUsK via @MLB

— Ken Allison (@KenAllison18) May 3, 2020
On this date: Hard to believe, but it was one year ago, today, that the Professor threw his Maddux against the Cards.
One year ago #OTD, Kyle Hendricks threw a 'Maddux' against the Cardinals. pic.twitter.com/yut9O94eBA

— Cubs Talk (@NBCSCubs) May 3, 2020
In a game that would last 2:28, Kyle Hendricks only allowed four hits, as the Cubs cruised to a 4-0 victory over the Red Birds. Hendricks didn't walk a single man and collected a trio of strikeouts during his complete-game shutout.
Offensively, Anthony Rizzo's three-run jack in the bottom of the third would give the Cubs a 3-0 lead. Javier Baez would add an insurance run as he managed to tally a two-out RBI in the seventh. The W would make the Cubs 17-12 on the season, leaving them in second place behind the Cards who were 20-12 at that point.
Also, on this date in 1936, Joe DiMaggio suited up for the Yankees for his first MLB game. Also known as Joltin' Joe and the Yankee Clipper, DiMaggio would play a total of 13 seasons from 1936-1951 (all with the Yanks), netting a slash line of .325/.398/.579 with a .977 OPS, 361 homers and 1,537 RBI.
?? May 3rd, 1936: A kid named Joe DiMaggio played his first game for the New York Yankees. ?? pic.twitter.com/mhb0cExqLj

— 12up (@12upSport) May 3, 2020
Born on November 25, 1914 (Martinez, CA), the baseball legend died at age 84 on March 8, 1999, in Hollywood, California.
Funniest Spring training Moments: I'm not sure who compiled the following video, but this is great. The funniest mic'd up moments from the shortened 2020 Spring Training. Leading off, Kris Bryant, with multiple appearances by KB and Anthony Rizzo. Freddie Freeman, Jeff McNeil, and others also contributed to the humor. Good stuff.
(Not so) Fun Fact: Of the nine positions on the ball diamond, no Cubs makes the history books for most home runs by position.
The top home run hitters by position are (C) Mike Pizza with 427; (1B) Albert Pujols- 658; (2B) Jeff Kent- 377; (3B) Mike Schmidt- 548; (SS) Cal Ripken- 431; (LF) Barry Bonds- 762; (CF) Willie Mays- 660; (RF) Hank Aaron- 755; (DH) David Ortiz- 541 and (P) Wes Ferrell- 38.
Tops for the Cubs: Catcher: Gabby Hartnett- 231, Jody Davis- 122; First Baseman: Ernie Banks- 512; Second Baseman: (2B) Ryne Sandberg 282; Third Baseman: (3B) Ron Santo- 337; (SS) Javy Baez- 110; (LF) Billy Williams- 392; (CF) Hack Wilson- 190; (RF) Sammy Sosa- 545; (P) Carlos Zambrano- 23.
In the meantime: As we continue to wait patiently (or impatiently, in some cases) for MLB to return, the Korean Baseball Organization (KBO) has finally started its regular season.
When asked about how things were going in Korea, Samsung Lions bench coach, Mark Weidemaier, told Jon Morosi, "Couldn't be better. Very relaxed atmosphere. We are all used to the daily temp scan. Support folks wear masks. … Baseball is back, albeit in a much different environment. No downside here."
There's little doubt that MLB is watching the KBO very closely to see if problems regarding COVID-19 begin appearing. South Korea is a much smaller country than the US, owning a population of 51.3M in 2020. The coronavirus didn't hit them nearly as hard, with only 10,793 infected to date. Currently, there are only 1,360 active cases, with the country reporting a recovery rate of 85%. Meanwhile, the US has had to deal with an estimated 1,162,164 cases of the virus, with 920.8k active cases still remaining.
The rate is slowing here, and with or without baseball, that's a good thing. Arizona – where in all likelihood, MLB will play this year – hasn't reported any new cases over the last few days, nor have they had any more deaths.
At this point, I'll take MLB however I can get it. There will be no sweeter sounding news, as when the day finally comes, that players are finally playing baseball again.
Cubs' Birthdays: Celebrating yesterday were ex-Cubs José Ascanio (35), Keith Moreland (66), and posthumously, Gale Staley (121), Bill Piercy (124), and Larry Cheney (134).
Baseball Quotes: "For all its gentility, it's almost leisurely pace, baseball is violence under wraps." - Willie Mays
Football is to baseball as blackjack is to bridge. One is the quick jolt. The other the deliberate, slow-paced game of skill. -Vin Scully pic.twitter.com/kjtFQbpju5

— Baseball Quotes (@BaseballQuotes1) April 4, 2020