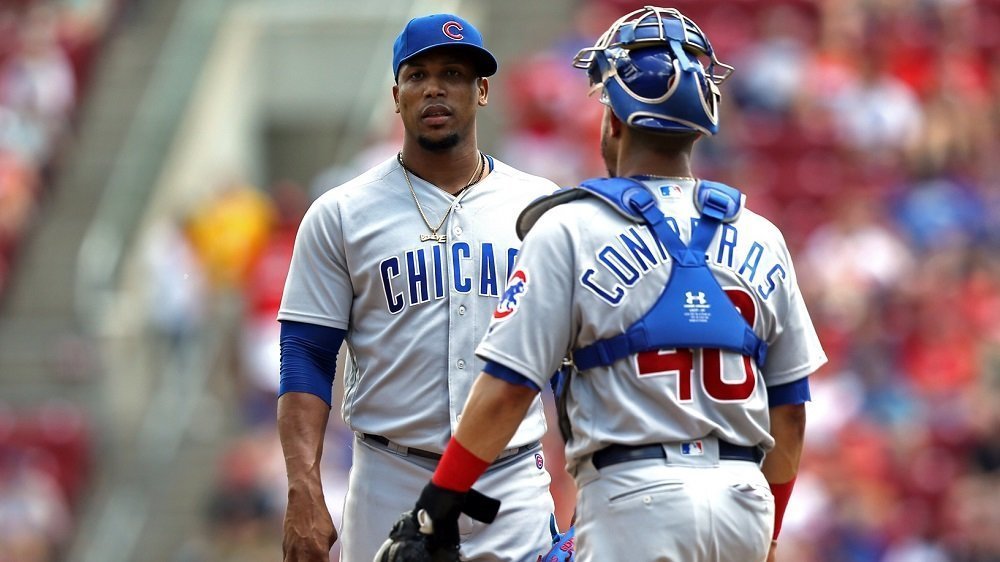 | | |
| --- | --- |
| Cubs News and Notes: Cubs eyeing Pedro Strop, Kaplan on "fat and happy" Cubs, Hot Stove | |
---
| | | |
| --- | --- | --- |
| Tuesday, January 21, 2020, 7:49 AM | | |
CUBS NEWS AND NOTES
Next Game: Next Game: 33 days – Saturday, February 22, 2020: Athletics vs Cubs (Sloan Park)
Opening Day: 66 days – Thursday, March 26, 2020: Cubs vs Brewers (Miller Park)
Pedro Strop: Yesterday, an MLB Trade Rumors article stated that the Cubs may still be in the running to bring Pedro Strop back for at least another season. Strop is reportedly weighing multiple offers, with the Cubs, Marlins, Brewers and Rangers all showing interest.
Pedro's series of crash-and-burn outings last season left me certain that Chicago would never re-sign him. I still have serious doubts, but Strop is a fan favorite who loves the Cubs so anything's possible.
Lee Smith on the Astros: "They've probably been doing it for years. But the thing about it is, you're going to say they won the World Series only because they were stealing signs? I think that's bull."
"I made a lot of mistakes. He can learn from my mistakes without having to make them himself. If you can share things in humility, a lot of times it keeps somebody else from repeating your mistakes." -Cubs Bench Coach, Andy Green on David Ross
David Kaplan: According to Kaplan, MLB sources have told him that the Cubs got extremely complacent after their 2016 championship – but I don't think it should have taken "sources" for the Kapman to be able to point that out. Nonetheless, Kaplan says that someone inside the Cubs organization told him, "on the field we got fat and happy and that cannot be allowed to continue."
I think this falls under the "accountability" that David Ross has been preaching, something that many (including me) feel that Joe Maddon failed to do. Identifying the problem is easy; fixing it may be the hard part for Rossy.
On Pete Rose, if I am 100% honest (which is dangerous here), I kinda don't care either way. Part of me says never--betting on baseball was strictly banned during his entire career. Part of me has Rose fatigue & thinks, "Let's just get this over with & do it." I'm good w/either

— Len Kasper (@LenKasper) January 20, 2020
Third base watch: According to GM Jeff Bridich, Nolan Arenado will not be traded. While Arenado was on the trading block, the Rox have now shut the door on potential suitors, stating the team has, "listened to teams regarding Nolan and really nothing has come of it."
Arenado isn't too happy with this decision…
Nolan Arenado to MLB-dot-com on #Rockies: "There's a lot of disrespect from people there that I don't want to be a part of. You can quote that." https://t.co/fNAoFht0YF

— Thomas Harding (@harding_at_mlb) January 21, 2020
This is potentially huge news for Theo Epstein if he still has the intention to trade Kris Bryant. After Josh Donaldson signed with Minnesota, Arenado and a decision on Bryant's grievance (expected this week) were the only things hindering a trade.
Adbert Alzolay: Some guys are born to be pitchers, some aren't, and still others don't find out until a little later in life. Adbert Alzolay tried catching and playing third for the first eight hears that he played ball, but a line drive to the chest changed all of that.
@adbert29 on when the @Cubs first took notice of his ability on the mound#MBPelicans | #CubsCon pic.twitter.com/Ffa2mL08nB

— Myrtle Beach Pelicans (@Pelicanbaseball) January 20, 2020
Chase Strumpf: Drafted just last June (UCLA), Cubs' second base prospect Chase Strumpf is already in the Top-10 second base prospects (ranked 8th).
Cubs' Birthdays: Celebrating yesterday, were ex-Cubs Geovany Soto (37),, John Walker (39), Gale Wade (91), and posthumously, Earl Smith (129).
Happy birthday, @manbearwolf! pic.twitter.com/oqg5O079kl

— Chicago Cubs (@Cubs) January 20, 2020
Baseball Quotes: "God do I love to hit that little round son-of-a-bitch out of the park and make 'em say 'Wow!'" -Reggie Jackson
Talk about being able to hit the ball where you want it…
This is insane! ?? pic.twitter.com/zcyEBYI3mH

— Baseball Quotes (@BaseballQuotes1) January 20, 2020
MLB and the Hot Stove
NL Central News:
Cardinals: Entering the final year of his deal with the Cards, Yadier Molina says that he has no intention of playing for anybody else. Molina says that if he can't re-sign with St. Louis after this coming season, he'll gladly hang up his cleats and retire.
From the Rest of MLB:
Diamondbacks: Arizona has signed LHPs David Huff and Joe Mantiply to a pair of minor league deals.
Blue Jays: Toronto has signed catcher Caleb Joseph to a minor league deal.
Braves: Who said King Felix (Hernandez) was retiring? Atlanta has now signed the King to a minor league deal. Hernandez will get an invite to Spring Training and qualifies for a $1M salary in the majors.
An October in Atlanta would be fit for a King. ??#Braves pic.twitter.com/iDWpoFDW60

— MLB Network Radio on SiriusXM (@MLBNetworkRadio) January 21, 2020
Astros: Continuing their search for a new manager, the Astros will interview Eduardo Perez later today. Perez served as the team's bench coach in 2013 under manager Bo Porter. The Astros also plan to interview former Rangers' manager, jeff Banister.
Giants: SF has signed veteran lefty Jerry Blevins to a minor league deal (includes an invite to Spring Training).