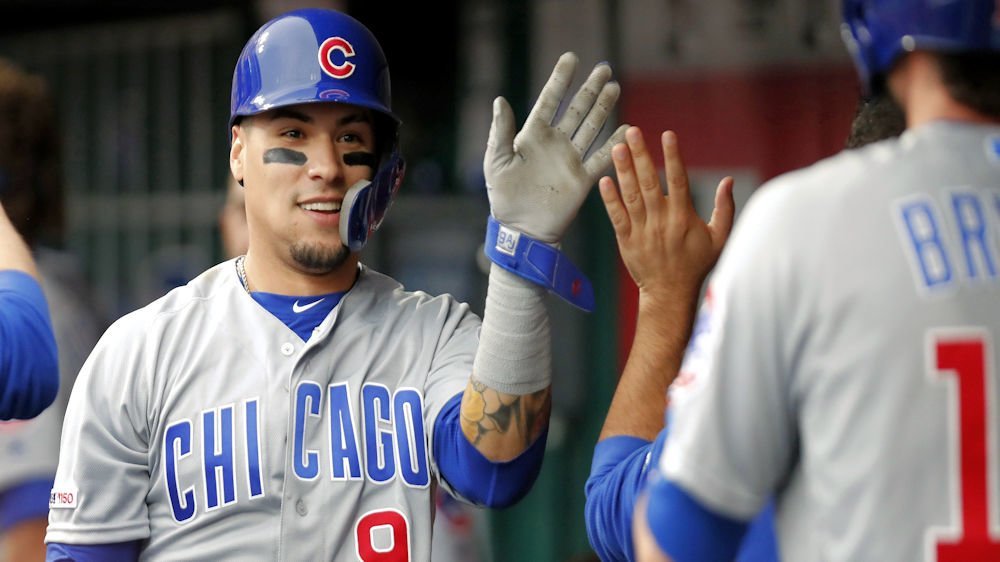 | | |
| --- | --- |
| Cubs News and Notes: Cubs game changed, Marquee launches, Cubs roster talk, more | |
---
| | | |
| --- | --- | --- |
| Saturday, February 22, 2020, 9:13 AM | | |
CUBS NEWS AND NOTES
Next Game: Next Game: TONIGHT!– 7:10 PM: Athletics vs Cubs (Sloan Park). Televised on Marquee Sports Network (if you can access it) or MLB TV.
Opening Day: 42 days - Thursday, March 26, 2020: Cubs vs. Brewers (Miller Park).
Game time moved: Well, we almost had baseball this afternoon. After a flash flood warning threatened Mesa, the Cubs have pushed the start back until 7:10 PM Central.
I'll have a game recap for you after the game and will continue to do for the balance of the spring training schedule. After that, Cole Little will return to take his place for the regular-season game recaps.
Cubs baseball happens today.

That's the tweet. pic.twitter.com/56aR3BvmS3

— Cubs Talk (@NBCSCubs) February 22, 2020
David Ross talks about the anticipation of tonight's game:
Ross on Saturday night's opener pic.twitter.com/WVlkT8hdn9

— Mark Gonzales (@MDGonzales) February 21, 2020
Marquee launches: The Cubs' new Marquee Spirts Network launches today, but a big majority of fans are still without access. As I wrote in my Odds and Ends column yesterday, I have found a number for Sinclair Broadcasting (Marquee) that you can call to live person. I was transferred to a voice mail and never received a callback, but other readers have told me they got through to someone. Their number is 410-568-1500—props to the receptionist (Cathy). If you call, please take it easy on her -she's just the lady who routes your calls. She's a lovely lady who understands fans are frustrated and trying to get answers.
Marquee Sports Network to launch Saturday with over 40 video providers: https://t.co/47NJPG1GDq pic.twitter.com/dllFyXSu1I

— CubsHQ.com (@ChicagoCubsHQ) February 21, 2020
Fifth starter: David Ross discussed the Cubs' fifth starting position with the media yesterday as Alec Mills will get the start tonight followed by Tyler Chatwood, and Adbert Alzolay.
Chatty is currently the favorite as of now.
Jordan Bastian: Jordan Bastian shared some insight with regard to the Cubs roster.
JB says that the top candidates for second base are: David Bote, Daniel Descalso, Nico Hoerner, Jason Kipnis, and that the "Cubs could just hand the keys" to Hoerner. If Hoerner doesn't get the job, he expects that you'll see a left-right matchup of Kipnis/Descalso and Bote/Hoerner.
Bastian says that the only probable bullpen locks are Craig Kimbrel, Jeremy Jeffress, Rowan Wick and Kyle Ryan, which either means the rest are looking really good, or really bad.
He goes on to say that Albert Almora Jr. and Steven Souza Jr. are virtual locks for the outfield backup spots and that Carlos Asuaje, Bote, Descalso, Robel Garcia, Hernan Perez and Josh Phegley are the top bench candidates.
Bastian concludes his article by saying, "For the 26th roster spot, Ross has said he is still determining the best approach for the Cubs' roster. That could include carrying a third catcher (Phegley) to remove some of the hesitance of leaning on the switch-hitting Caratini in pinch-hit situations. If Chicago wanted to use that 26th spot for a pinch-runner type, non-roster invitee Ian Miller could be a strong candidate."
Ross is committed to batting Bryzzo 1-2 in the batting order.
Cubs manager Davis Ross not ready to reveal the entire Day 1 lineup, but did say that Bryant and Rizzo will be in the 1-2 slots.

— Jordan Bastian (@MLBastian) February 21, 2020
Yu Darvish's shirt: Darvish was sent a shirt recently that made fun of the Astros' cheating scandal. He showed it off at his locker.
There was a navy/gray T-shirt draped over the chair in front of Yu Darvish's locker that read:

HOUSTON CHEATED
TRASH-TOWN*
2017 CHUMPS

And an image of the World Series trophy in a garbage can.

— Patrick Mooney (@PJ_Mooney) February 21, 2020
Dirty Craig: Craig Kimbrel says he understands why people want him to prove himself, but that he has no chip on his shoulder. Kimbrel will be fine this year with a normal winter and spring training regimen. He also looks as though he's dropped some weight. Kimbrel is scheduled to throw live BP sometime in the next couple of days.
No chip on Kimbrel's shoulder pic.twitter.com/jKAZILxZDE

— Mark Gonzales (@MDGonzales) February 21, 2020
The Cubs' Boat: Parody specialist Danny Rocket has done it again. Not sure many of you under age 35 will remember…
The #Cubs Boat....soon will be making another run.... pic.twitter.com/uj6E0T6KXE

— Danny Rockett (@SonRanto) February 21, 2020
Latest CubsHQ spring training videos:
Baseball Quotes: "I'm a guy who just wanted to see his name in the lineup every day. To me, baseball was a passion to the point of obsession." - Brooks Robinson (I know the feeling, Brooks.)
1935 World Series, Chicago #Cubs iconic Wrigley Field home to games 3, 4, and 5 (October 4-6). The Detroit #Tigers captured the series and title in 7 games pic.twitter.com/vJnSp6eWYy

— OldTimeHardball (@OldTimeHardball) February 20, 2020
Fans going too far: I'm all about punishing the Astros for cheating, but this goes too damn far. Josh Reddick said both he and his wife had received death threats this entire month via social media. "I'm not the only one," he said, pointing toward his teammates in the clubhouse."
Reddick implored the league to protect the Astros players and their families this season.

Tags: Chicago Sports Baseball
,
David Ross
,
,
Tyler Chatwood
,
Adbert Alzolay
,
David Bote
,
Daniel Descalso
,
,
Craig Kimbrel
,
Jeremy Jeffress
,
Rowan Wick
,
Kyle Ryan
,
Albert Almora
,
Carlos Asuaje
,
Robel Garcia
,
Hernan Perez
,
Ian Miller
,
Yu Darvish