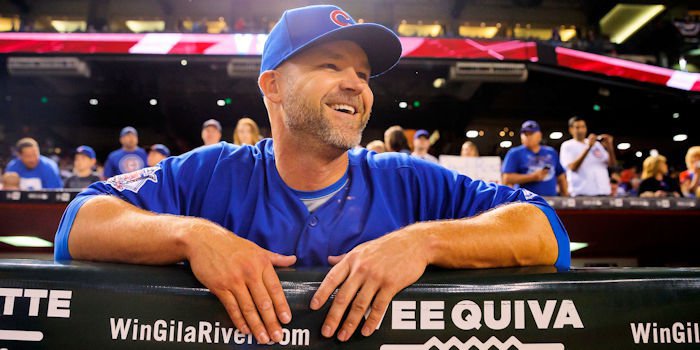 | | |
| --- | --- |
| Cubs News and Notes: Cubs' manager talk, Leadoff hitter, Q's future, Hot Stove, more | |
---
| | | |
| --- | --- | --- |
| Thursday, October 10, 2019, 6:38 PM | | |
MLB Postseason
NLCS
Nationals vs. Cardinals: Game-1 tomorrow at 8:08 PM ET.
ALDS
Game-5 of the final ALDS series (Houston/Tampa) got underway at 6:07 PM this evening (FS1).
CUBS NEWS AND NOTES
David Ross: There seems to be some sort of unofficial consensus that David Ross is too soft to manage the Cubs. I sort of laugh at the notion that Ross is "an extension of Joe Maddon," but then again, people are entitled to opinions.
"There is a misperception out there that hiring Ross would simply be extending The Maddon Era and installing a yes man in the dugout. Yes, Ross played for Maddon … and Bobby Cox and Dusty Baker and Terry Francona and Bruce Bochy. Yes, Ross is good friends with Lester, but he was never afraid to be the bad cop, which made him such a valuable personal catcher." -Patrick Mooney
Interesting that I got called a "Ross-head" on social media this morning, but then again, people are entitled to opinions. I'm not sure that David Ross has quite the same following as Jimmy Buffet, but hey, you never know. To be clear, I'm not suggesting that Ross is the best man for the job, though I have no objections to him getting the shot. Concerning Girardi, I also think he's got great attributes, but may not be the right guy at this time. Just as I explained to a "friend" this morning, there might be 1,000 perfect women in the world, but that doesn't mean that every single one would be the ideal fit for some eligible bachelor.
Nobody can say that Ross wouldn't win 100 games and go all the way, nor can they say that Girardi could. Only time will tell, and we should know the answer to the question reasonably soon. I have noticed one thing: The Cubs offseason is now only 11 days old, and it's already more exciting that last offseason was.
Theo Epstein: "If we can acquire a prototypical leadoff hitter, that'd be fantastic and make everybody's life easier going forward."
Great (in theory), but the Cubs also need a prototypical starter, a prototypical bullpen, and a prototypical manager. Bear in mind, what the team doesn't have is a prototypical budget.
The "Q" surrounding Q: The Cubs are getting close to the time when a decision will be made about Jose Quintana. Q has a $10.5M team option this year, and it should be interesting to see how the Cubs choose to proceed with him (I think he stays). Quintana had some rough outings last year, but then again, so did everyone else in the Cubs' rotation.
With the likelihood that Cole Hamels will be gone, the Cubs are already down one starter (though Tyler Chatwood and Alec Mills wait in the wings), but should they choose not to exercise their option on Q, they'll not only be down two starters but two lefties as well.
Another opportunity for Maddon? Joe Maddon is a shoo-in to be the Angels next manager, but one thing could throw a wrench in the works for the Halos: Dave Roberts. After losing the NLDS to Washington, the Dodgers' manager's job may become available, and at least some think that Joe may prefer that over the opportunity with the Angels. I'm not sure I buy it, but then again, Maddon has never failed to surprise me.
Bring on November: I don't know about you, but to me, this time of the year signifies change. It's a chance for the Cubs (or any other team) to escape all the flaws of the previous year while estimating what will be the best for the team going forward. It's about saying goodbye to players that you never expected to leave while screaming wildly about a player who should have never stayed. Then, there are the bragging rights when the team does what you've predicted they'd do, and the awful taste of crow in your mouth when they do the opposite of what you've been preaching.
I love this time of the year.
Cubs' History 101: Mr. Cub. Class dismissed.
In 1955 Chicago #Cubs legend Ernie Banks became the first SS (min 120 gm) to post a season of 350+ Total Bases. For good measure "Mr. Cub" repeated the feat in 1958 and 1959 pic.twitter.com/Yl58s9T582

— OldTimeHardball (@OldTimeHardball) October 10, 2019
The Commish: "What really is happening: We've allowed the game to change, based on decisions made by field managers and general managers with one goal in mind: Can I win one more game?" – Rob Manfred
No kidding. But isn't that the objective, Commissioner?
Cubs' Birthdays: Celebrating yesterday, were ex-Cubs Adrian Cardenas (32), Ramon Martinez (47), Rob Sperring (70), Roger Metzger (72), and posthumously, Bobby Tiefenauer (90), Albert "Mickey" Kreitner (97), Bill Killefer (132), Bill Moran (150), Ad Gumber (152), Charlie Sprague (155), and Mike Corcoran (161).
Baseball Quotes: "I motivate players through communication, being honest with them, having them respect and appreciate your ability and your help." -Tommy Lasorda
It helps if the hitter thinks you're a little crazy. -Nolan Ryan pic.twitter.com/bNP5zHrqBv

— Baseball Quotes (@BaseballQuotes1) October 9, 2019
MLB and the HOT STOVE
Phillies: The decision has been made: Manager, Gabe Kapler is officially out. According to Jon Morosi, the Phils are expected to hire a manager with previous MLB experience. Andy MacPhail has connections to both Dusty Baker and Buck Showalter.
#Phillies took their time, but the decision is in:https://t.co/WzZMHUEnmH pic.twitter.com/hoBqh4zsnU

— MLB Trade Rumors (@mlbtraderumors) October 10, 2019
Marlins: Miami has announced that third base coach, Fredi Gonzalez has decided to leave the team, to explore "other options." With there being as many free agent managers and coaches as there are players this year, this is sort of a bold move, but Gonzalez has managed both the Marlins and the Braves in the past.
White Sox: The White Sox announced Thursday that they'd named Frank Menechino as their new hitting coach, replacing the previously dismissed Todd Steverson.