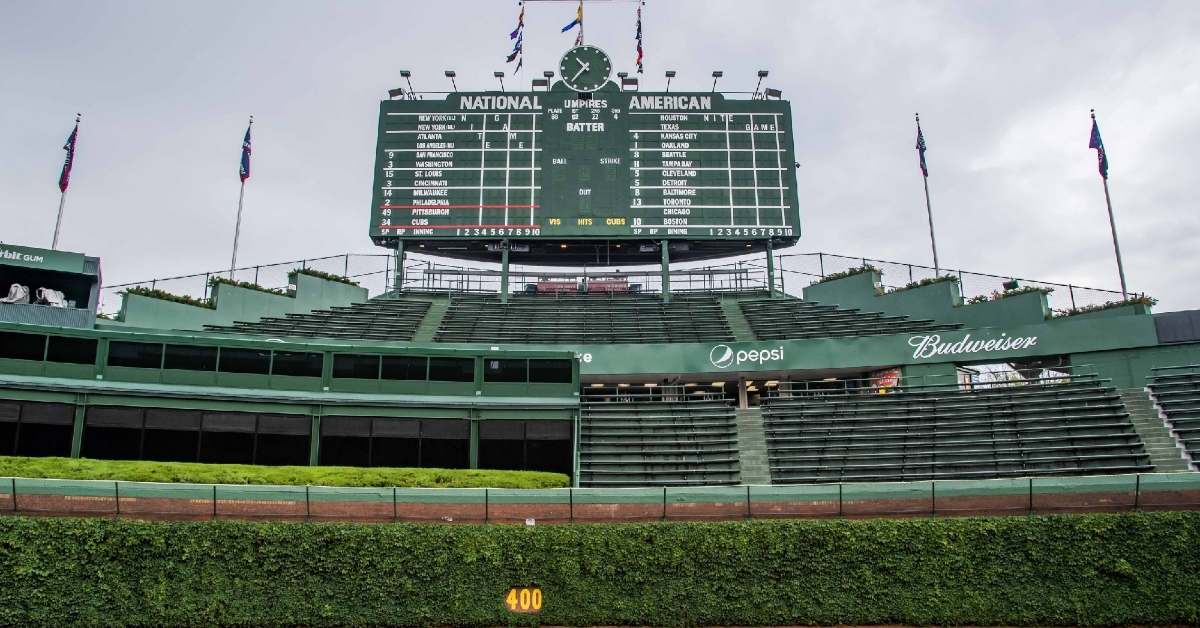 | | |
| --- | --- |
| Cubs News and Notes: Cubs pay through May, Story of Clark the Cub, Reds to take a hit | |
---
| | | |
| --- | --- | --- |
| Saturday, April 25, 2020, 9:10 AM | | |
No Baseball: Day 31. It's hard to believe that a month has already passed since what should have been Opening Day.
Pay through May: Even with having been given the OK to furlough employees, the Cubs say that they'll continue to pay their personnel through the end of May. This move shouldn't come as a surprise, as by all accounts Tom Ricketts is very generous to his employees.
With the country beginning to reopen, MLB's original target date of May 22nd (Memorial Day Weekend) may still be a possibility. If that pans out, Cubs' employees will come out of this unscathed. Kudos, Tom.
Will it happen? The next question is whether or not MLB and the MLBPA will agree on salary and playing arrangements. As I scan through my social media feeds, it is evident players want to get going, though questions surrounding their contracts remain. Somehow, MLB has this convoluted idea that players' pay should be lessened if games are forced to take place in empty stadiums. Talks continue between the sides.
I was listening to the radio the other day when I heard a guest on one of the shows proclaim, "Baseball, hockey, and basketball need to get started again. More than ever, this country needs its sports to feel normal again." Truer words have never been spoken, and I've uttered (and written) those same words several times over the last six weeks.
Despite states attempting to reopen, people will remain cautious about venturing out as the news continues to report thousand of deaths per day. Not everyone is a sports fan, but for the millions upon millions who are, having live sports back would be a massive boost to morale. Yes, the stands will be quiet, but hey, they play professional golf and tennis under those circumstances.
There seems to be no middle ground on the debate about baseball returning. People either absolutely believe it will occur (my hand is in the air for a
"yes" vote), or they are convinced that there will be no boys of summer this year. They can make this happen, but if it doesn't, you can be sure that it was issues about pay – and not entirely about the pandemic – that causes MLB's demise in 2020.
Clark's story: This morning, I stumbled upon an article on MLB's site, written by Erick Chesterton. Eric did some research and outlined the story behind each MLB mascot. Despite the age of the Cubs' franchise, I knew Clark the Cub was their first mascot, but what I didn't know was the backstory behind him.
When the Cubs put Clark to work, they developed a history for him. Clark is said to be a descendent of Joa, a live bear who was kept in a cage outside the ballpark in 1916. Legend has it that Joa escaped from the Lincoln Park Zoo, then followed a roaring crowd to Wrigley Field, where he then decided to call home.
Although 2020 is only Clark's sixth season, he's quickly become a staple at Wrigley Field, as well as a fan favorite. Hang in there, Clark, baseball will return.
MiLB cuts: Yesterday, I wrote about the 42 MiLB franchises that are reportedly slated to be nixed on May 1st. After taking a closer look at the MLB teams which will be affected, I've concluded that there was no rhyme or reason behind the decision on which teams to cut. However, it could be the balance sheet of the individual teams.
A total of 27 MLB teams are expected to lose at least one minor league franchise, with the Cubs, Astros, and Rangers being the three teams who won't lose any of their affiliates. The Cubs managed to dodge a bullet, as the Eugene Emeralds were initially rumored to be on the hit list. Meanwhile, other teams will lose more than one MiLB affiliate, with the Reds taking the biggest hit (four teams).
Here's the breakdown, which I separated by MLB divisions. The number in parenthesis denotes how many minor league affiliates the MLB franchise will lose if the proposed cuts take place.
AL East (Total of five MiLB affiliates lost): Blue Jays (1); Orioles (1); Rays (1); Red Sox (1); Yankees (1).
AL Central (Total of eight MiLB affiliates lost): Indians (1); Royals (3); Tigers (2); Twins (1); White Sox (1).
AL West (Total of five MiLB affiliates lost): Angels (2); Astros (0); Athletics (2); Mariners (1), Rangers (0).
NL East (Total of nine MiLB affiliates lost): Braves (2); Marlins (2); Mets (2); Nationals (2); Phillies (1).
NL Central (Total of eight MiLB affiliates lost): Brewers (1): Cardinals (2); Cubs (0); Pirates (1); Reds (4).
NL West (Total of nine MiLB affiliates lost): Diamondbacks (2); Dodgers (1); Giants (1); Padres (1); Rockies (2).
Cubs' Birthdays: Celebrating yesterday were ex-Cubs Welington Castillo (33), Will Cunnane (46), Herman Segelke (62); and posthumously, Glen Hobbie (84) and Ken Penner (124).
Baseball Quotes: "Never allow the fear of striking out keep you from playing the game." - Babe Ruth
It is designed to break your heart. The game begins in spring, when everything else begins again, and it blossoms in the summer, filling the afternoons and evenings, and then as soon as the chill rains come, it stops and leaves you to face the fall alone. -A. Bartlett Giamatti pic.twitter.com/8hM8wOXjsI

— Baseball Quotes (@BaseballQuotes1) April 22, 2020
MLB NEWS AND NOTES
Yasiel Puig: Despite remaining unsigned, Yasiel Puig, MLB's most eccentric outfielder, is keeping his price tag high. It's been confirmed that Puig recently turned down a $10M offer from a National League team, presumed to be the Marlins. Not that he could be signed right now as rosters are frozen, but what is he thinking? Puig says he intends on playing for somebody this year – that is, assuming they play at all – but if not, his focus is on being signed over the next offseason.