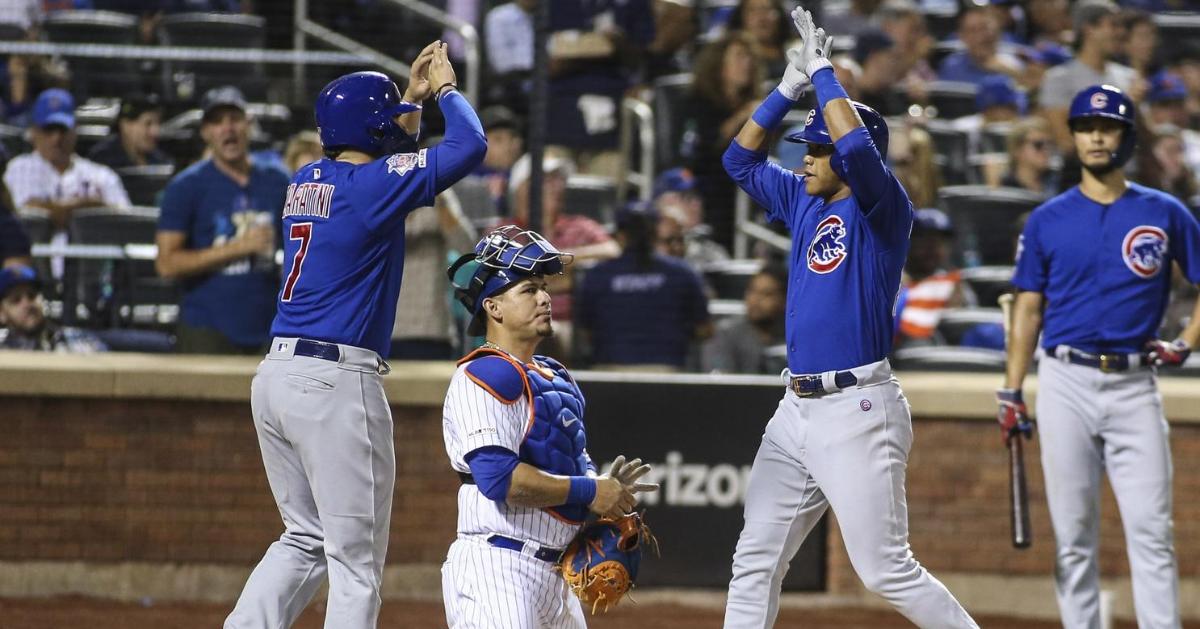 | | |
| --- | --- |
| Cubs News and Notes: Fly the Double Yu, Playoff odds, Zo's future, Rizzo's injury, more | |
---
| | | |
| --- | --- | --- |
| Wednesday, August 28, 2019, 7:57 AM | | |
Next Game: Wednesday: RHP Kyle Hendricks (9-9, 3.20 ERA) vs RHP Noah Syndergaard (9-6, 3.71 ERA). Game information: 6:10 PM CDT; NBC Sports Chicago.
Tuesday's Game Recap:
Undoubtedly still reeling from being swept by the Nationals at Wrigley Field over the weekend, Yu Darvish and the Cubs began their three-game set with the Mets last night. Yu Darvish entered play riding a streak of 121 batters faced without issuing a walk.
Darvish would give up a walk to end that streak, but he did accomplish this…
.@faridyu's longest outing of the season!

His 26.0 K/BB ratio (78/3) since the start of July is the best mark in baseball. pic.twitter.com/TRpQQXhzIW

— Chicago Cubs (@Cubs) August 28, 2019
I'm convinced that had Darvish stayed healthy last year (and pitched this way), there'd have been no game 163, but it is what it is, and for right now, he's on fire.
So far as the offense was concerned, the Mets would grab a 1-0 lead in the fourth, when Darvish left a ball hanging over the plate and Alonso deposited it over the right-centerfield wall. NY up 1-0. My immediate reaction? "Uh-oh, here we go again."
Victor Caratini would open up the fifth with a double, and then he'd come around to score on Addison Russell's two-run blast. Cubs lead 2-1.
Addison Russell's go-ahead homer in the 5th. pic.twitter.com/txDVeP9uPw

— Chicago Cubs (@Cubs) August 28, 2019
The Cubs would attack again in the sixth, this time starting with a double down the left-field line by Kris Bryant. After going 18 games without a home run, Javier Baez sank this one in the right-field seating area. This would make Baez's MLB-leading, 14th opposite-field homer. Cubs up 4-1.
Javy strikes!#EverybodyIn pic.twitter.com/qOJ9pnY8BN

— Chicago Cubs (@Cubs) August 28, 2019
In the eighth, Nicholas Castellanos' 46th double of the season would get things set up for Javy again- no homer this time, but a double works just as well. Cubs up 5-1.
The Mets would grab one in the ninth off of Brandon Kintzler, but that's all they get. Final score: Cubs-5; Mets-2.
Darvish, #Cubs down Mets in series opener.

Recap: https://t.co/WJvDNoEBw2 #EverybodyIn pic.twitter.com/DjvCcfSEll

— Chicago Cubs (@Cubs) August 28, 2019
CUBS NEWS AND NOTES
Cubs/Mets Probable Pitchers: Thursday: LHP Jon Lester (10-9, 4.49 ERA) vs Jacob deGrom (8-7, 2.56 ERA). Game information: 6:10 PM CDT; ABC-7, MLB Network (out of market only).
Disturbing news: According to Fangraphs, the Cubs' chances of winning the NL Central have now fallen to just 36.9%, while the Cards chances have improved to 58.5%. The Cubs still have a 65.4% chance of making the playoffs (wildcard team), while the Cards' overall chances are now 79.5%.
More on Gerrit Cole: As chatter continues to go on about the Cubs interest in Gerrit Cole, I'm seeing more and more stats illustrating just what a catch this would be for Theo Epstein. Since May 11, Cole has a 2.13 ERA (114.0 IP), 164 strikeouts, and has held his opponents to a batting average of just .193.
One has to be careful about getting their hopes up to high, after all, no less than probably 60% of Cubs' Nation thought Bryce Harper would be calling Wrigley Field home and look how that turned out. People often forget, that for every new guy that comes along, another must go, so just the Cubs showing interest in Gerrit Cole should indicate the landscape is going to change. My money still says that they won't re-sign Cole Hamels and Jose Quintana's future is uncertain (team option).
Not the that Cubs have outwardly shown any interest, but something to note- on Monday, Milwaukee released RHP Jhoulys Chacin, who'd been underperforming this season. Though Chacin compiled a monstrous 5.79 ERA in 19 starts for Milwaukee this season, he managed to start 35 games last year for the Crew, posting a 3.50 ERA (192.2 IP).
Attention rotation shoppers: https://t.co/AtQr5jHJoV pic.twitter.com/iGv3ojYtEv

— MLB Trade Rumors (@mlbtraderumors) August 27, 2019
Coming soon (?): This is it. This is the week that the Cubs have to reinstate Ben Zobrist from the restricted list for two reasons: (1) He has to be on the MLB roster by the August 31 deadline, if he is to be playoff eligible (although I'm not certain that they'll be a post-season at this point; and (2) MLB rules state that and MLB player returning from being on the restricted list is only allowed 30 days at the minor league level. So, what will the Cubs choose to do?
According to reports, Ben's return to the major league version of the Cubs isn't carved in stone, and questions remain, due to his unimproved batting statistics, during his minor league assignments. Zo has been described as "a treasured presence" in the dugout, but the Cubs cannot afford to have anyone on that roster that isn't performing at 100%. I want Zo back, but I also want what's best for the team, and right now, I'm just not sure Ben fits that mold. A morale boost in the clubhouse and dugout is excellent, but that also eats up a roster spot. Tough decisions lie ahead for, Zo, Theo and the Cubs, but one way or another, this saga will end by Friday.
Coming soon? https://t.co/ocBKdOJtKw pic.twitter.com/W3njApzmqZ

— MLB Trade Rumors (@mlbtraderumors) August 27, 2019
Netting in 2020: Well, this sounds like it may be a done deal; netting all the way around the Friendly Confines (excluding the area covered by ivy, of course).
Source: #Cubs will extend protective netting at Wrigley Field in 2020https://t.co/FoSP921Osn via @MLBBruceLevine pic.twitter.com/mWcmwJmeJ6

— 670 The Score (@670TheScore) August 27, 2019
Rizzo's back issues: Appearing on ESPN 1000 yesterday, Anthony Rizzo says he's a little "restricted" due to his back tightness. He says the issue "just came out of nowhere.' Referring to last night's game, Rizz says, "As of now I don't expect to play, but I am going to get to the park, and we are going to treat it and see if I can feel even better. It has loosened up a lot since Saturday."
Cubs' Notes: The Cubs' road record stood at 25-39, as they entered play last night. That ranks 11 out of 15 in the NL, and 23 out of 30 in MLB. All five NLC teams have a losing road record this season, and every team except the Pirates has a winning home record.
With 31 games left, the Cubs play 16 on the road and 15 at home, with 23 of the 32 against NL Central opponents. Seven of those are against Milwaukee (three at home, four on the road), and an additional seven are against the Cards (four at home, three on the road).
The '69 Cubs: Many of you probably weren't even born yet, and I was just barely old enough to know what a baseball diamond looked like. I'll never forget my dad talking about them, though- "the most celebrated second-place team in the history of baseball."
A historic season. A summer for the ages. Take a scroll through history in this interactive documentary of the beloved 1969 Cubs: https://t.co/NnTq1Wtg4y. pic.twitter.com/wp24Qy3362

— Chicago Cubs (@Cubs) August 27, 2019
The Cubs owned first place for 155 days out of that season, but in mid-September they hit the skids, losing 17 out of 25. The Cubs would finish eight games behind the Mets that year.
Baseball Quotes: "I'm not an athlete, I'm a baseball player." -John Kruk
When I was up there at the plate, my purpose was to get on base anyway I could, whether by hitting or by getting hit. -Shoeless Joe Jackson pic.twitter.com/cqMC5SrT5h

— Baseball Quotes (@BaseballQuotes1) August 26, 2019
Cubs Birthdays: Celebrating yesterday, were ex-Cubs Josh Vitters (30), Mike Olt (31), Andy Pratt (40), Brian McRae (52), Johnny Hairston (75), and posthumously, Ernie Broglio (84), Jim King (87), Harry "Peanuts" Lowrey (102), Emil Verban (104), Marv Gudat (116), Phil Collins (118), Eddie Mulligan (125), and Dave Wright (144).
THIS WEEK'S NL CENTRAL SCHEDULE:
(Wins in green, losses in red)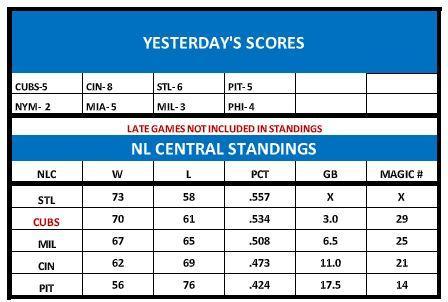 Tags: Chicago Sports Baseball
,
Kyle Hendricks
,
Yu Darvish
,
Victor Caratini
,
Addison Russell
,
,
,
Brandon Kintzler
,
,
Cole Hamels
,
Jose Quintana
,
Ben Zobrist
,
Anthony Rizzo
,
Theo Epstein