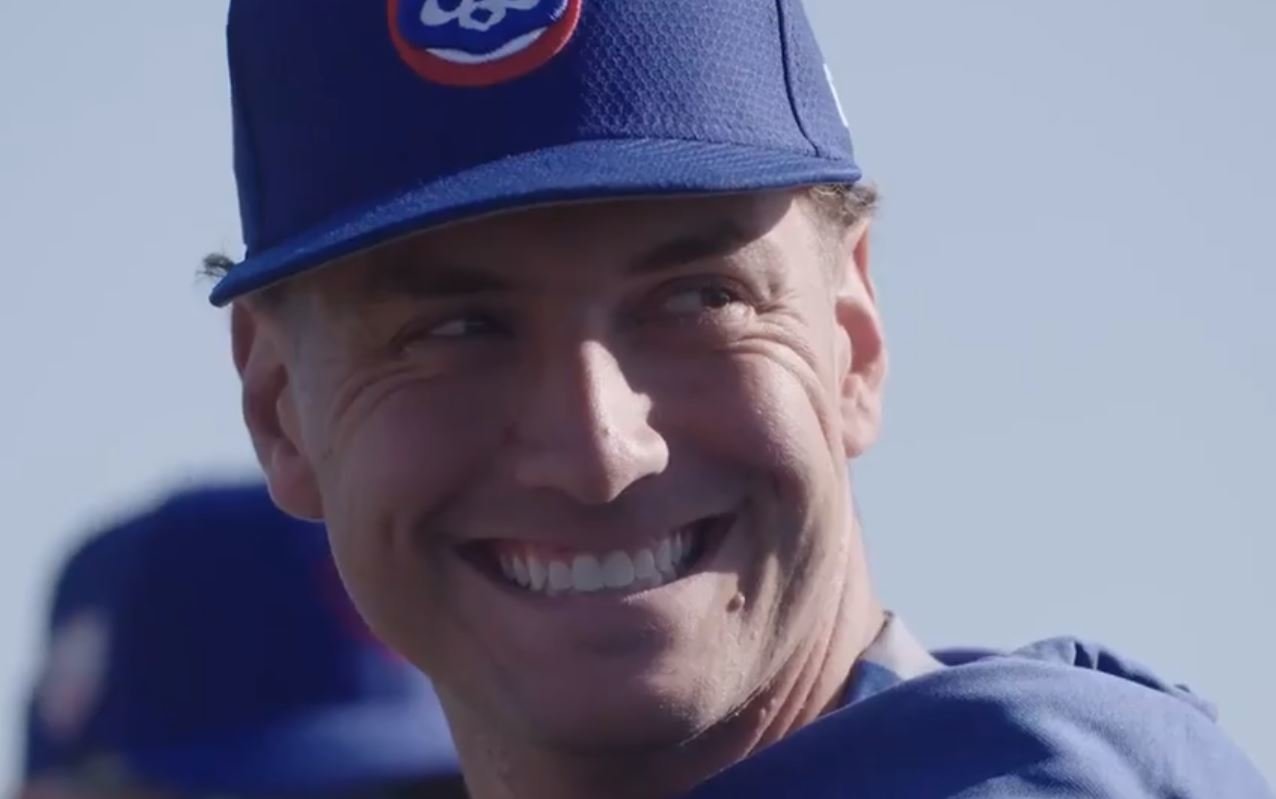 | | |
| --- | --- |
| Cubs News and Notes: Fly the W, Almora on fire, Yu Darvish ready for 2020, Booing Astros | |
---
| | | |
| --- | --- | --- |
| Tuesday, February 25, 2020, 8:18 AM | | |
CUBS NEWS AND NOTES
Next Game: Today – 2:05 PM Central: Rockies vs Cubs from Sloan Park. Big Jon Lester will get the start for Chicago.
Opening Day: 30 days - Thursday, March 26, 2020: Cubs vs. Brewers (Miller Park).
Monday's Game Recap: If you like offense, you'd have loved yesterday's game. The teams combined for a 28-run total, as the Cubs managed to outlast the Mariners by a final of 16 - 12. The Cubs had some more issues with pitching, but boy, the offense was on fire.
Almora on fire: If I'd have asked you a week ago who'd start spring training batting 1.000 (4 for 4), with a homer and three RBI, I can guarantee that Albert Amora Jr. would NOT have been your guess. That's OK, he had a down year last year, complicated by the incident in Houston where a child was struck with a foul ball.
First home run of the spring for Albert ?? pic.twitter.com/GiFUykUjSl

— Marquee Sports Network (@WatchMarquee) February 24, 2020
Almora did a lot of soul searching this winter, confiding his hurt to the people he most trusted, including his mom, Ana, and his wife, Krystal. As the players trickled into Mesa, Almora offered to the media, that he was in a better frame of mind after the incident, but quickly changed topics to talk about tweaks that he'd made to his swing.
"It was an important year in my life that I needed to go through and experience." -Albert Almora Jr.
According to Jordan Bastian, he's now standing more upright in the box, closing his stance while awaiting the pitch. He's reduced his leg kick and is less rotational in the box while getting ready to swing. These changes have already made a difference.
I get it, you were probably skeptical, but I'm guessing by now you've noticed a real difference. Sure, it's only been a total of four at-bats, but Albert is attacking anything and everything he sees – and he's not missing. In addition to changes in the swing, he also seems to be exhibiting much better patience at the plate, laying off pitches that he'd have swung at in a minute last season.
Today deserves an @albertalmora appreciation gif thread.

Reply with yours now because this dude's having himself a day. pic.twitter.com/jkAd8aBXee

— Cubs Talk (@NBCSCubs) February 24, 2020
Last spring, Joe Maddon said that Almora was progressing, but wasn't "ready to be an everyday centerfielder," adding, "not yet." Just my observation, but Maddon never seemed to care much for Almora, despite his many unbelievable defensive plays in center. Even with Ian Happ on a half-season sabbatical in Iowa, Almora still never got the chance to be that everyday guy, as Maddon played anyone and everyone in the position, leaving Almora to ride the bench, getting some pinch-hit appearances and minimal playing time.
Almora still has to compete in a crowded outfield, but if he can continue to produce at the plate, he could (and should) be rewarded with at least some form of regular playing time. David Ross seems to be handling things a lot differently than his predecessor, which may bode well for Tico.
Cubs catchers showing out: The Cubs seem to be on a real roll with catchers blasting dingers. In the first three games, Willson Contreras, Victor Caratini, Josh Phegley, and now PJ Higgins have all homered.
It's what our catchers do. pic.twitter.com/9KXSuAMRwy

— Chicago Cubs (@Cubs) February 24, 2020
Thus far, Willy gets the title for furthest, as he crushed his. Victor Caratini definitely get props as he smoked one to right field (batting lefty), but during the previous at-bat (right-handed), he missed one to left field by about a foot.
Phegley is also a bit of a surprise, as he came to the Cubs after coming off a season in Oakland that saw him bat just .239 with 12 homers. Phegley could help with some veteran leadership if he makes the team, but it's almost hard to imagine the Cubs carrying three catchers all year.
Darvish determined: "If I can keep pitching like that -- no walks and I can go deep in innings -- that'd help the team, for sure. I still want to do that job, the same job, the same kind of level."
Darvish threw two innings of live BP yesterday, then spoke of how he intends to face lefties.
Darvish threw 15 pitches in his first "inning." Struck out Schwarber with a breaking ball to end it. pic.twitter.com/7ZnH7k1xRO

— Jordan Bastian (@MLBastian) February 24, 2020
?@faridyu? on facing left-handed hitters in live BP: pic.twitter.com/QyLaUXpegQ

— Mark Gonzales (@MDGonzales) February 24, 2020
Darvish is in the absolute position to assume the Cubs' #1 spot, and he knows it. For the first year-and-a-half, he struggled with injuries and control issues. Last year he was determined to win over the fans, ditching his interpreter to speak directly to the media, but he continued to struggle with control. After regrouping for the second half last season, he's all about moving forward and proving his worth to both Chicago's front office and the fans.
Yu Darvish said he is scheduled to make his Cactus League debut vs. Brewers on Saturday.

Would he also like to make his season debut vs. Brewers on Opening Day?

Yu: "I don't know. I can't talk about it. I don't know what you're saying."

(laughter)

"I'd like that opportunity."

— Jordan Bastian (@MLBastian) February 24, 2020
Cubs' Birthdays Celebrating yesterday, were ex-Cubs Rob Bowen (39), Mike Sember (67), and posthumously, Earl Grace (113), Lynn Nelson (115), Clarke "Pinky" Pittenger (121), and Wilbur Cooper (128).
Baseball Quotes: "Catching a fly ball is a pleasure but knowing what to do with it after you catch it is a business." - Tommy Henrich
I don't make speeches. I just let my bat speak for me in the summertime. -Honus Wagner pic.twitter.com/XS229fEbvf

— Baseball Quotes (@BaseballQuotes1) February 21, 2020
MLB News and Notes:
Jose Altuve: Let's call yesterday "Jose Altuve Day." Fans really let him know how much they were thinking of him, as he stepped to the plate for his first at-bat of the spring.
Jose Altuve's first appearance at the plate this spring. #astros pic.twitter.com/axIfy3G1ch

— David Nuño (@DavidNunoABC13) February 24, 2020