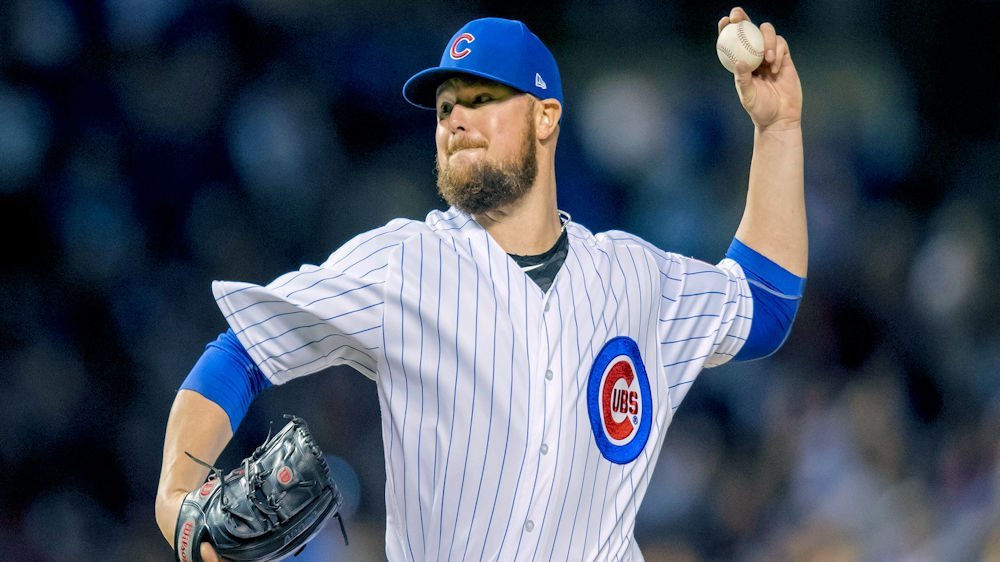 | | |
| --- | --- |
| Cubs News and Notes: Fly the W, Injured Cub, Lester's task, Darvish spins, Miller's speed | |
---
| | | |
| --- | --- | --- |
| Monday, March 2, 2020, 7:43 AM | | |
CUBS NEWS AND NOTES
Next Game: Today: Split-squad action 2:05 PM: Angels @ Cubs from Sloan Park, then 8:05 PM Cubs @ Athletics from Hohokam Stadium.
Opening Day: 26 Days- Thursday, March 26, 2020: Cubs vs. Brewers (Miller Park).
Saturday's Game Recap: Yesterday, Jon Lester got his second start of the year, setting the stage for a win over the Mariners. Lester worked three innings of scoreless ball, allowing two hits while walking no one and fanning four.
Three scoreless innings from @JLester34 in today's #Cubs win! pic.twitter.com/Ha1NeyrAJ5

— Chicago Cubs (@Cubs) March 1, 2020
Everybody seemed to want to hit, with Albert Almora Jr. and Javier Baez adding home runs to fuel the scoring.
Holy Cow! pic.twitter.com/YDNyBJi2aZ

— Marquee Sports Network (@WatchMarquee) March 1, 2020
One-way flight! ???? pic.twitter.com/jz5A6hybzb

— Chicago Cubs (@Cubs) March 1, 2020
The Cubs defense was good, but Willson Contreras took it to the next level, erasing both baserunners allowed by Lester when they attempted to steal second.
We have a lot of questions for anyone that still runs on Willson Contreras.

Number one: How dare you?

(??: @Cubs)
pic.twitter.com/kwvXyuMPoV

— Cubs Talk (@NBCSCubs) March 1, 2020
The Cubs would go on to win by a final of 7-3. Chicago's offense went an impressive 12 for 33 (.375) and managed a .333 average (4 for 12) with runners in scoring position.
Thus far, the offense looks much better than expected. Almora and Happ are producing, Kipnis is hitting, and Javy is showing patience. Daniel Descalso isn't exactly tearing up the batting stats, but he is making not only consistent contact but considerably hard contact as well.
Last year the bullpen and an inconsistent offense were to blame for a lot of the losses. Although the bullpen looks questionable so far, a much-improved offense can only serve to mitigate the damage caused if the pen falters.
The Cubs suffered their first in-game injury of the season, as prospect Manuel Rodriguez left after just nine pitches (bottom of the sixth), complaining of right bicep discomfort. Rodriguez shows a lot of promise with a fastball that touches 99 mph. Rodriguez will undergo further evaluation today.
Cubs pitching prospect Manuel Rodriguez exits with an arm injury. pic.twitter.com/eoT8LkKQHr

— Aldo Soto (@AldoSoto21) March 1, 2020
Jon Lester: Lester talked to the media after his outing yesterday, sounding a lot more pleased than he did over last week's performance. Jon says that he and the pitching coaches were able to bring things to "a higher intensity mode," which translated to "crisp" pitches during his outing on Sunday.
.@JLester34 is ramping it up. pic.twitter.com/Rc7H6l2PgR

— Marquee Sports Network (@WatchMarquee) March 2, 2020
At this stage of his career, Lester will have to rely more and more on command, as the velocity is fading with age. He has an almost impossible task this year, having to pitch 200 innings for his option to vest. If he stays healthy and can make 31 starts, he'll have to average better than 6-1/3 innings per start. That's a tall order for a 36-year-old, especially one for a guy who's prepared to have to drop back two or more spots in the rotation.
Jon said earlier this winter, "I've been written off before," which was his tongue-in-cheek way of saying that he really didn't care what anybody was saying. Now one of only two lefties in the rotation (assuming Tyler Chatwood earns the fifth spot), Lester is even that much more important to David Ross and his team. He'll need a bounce-back season to secure his future in Chicago, but he's done it before. Best of luck, Jon.
Yu strikes again: After Saturday's outing, Yu Darvish spoke to the media on Saturday, an interview which Darvish managed add a little humor to.
When asked about his early spring velocity that hovered around 95 mph, sometimes touching 98 mph, Darvish replied, "No idea why," then added, "I'm kind of worried I may have taken something supplement-wise in the offseason."
Darvish talked about his spin rate and how it helped him in his spring debut. "My spin efficiency is getting better, so that's why hitters swing and miss a lot," Darvish said. "I feel very comfortable. I was throwing hard last year, but my spin efficiency wasn't good enough. That's why hitters didn't swing and miss as often especially lefties. But this year, I feel different, so I can get more swing and misses against lefties."
Sharma on Morrow: "If Morrow is going to help the Cubs this season, it's going to have to be after he's gotten healthy and worked some innings in the minors. He was always a long shot to make the team out of camp and was already planning a slower ramp-up to the season. But these setbacks have made what was already unlikely, a near impossibility."
Javy on walking:"If it's not a strike, I'm trying not to swing at it. I'm working on it. I'm starting backward, not swinging 100 percent. I've been taking that approach. I just don't want automatic swinging on 3-2. I look in the dugout, and everyone is laughing."
Baez walked again yesterday.
Ian Miller: I mentioned the other day that Ian Miller's unbelievable speed helped manufacture a run for the Cubs, as he stretched an absolute single into two bases. Miler would come around to score during Ian Happ's at-bat that day.
Well, he exhibited that speed again yesterday, beating out a groundball to short. Watch how quickly he comes out of the box and gets up to speed.
Ian Miller is fighting for a bench job, and just showed off one big thing he's got going for him: ridiculous speed. pic.twitter.com/ORtBIflciC

— Bleacher Nation (@BleacherNation) March 1, 2020
The Cubs signed Miller as a free agent this winter, promising him only a minor league deal. Miller has never been a power-hitting outfielder, but his speed may make all the difference in the world if the Cubs are looking to get aggressive on the bases.
Miller (age 27) has only seen action in 12 MLB games, batting just .176 in 17 at-bats. Miller is currently hitting .429/.500/.571 this spring (6 for 15) and has a walk while fanning five times. Miller has also collected five stolen bases and a pair of RBI in seven appearances this year.
Cubs' Birthdays: Celebrating yesterday were, Cubs' prospect Adbert Alzolay (25) and ex-Cubs Trevor Cahill (32), Micah Hoffpauir (40), Doug Creek (51); and posthumously, Bob Usher (95), Hank Wyse (102), and Paul Hines (165).
We are also celebrating, Harry Caray, who would have turned 106.
Holy Cow! Wishing a happy birthday to the late, great Harry Caray. pic.twitter.com/jaehNkctqv

— Chicago Cubs (@Cubs) March 1, 2020
Baseball Quotes: "Baseball is ninety percent mental. The other half is physical." - Yogi Berra
The other day they asked me about mandatory drug testing. I said I believed in drug testing a long time ago. All through the sixties I tested everything. -Bill Lee pic.twitter.com/K43oRHDyX2

— Baseball Quotes (@BaseballQuotes1) February 26, 2020
Condolences: Former Toronto and Seattle great, John Olerud, has suffered a personal tragedy. His daughter Jordan, who was born with a rare chromosomal disorder, passed away yesterday; she was 19. CubsHQ would like to extend their condolences to John and his wife.
So sad to hear about the passing of Jordan Olerud. To honor John, Kelly and Jordan you can contribute at https://t.co/AwscdBRNyv. Services for Jordan will be this Saturday. pic.twitter.com/Q9HZYlqC0i

— Jay Horwitz (@Jay_HorwitzPR) March 1, 2020

Tags: Chicago Sports Baseball
,
Jon Lester
,
Albert Almora
,
Willson Contreras
,
Daniel Descalso
,
Manuel Rodriguez
,
Tyler Chatwood
,
David Ross
,
Yu Darvish
,
Ian Miller
,
Ian Happ
,
Adbert Alzolay
,
Trevor Cahill