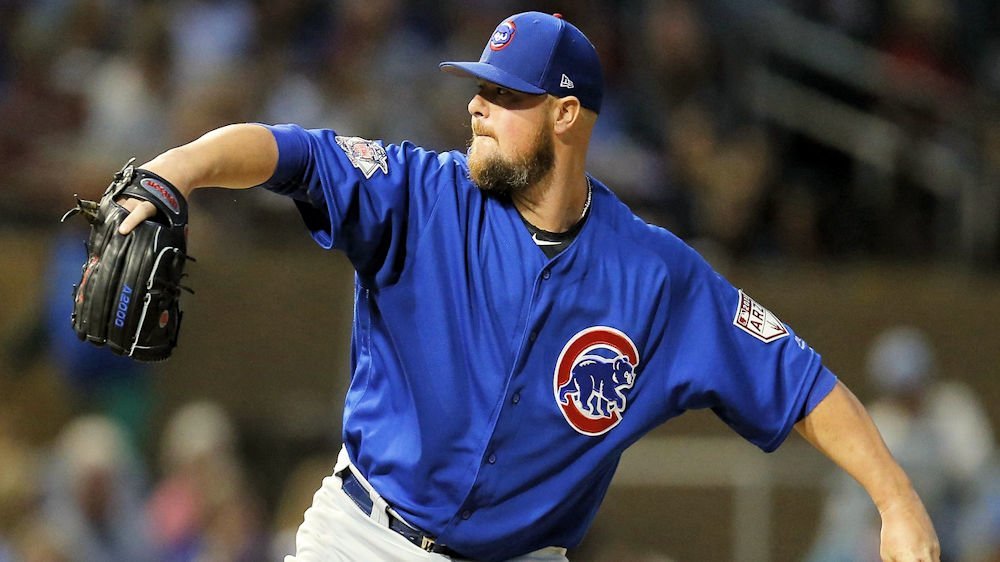 | | |
| --- | --- |
| Cubs News and Notes: Jon Lester's anniversary, Scouting restrictions, MLB plans, more | |
---
| | | |
| --- | --- | --- |
| Sunday, April 5, 2020, 8:30 AM | | |
CUBS NEWS AND NOTES
No Baseball: Day 11
Happy Anniversary, Jon: It's hard to believe, but it's already been five years (as of today) that Jon Lester first took the mound for the Cubs. Signing a monstrous, six-year/$155M deal – not including two team options, Lester quickly became the Cubs' workhorse, averaging just under six innings per start.
After spending the first 8-1/2 years of his career in Boston (2006-14), Lester spent a partial season in Oakland before signing with the Cubs. Since joining Chicago, he's posted a 74-41 record (159 starts), a 3.54 ERA (941.2 IP), has pitched four complete games, and has fanned 898 men.
#OTD in 2015, @JLester34 made his #Cubs debut.

The rest is history. pic.twitter.com/p1sWHAl87e

— Cubs Talk (@NBCSCubs) April 5, 2020
Now age 36, Lester's career is certainly in its twilight phase. The Cubs still have a team option on him for 2021, but Jon will need a bounce-back year if the Cubs are to exercise their option. This postponed season isn't doing on any favors, as at his age, a year without pitching at all could be catastrophic.
Lester was hoping to get back into his groove this year but got through only 6.2 innings in three starts before MLB canceled spring training. Lester posted a 5.40 ERA this spring, giving up nine hits and walking four during his limited starts. On a positive note, 10 of the 32 men that he faced.
MLB's idea: This should come as no surprise, but MLB is contemplating the use of neutral and empty stadiums to start the season – whenever that may be. Most of the major cities seem to be infested with coronavirus cases at this point, most notably New York City, Los Angeles, Chicago and now Detroit.
Baseball is considering playing in empty spring training parks, with no fans and quarantined players. But the logistics of such a plan would be extremely complex, and perhaps insurmountable. Story: https://t.co/TphgvYsCrt

— Ken Rosenthal (@Ken_Rosenthal) April 4, 2020
I've wondered for a while if MLB could pull off starting the season by quarantining players, testing them for coronavirus, then having them remain under quarantine as a group, once everyone is clear. Private companies are now testing anyone willing to pay out of pocket ($250 per test), whether they are symptomatic or not.
I've seen a ton of comments about this, stating that testing asymptomatic players would take test kits away from those who need them. Not true. These tests are being administered by third-party companies and have nothing to do with the free tests that the government is administering for those who may be infected.
This country – and the world for that matter – has spiraled out of control due to this pandemic. Safety comes first, but if they could somehow get baseball back in a manner that was safe, it would add a little normality to a crazy, saddening, and depressing situation.
When baseball returns, should the season start in a handful of neutral sites around the country?@spillygoat19: "It presents some unique opportunities." pic.twitter.com/CZwhV7hN58

— MLB Network Radio on SiriusXM (@MLBNetworkRadio) April 4, 2020
Scouting restrictions: Due to the COVID-19 outbreak, MLB halted all scouting operations in March. Scouts were unable to have any contact whatsoever with prospects or their agents, nor were they allowed to gather any new video or data.
According to an ESPN article,MLB has now lifted some of their scouting restrictions. Scouts are now being allowed to contact amateur prospects by phone or other electronic information. However, they're still not allowed to conduct any activities which require in-person contact (tryouts, interviews). They may, however, begin collecting data again, and they are permitted to ask prospects to take assessments, such as neurodevelopmental tests. Also included in the memo sent to teams from MLB, was a continued ban on personal contact, even if (when) restrictions on social gathering are lifted.
1. MLB teams and prospective players have been informed that some of the scouting restrictions that eliminated any contacts between scouts and coaches and players have been lifted. Teams can now contact players remotely (not in person).

— JJ Cooper (@jjcoop36) April 4, 2020
According to ESPN, "MLB also asked for dual employees -- such as a part-time scout who runs a local travel program -- to disclose that information in the hope that transparency will prevent potential discipline for teams that run afoul of the new rules."
MLB and the union have agreed that the draft will be held, which is a step forward, as less than a month ago, there was talk of canceling it altogether. There was no word on whether or not the draft will be held in June as previously scheduled.
Stepping up to the plate: In addition to Anthony Rizzo and Kyle Schwarber, all sorts of baseball players are beginning to make donations to help those involved in the fight against COVID-19. Yesterday, I told you about Steven Matz from the Mets and his donations. Today, Justin Verlander (and Kate Upton) stepped up to the plate, pledging the full amount of Verlander's MLB checks ($1,100/wk.) to help a different organization each time he gets paid.
@kateupton and I are donating my @mlb paycheck to a new organization each week to support their COVID-19 efforts during this time. We look forward to contributing funds and raising awareness for some incredible organizations #covid19 #stayhome pic.twitter.com/FVNjiTm4op

— Justin Verlander (@JustinVerlander) April 4, 2020
Cubs' Birthdays: Celebrating yesterday, were ex-Cubs Eddie Watt (79) and posthumously, Arnold "Mickey" Owen (104), Willie Ramsdell (104), Pete Kilduff (127), and Joe Brown (161).
Baseball Quotes: "Poets are like baseball pitchers. Both have their moments. The intervals are the tough things." - American Poet, Robert Lee Frost
Youngsters of Little League can survive under-coaching a lot better than over-coaching. -Willie Mays pic.twitter.com/RsMjekA4so

— Baseball Quotes (@BaseballQuotes1) April 3, 2020