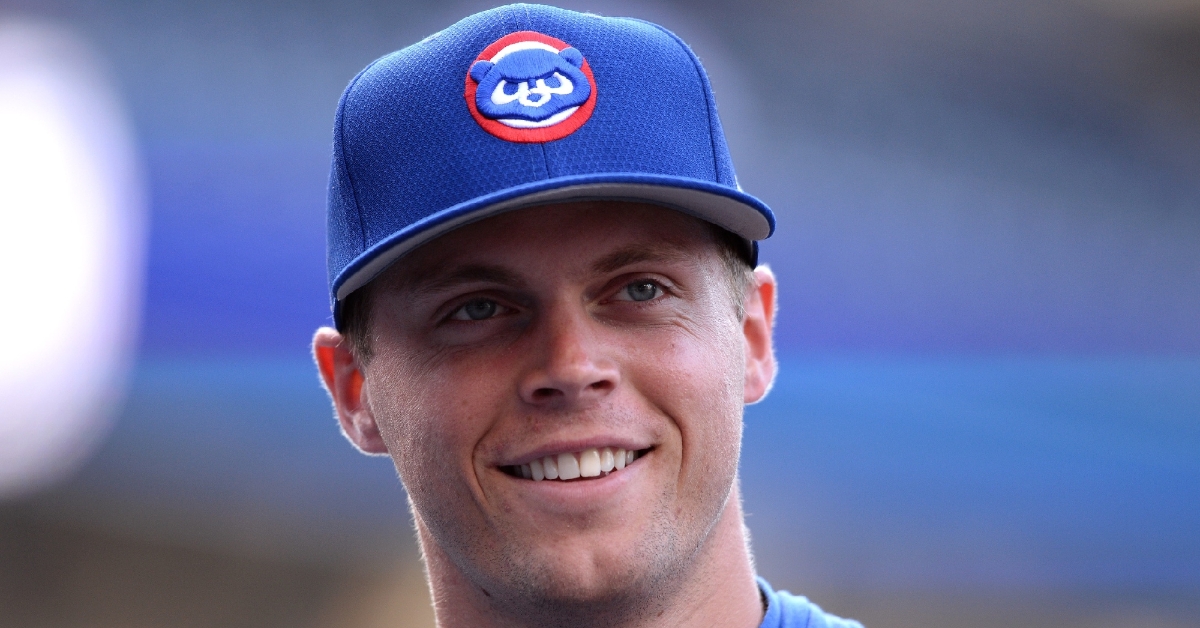 | | |
| --- | --- |
| Cubs News and Notes: Manager interviews continue, Nico Hoerner in 2020, MLB Hot Stove | |
---
| | | |
| --- | --- | --- |
| Tuesday, October 15, 2019, 6:12 PM | | |
I'd like to take just a moment to wish my father a happy (posthumous) birthday. Unarguably one of the most loyal and dedicated fans the Chicago Cubs have ever had. I lost him to pulmonary fibrosis on December 3rd, 2014 – just 23 months before the Cubs won it all. He'd have been 78 today; miss you, Dad.
MLB Postseason
NLCS:
Game-3: Last night, it was Stephen Strasburg vs. Jack Flaherty, and once again, the Cardinals underperformed, now leaving themselves in a position to be swept. The Nats took a 4-0 lead in the third and just kept on pounding, eventually leading 8-1 after the seventh, which would ultimately become the final score.
People are indeed sitting up and taking notice of Washington – even if they do confuse them with Walgreen's…
What Twitter is all about ?? pic.twitter.com/WpldujK2qw

— ?????????? (@cujoknows) October 15, 2019
Game-4 is scheduled for tonight at 7:05 PM (TBS); Patrick Corbin vs. Dakota Hudson.
ALCS
The Astros managed to tie the series at 1-1 with a 3-2 win over the Yanks Monday night.
Game-3 of the ALCS got underway this afternoon at 3:08 PM Central (FS1); Luis Severino vs. Gerrit Cole.
What's your final score prediction? #ALCS pic.twitter.com/CslERaP733

— MLB (@MLB) October 15, 2019
CUBS NEWS AND NOTES
Interviews continue: The interviews for Joe Maddon's old job continued yesterday, with Astros' bench coach, Joe Espada, taking his turn. Former Phillies' manager Gabe Kapler is also scheduled to be interviewed at some point this week, but according to Jesse Rogers (ESPN), Kapler should be the last person interviewed. Carlos Beltran was also a person of interest, but he's now-canceled interviews with both the Cubs and Padres, apparently setting his sights on leading the Mets.
Yu deserved it: What happens when you try to taunt Yu Darvish on Twitter? He fires back. After taking some BS from a user with a 'fried chicken" name, Yu finally had enough, replying in Japanese: "Eat fried chicken until death."
His twitter name is fried chicken, and he said some weird things to me, so I told him to eat fried chicken for every meal until he dies

— ???????(Yu Darvish) (@faridyu) October 11, 2019
According to Yu, "His twitter name is fried chicken, and he said some weird things to me, so I told him to eat fried chicken for every meal until he dies." I'm getting to like Darvish more and more by the day.
Cubs re-sign 38-year old prospect: The Cubs have resigned 38-year-old pitching prospect, Luke Hagerty. For more on the story, check out Dustin Riese's story on CubsHQ.com.
Rizzo's walk-off: The Anthony Rizzo Foundation is having its Walk-Off for Cancer walkathon in just six weeks. For anyone interested, registrants earn some Rizzo gear. Great cause- so get out there and get some exercise.
See you guys there!https://t.co/z1eKIDcMt6 https://t.co/H1HCQGZBgn

— Anthony Rizzo (@ARizzo44) October 15, 2019
Nico Hoerner: I predicted that Nico Hoerner would be a big part of 2020 for the Chicago Cubs and with MLB Trade Rumors' projected $5.1M arbitration salary for Addison Russell, it's beginning to look more and more like Hoerner might get a shot.
Cubs' History on 9/16/16: Miggy!
Where were you when @miggymont26 brought the house down in Game 1 of the NLCS, #OTD in 2016? pic.twitter.com/ROckxRGq0l

— Cubs Talk (@NBCSCubs) October 15, 2019
Cubs' Birthdays: Celebrating yesterday were ex-Cubs Juan Cruz (41), Don Robertson (89), and posthumously, Bill Henry (92) and Don Carlsen (93).
And on Monday: Carlos Mármol (37), Joe Girardi (55), Art Shamsky (78); and posthumously, Hugh Casey (106), Ed Eiteljorge (148), Tom Poorman (162),
Charlie Waitt (166), and Joe Start (177). Also celebrating was Brad Wieck, who turned 28.
Baseball Quotes: "When I was coming up, I just wanted to play baseball, and I'm doing what I love to do most. How can I feel pressure doing what I love to do?" -Miguel Cabrera
The one unbreakable rule about hitting is this: if a batter hits well with his own particular stance and swing, think twice - or more - before suggesting a change. -Stan Musial pic.twitter.com/knM9lLnOtM

— Baseball Quotes (@BaseballQuotes1) October 8, 2019
MLB and the HOT STOVE
Cardinals: Apparently Marcell Ozuna is having a little hissy fit over the Cards 3-0 deficit in the NLCS. Benjamin Hochman (St. Louis Post-Dispatch) says he asked Ozuna twice for an interview on Monday, but Ozuna silently refused – twice.
Marcell Ozuna refused to be interviewed in the Cardinals clubhouse. I asked him twice for an interview and he walked right past me - he didn't even acknowledge me.

— Benjamin Hochman (@hochman) October 15, 2019
Dodgers: Scott Boras is already counting his future millions, as he gets prepared to author Hyun-jin Ryu's next deal. He convinced Ryu to take the qualifying offer last year, banking on the fact that Ryu would shine this year, thus setting him up for a huge deal. The Dodgers won't part with Ryu (at least I don't think they will), and it will now be time to pay the piper.
Phillies: Philly has targeted only three potential managers in their quest to replace Gabe Kapler. The lucky candidates are Joe Girardi, Dusty Baker, and Buck Showalter.