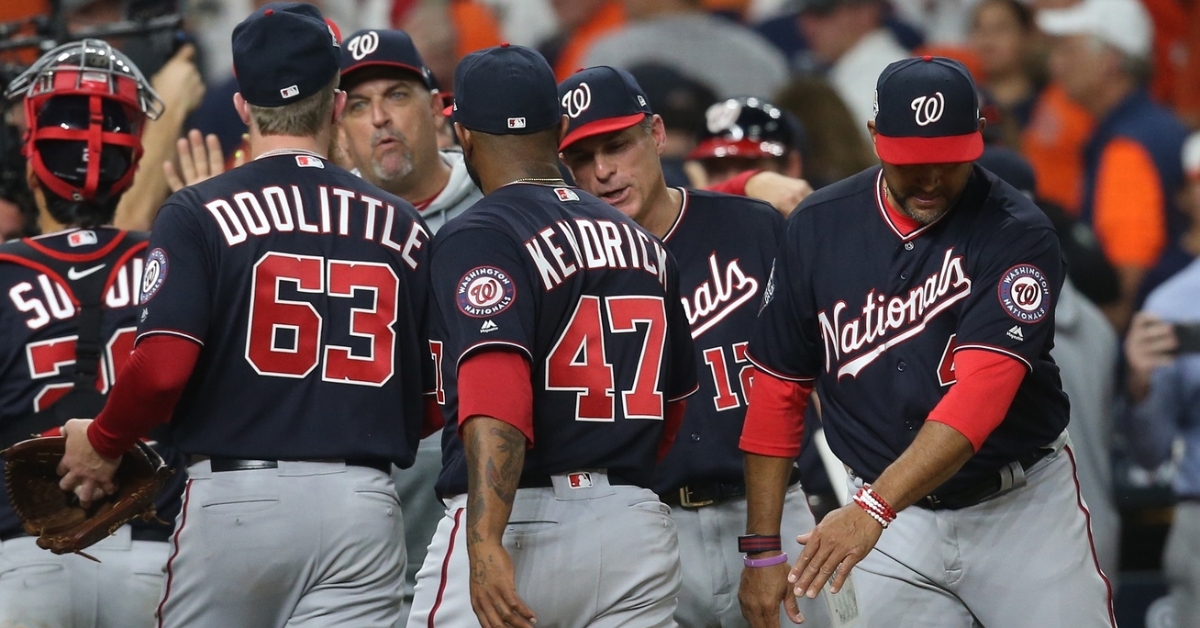 | | |
| --- | --- |
| Cubs News and Notes: Nats win Game 1, Adduci to free agency, MLB Hot Stove, more | |
---
| | | |
| --- | --- | --- |
| Wednesday, October 23, 2019, 9:02 AM | | |
World Series Schedule & Results
GAME-1: Last night, it was the pitching matchup that everyone has anticipated: Max Scherzer vs. Gerrit Cole, to kick off Game-1 of the 2019 World Series. There was certainly a lot more offense than I would have expected.
When the Astros jumped out to a 2-0 lead in the bottom of the first, I thought the Nationals were in trouble, but they systematically came back with solo shots from Zimmerman and Soto in the second and fourth innings, respectively.
"In the first at-bat — I'm not going to lie — I feel a little bit shaky in my legs." – Juan Soto
The Nats would next explode for a three-run fifth, putting themselves up 5-2 and putting the game out of reach for Cole and the Astros. Houston would tally a run in the seventh and again in the eight, but it wouldn't be enough. Finals score: Nationals-5; Astros-4.
"He is a special player."

Ryan Zimmerman talks Juan Soto & more after the @Nationals win in Game 1 of the #WorldSeries pic.twitter.com/3k3cpL54br

— FOX Sports (@FOXSports) October 23, 2019
Mad Max joined our crew after the Game 1 World Series win for the @Nationals, and he has a challenge for Big Papi!@kevinburkhardt | @davidortiz | @TheBigHurt_35 | @AROD | @Max_Scherzer pic.twitter.com/gDH5oZQZuC

— FOX Sports: MLB (@MLBONFOX) October 23, 2019
GAME-2: Wednesday, Oct. 23: WSH at HOU Game 2, 8 p.m., FOX
Thursday, Oct. 24: Travel day
GAME-3: Friday, Oct. 25: HOU at WSH Game 3, 8 p.m., FOX
GAME-4: Saturday, Oct. 26: HOU at WSH Game 4, 8 p.m., FOX
GAME-5: Sunday, Oct. 27: HOU at WSH Game 5 (if necessary), 8 p.m., FOX
Monday, Oct. 28 Travel day (if necessary)
GAME-6: Tuesday, Oct. 29: WSH at HOU Game 6 (if necessary), 8 p.m., FOX
GAME-7: Wednesday, Oct. 30: WSH at HOU Game 7 (if necessary), 8 p.m., FOX
Saw this from Sports Illustrated yesterday and had to include it somewhere. Classy moves by both Brett Gardner and Aaron Judge. Nice to see true sportsmanship remains in the game we love.
Brett Gardner and Aaron Judge showed some class following the Astros' walk-off home run to end the Yankees season ?? pic.twitter.com/TmTxLjkVXE

— Baseball Quotes (@BaseballQuotes1) October 22, 2019
CUBS NEWS AND NOTES
It was quite a slow news day in the Cubs' camp, but plenty of other news to be had. For the Cubs' fans and media, it was more of the same – continue to speculate on the next manager while trying to figure out who'll be staying and who'll be going, when Theo can finally get to work on 2020.
Managerial Announcements: According to Bruce Levine (670 The Score), a source of his says that MLB is going to change their policy regarding announcements on things like new managerial hiring during the World Series. The policy will allow for announcements to be made on off days and workout days during the Series, so look for possible announcements regarding the Cubs and others either tomorrow or Monday.
Joe Girardi: For anyone still holding out hope that Joe Girardi will be the Cubs, next skipper, you may want to move on. According to Phillies' beat writer Jeff Evans, Girardi will be hired as the Phils' next manager, with the official announcement expected on Thursday.
Sources: @Phillies will make Joe Girardi the 55th manager in the history of the franchise. Official announcement expected on Thursday.

— Jeff Evans (@MLBJeffEvans) October 21, 2019
Adduci elects free agency: Outfielder Jim Adduci got his chance with the major league version of the Cubs this year, though it didn't last very long. After appearing in just two games, Adduci was shipped back to Iowa and then designated for assignment. After clearing waivers, Adduci remained with the I-Cubs for the remainder of the season but has now elected to test free agency.
Cubs' Birthdays: Celebrating yesterday, were ex-Cubs Chris Rusin, (33), Eli Whiteside (40), Michael Barrett (43), Frank DiPino (63), and posthumously, Jimmie Foxx (112).
Baseball Quotes: "Any time you have an opportunity to make a difference in this world, and you don't, then you are wasting your time on Earth." -Roberto Clemente
Why does everybody stand up and sing "Take Me Out to the Ballgame" when they're already there? -Larry Anderson pic.twitter.com/4ncGsE0DMD

— Baseball Quotes (@BaseballQuotes1) September 26, 2019
MLB and the HOT STOVE
Astros vs Sports Illustrated : Sport's Illustrated is claiming that an Astros' executive (Brandon Taubman) "taunted" a female SI reporter during the post-ACLS media session, by screaming over and over, "I'm so f——— glad we got Osuna!" Taubman was referencing Astros' closer, Roberto Osuna.
So, here's the conflict: Osuna once served a 75-day suspension for violating the League's domestic violence policy. The reporter was wearing a "domestic violence awareness" bracelet and alleged that Taubman's repeated remarks about Osuna were "taunting" her.
The Astros replied: "The story posted by Sports Illustrated is misleading and completely irresponsible," the team's statement read. "An Astros player was being asked questions about a difficult outing. Our executive was supporting the player during a difficult time. His comments had everything to do about the game situation that just occurred and nothing else – they were also not directed toward any specific reporters. We are extremely disappointed in Sports Illustrated's attempt to fabricate a story where one does not exist."
Astros statement from Brandon Taubman pic.twitter.com/bTERwGkVJF

— Evan Drellich (@EvanDrellich) October 22, 2019
Mets: As the Mets continue to interview for their vacant manager's spot, Luis Rojas and Tim Bogar have been invited back for a second interview. The Mets also wanted a second sit-down with Girardi, but obviously, that ship has now sailed.
Red Sox: After being outrighted earlier this year, OF Gorkys Hernandez, IF Chris Owings and RHP Josh Smith have all elected free agency.
Shogo Akiyama: Japanese center fielder, Shogo Akiyama, is turning heads as he prepares to join the open market. MLB Trade Rumors is describing Akiyama as a "31-year-old, a left-handed hitter has starred for the Seibu Lions since a breakout 2015 season. He's a .301 lifetime hitter with strong plate discipline. More recently, his power has been on the rise, with a total of 69 home runs over the past three seasons," and states that he has "excellent glovework up the middle."
Nippon Professional Baseball has confirmed that Akiyama is an international free agent, meaning that he is open to signing with any team in the world without going through the posting system used for many foreign players.
Nationals: Washington has outrighted catcher, Spencer Kieboom, to Triple-A Fresno. Kieboom has been outrighted before, allowing him the option of selecting free agency if he chooses to do so.