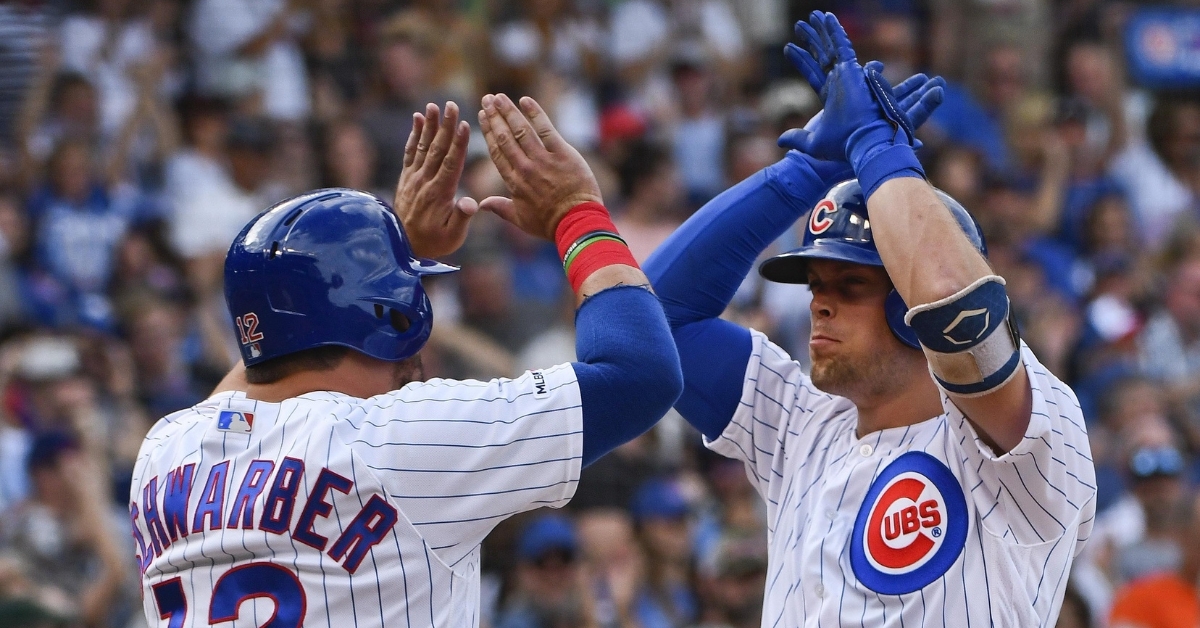 | | |
| --- | --- |
| Cubs News and Notes: Nico Hoerner, Go-time for Theo, Third base watch, Cheating, Hot Stove | |
---
| | | |
| --- | --- | --- |
| Wednesday, January 15, 2020, 9:31 AM | | |
CUBS NEWS AND NOTES
Next Game: Next Game: 38 days – Saturday, February 22, 2020: Athletics vs Cubs (Sloan Park)
Opening Day: 71 days – Thursday, March 26, 2020: Cubs vs. Brewers (Miller Park)
This winter seems to be flying by, but it still seems like forever before we'll see baseball again- maybe longer if the Marquee Sports Network can't figure out how to deliver its content to fans. Oh well, at least Willson Contreras has his eye on the prize.
Can't wait ?? https://t.co/TXGsadw6i2

— Willson Contreras (@WContreras40) January 12, 2020
Nico Hoerner: Hoerner said in an interview with MLB.com that he initially expected to be with the Major League Cubs in 2019. After spending nearly ten weeks on the IL and – in his own words – not playing well upon his return to the Tennessee Smokies, Hoerner fully expected to stay in the minors, with a tour in the Arizona Fall League after the season ended.
Listen to what Nico Hoerner has to say about the MLB Rookie Program and how it's helped him prepare for 2020.
Nico Hoerner got a "crash course introduction" to life in the Majors last season, but learned a lot more about what it takes during the @MLB/@MLB_PLAYERS Rookie Program in Miami.

Hear more from the #Cubs' No. 1 prospect: https://t.co/KeUzGRUsAE pic.twitter.com/njVDnYybzo

— MLB Pipeline (@MLBPipeline) January 12, 2020
It's go-time: With arbitration salaries decided, Theo now knows what he has (or doesn't have) to work with. I remain skeptical about any free agent signings this winter, but you may start seeing trades coming into focus. The Cubs did swap Tony Kemp for infielder Alfonso Rivas (Oakland) on Tuesday, but this falls far short of the deal that most fans and media members are expecting. A decision is expected in KB's grievance within the next ten days or so, which will lend a ton more clarity to things.
I predicted that a decision would come no later than January 22, leaving Epstein and other baseball execs exactly one month to work out a deal for Kris Bryant or other players, before the first Spring Training game.
Third base watch: Bruce Levine (670 The Score) claimed that the Cubs might consider trading for Nolan Arenado while keeping Kris Bryant to serve as the everyday centerfielder. Pardon me while I laugh… for like an hour.
Could the Cubs acquire Nolan Arenado and move Kris Bryant to center field?

One pie in the sky rumor says it's possible:https://t.co/qhWMi73HQ3

— Cubs Talk (@NBCSCubs) January 11, 2020
According to Levine, the Cubs are considering this move, but he also added that this is a "pie in the sky" scenario, and it would almost take trading Jason Heyward, Jose Quintana, and others to make it work while staying under the luxury tax threshold. Levine has undoubtedly come up with some wild stuff over the years, but this one takes the cake… er, uh, pie.
That was a fun hour or so allowing myself to consider KB and Nolan on the same team.

Oh well, back to worrying about whether my favorite team is going to trade one of the best players to wear the uniform in the name of fiscal responsibility!

— Corey Freedman (@CFCubsRelated) January 11, 2020
According to Jon Morosi, the Cards and Rangers have been far more involved in trade talks with Colorado than Atlanta has, further leading me to believe that the Braves will either re-sign Josh Donaldson or pursue Kris Bryant.
Sources: The #STLCards and #Rangers have been more involved than the #Braves in Nolan Arenado trade discussions over the past week. My latest update on where the talks stand: https://t.co/eVzywH9Qiw @MLB @MLBNetwork

— Jon Morosi (@jonmorosi) January 13, 2020
Back to reality: Far more realistic, is the possibility that KB could go to Washington, a team not only looking for a third baseman but a guy who can hit in the #3 spot. The sticking point of a deal with the Nats seems to be Theo's desire to acquire Victor Robles, someone that Washington is (currently) unwilling to part with.
WANTED

- No. 3 hitter
- Proficient at hitting dingers
- Willing to relocate to DC@JimBowdenGM | #Nationals pic.twitter.com/znKO59fqvV

— MLB Network Radio on SiriusXM (@MLBNetworkRadio) January 12, 2020
Jonathan Lucroy: Not the Cubs have shown any interest in bringing veteran catcher Jonathan Lucroy back, but reports now say that Colorado is showing interest. Lucroy provided some much-needed catching to depth for the Cubs last year, after Willson Contreras went down with a hamstring injury, and proved to be a much better alternative than the failed Martin Maldonado experiment.
These are not official #Cubs cards at all. Understandably rejected bc no MLB/MLBPA allowed in card customization app. But would've been so cool. Javy and KB in 71, Rizzo and Kyle in 73. @BleacherNation @realcubsinsider pic.twitter.com/XXp57toa94

— MBDChicago (@MBDChicago) January 12, 2020
Cubs' Birthdays Happy posthumous birthday to pitcher, Hank Gornicki (109).
Baseball Quotes: "My mind is bulletproof. Nobody can tell me that I won't get better." -Carlos Correa
I didn't have a problem communicating. People just didn't like what I had to say. -Frank Robinsom pic.twitter.com/U32LoHCkDs

— Baseball Quotes (@BaseballQuotes1) January 2, 2020
MLB and the Hot Stove
NL Central News:
Brewers: The brewers and Josh Hader are going to arbitration. After requesting $6.4M, the controversial reliever was offered only $4.1M.
Cardinals: As opposed to the insane "Nolan Arenado to the Cubs" rumor above, the Cards and Rockies are rumored to be discussing Arenado in a trade that would send the Cards' newly acquired pitching prospect, Matt Liberatore, and three other players to Colorado. According to reports, the two teams have had preliminary talks.
From the Rest of MLB:
Sign stealing scandal: After issuing one-year suspensions to Astros' manager AJ Hinch and GM Nick Luhnow on Monday, Rob Manfred turned his sights to the allegations that the Boston Red Sox and Alex Cora cheated in 2018. Already implicated in the Astros' cheating scandal, Cora and the Red Sox parted ways on Tuesday afternoon – even ahead of Manfred's sentencing.
Although Hinch managed to elude a lifetime ban from baseball, Cora may find himself banned forever, as his cheating involved two teams over two years, both of whom won the World Series in 2017 and 2018. Not that this will factor into Manfred's decision, but Cora's alleged ties to Boston's cheating scandal were committed during Cora's first year as an MLB manager. Many feel that Hinch should have received a lifetime ban, but I think Manfred may be saving the best for last.
Twins: Scratch Minnesota off the list of possible landing spots for KB. The Twins have signed 3B Miguel Sano to a three-year extension.
Angels: Joe Maddon discusses the 2020 Angels, Anthony Rendon, and their need for pitching.
New strategy: Get all opposing batters to hit the ball to Tony Two Bags. #Angels pic.twitter.com/TifN0B7nX6

— MLB Network Radio on SiriusXM (@MLBNetworkRadio) January 11, 2020
Matt Wieters: Still unsigned, free-agent catcher Matt Wieters is now drawing interest from both the A's and Cardinals.
Red Sox: Boston has signed RHP Trevor Hildenberger to a minor league deal.
The Red Sox also say that they are "Focused on Competitiveness...Over and above resetting [the luxury tax payment]."
White Sox: Chicago has outrighted RHP Tayron Guerrero and LHP Kodi Medeiros to Triple-A after both cleared waivers following DFAs.
Dodgers: The Dodgers have signed LHP Alex Wood. Along with Matt Kemp and Yasiel Puig, Wood was shipped to Cincinnati last year, but will now rejoin his former teammates.
Rangers: Texas has inked a deal with free-agent 3B Todd Frazier. He'll earn $3.5M in 2020, with a $5.75M option for 2021 ($1.5 buyout).According to Ken Rosenthal, they're still in the mix for Arenado (or maybe KB).