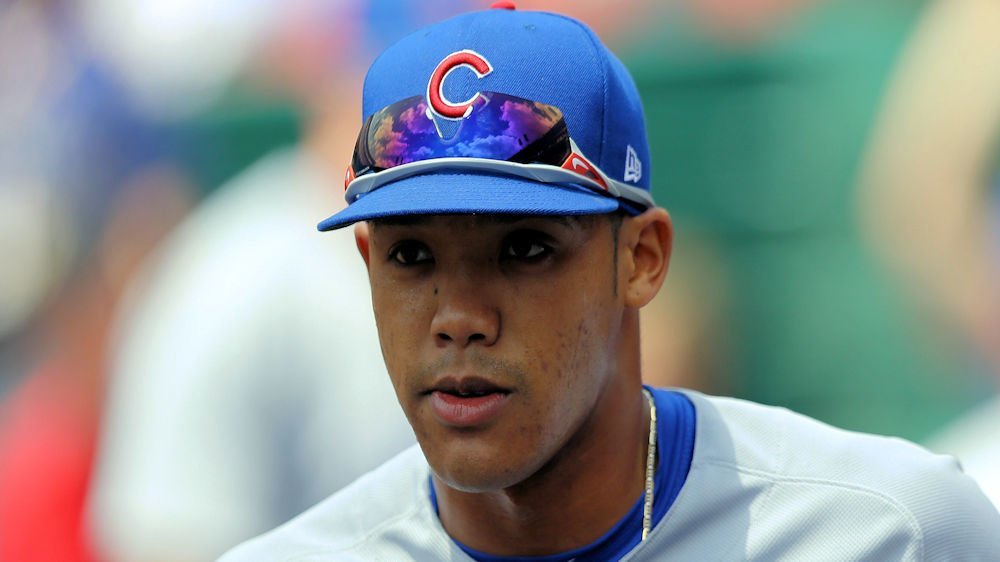 | | |
| --- | --- |
| Cubs News and Notes: No more Addison Russell, Craig Driver, Sterling Marte, Hot Stove | |
---
| | | |
| --- | --- | --- |
| Tuesday, December 3, 2019, 7:59 AM | | |
The entire landscape in the NL Central is changing drastically, and I'll tell you now – watch out for the Big red Machine this year. The Cubs remained relatively quiet at the non-tender deadline, and the brewers are starting to sound like a massive overhaul is in progress (more on both below).
The amount brand-name non-tenders this year is insane, and if the Cubs want to pick at the fire sale, there are plenty to choose from.
There were 40 players eligible for arbitration who were non-tendered today. Last year, that number was 27. The year before, 19.

Teams are clearly being aggressive with tenders, recognizing that if there is better value on the open market, using the arb system is not necessary.

— Jeff Passan (@JeffPassan) December 3, 2019
That number ended up rising to 56 non-tenders.
There were 56 non tendered players in total, including Koda Glover, who subsequently announced his retirement

— Jon Heyman (@JonHeyman) December 3, 2019
Addison Russell moves on: As expected, the Cubs failed to tender Addison Russell a contract, leaving him a free agent. Most of the Twitter-verse seemed happy with the decision, referring back to Russell's domestic violence incident.
So long Addison Russell and good riddance. I don't care what jersey you wear, if you're a woman abuser, you're dead to me. Good luck finding another city willing to accept an abusive asshole on the downside of his career like you. @Cubs #GoCubsGo pic.twitter.com/cvyvnAoPXt

— Billy Krumb (@ClubhouseCancer) December 2, 2019
"We decided to non-tender Addison Russell today simply because the role we expected him to play for the 2020 Cubs was inconsistent with how he would have been treated in the salary arbitration process.
Since we decided to tender Addison a contract last November, he has lived up to his promise to put in the important self-improvement work necessary off the field. He has shown growth as a person, as a partner, as a parent, and as a citizen.
We hope and believe that Addison's work and growth will continue, and we have offered our continued support of him and his family, including (ex-wife) Melisa.
In the last year, the organization has also put in the important work necessary to bolster our domestic violence prevention training for all employees, all major league players, all minor league players, and all staff.
We also offered healthy relationship workshops for the players' partners and provided intensive, expert domestic violence prevention training for player-facing staff. This heightened training and our increased community involvement on the urgent issue of domestic violence prevention will continue indefinitely. We wish Addison and his family well." -Theo Epstein on the decision to non-tender Addison Russell
Cubbies' new coach: According to Jesse Rogers (ESPN), the Cubs will be hiring Craig Driver to replace Brian Butterfield. Driver will reportedly be coaching first, presumably sending Will Venable to third.
As per Rogers, "The Cubs must have the deepest catching infrastructure in baseball: Craig Driver joins David Ross and Mike Borzello, plus Mike Napoli is on the staff now. If Willson Contreras (and Victor Caratini) is ever going to improve on some weaknesses, now is the time."
Both Contreras and Caratini have shown improvement over the last year, but adding Driver can only help them get better. It remains to be seen how long pitch framing may remain an issue, especially with the looming implementation of an electronic strike zone, but in the meantime…
Some Cubs news this morning, according to a source, they're hiring Craig Driver to be first base/catching coach. Was with Phillies last two years. Worked wonders w Realmuto who won a Gold Glove in '19. Just two years in pro ball but great rep coaching catchers.

— Jesse Rogers (@ESPNChiCubs) December 1, 2019
Marté to the Cubs? Speculation from Pittsburgh lists the Cubs as one of three likely candidates to trade for Pirates' outfielder, Starling Marté.
Marté would allow the Cubs to check off one thing on their to-do list – an established centerfielder – but the list stops there. In addition to sound defensive work (.984 fielding percentage in 2019), Marté managed to slug .295/.342/.503 in 2019, while tallying 23 homers and 82 RBI, but only slashed .167/.211/.167 in 19 plate appearances as the Bucs' leadoff man this past season.
The number three spot in the lineup seems to be Marte's forte, and that spot could become available if the Cubs end up dealing Kris Bryant shaking up the lineup.
Then, there's this to think about…
Think Madison Bumgarner would look good in Cubbie blue?

How MadBum could fit in the #Cubs rotation for 2020: https://t.co/vPc4Xdft6F pic.twitter.com/PVo3swuzbb

— Cubs Talk (@NBCSCubs) December 2, 2019
The better roster: Looking at the next five years, both Jon Heyman and Ken Rosenthal think the White Sox have a better overall roster than the Cubs. Their synopsis is up for debate, but the Sox certainly added some strength and stability when they signed Yasmani Grandal last week.
Don't fight too much about this one, but @Ken_Rosenthal and @JonHeyman say the White Sox have a better roster for the next five years than the Cubshttps://t.co/846is12FRO

— NBC Sports Chicago (@NBCSChicago) December 1, 2019
Overall, I'd still have to say the Cubs have an edge, but with so many of the Cubs' players coming due for free agency in the next couple of years, they'll undoubtedly have to look for ways to remain strong. The problem with the Cubs isn't a lack of talent, and it's being able to extract that talent daily, which is what Theo Epstein and Tom Ricketts are hoping that David Ross can accomplish.
Cubs' Birthdays Celebrating today, were ex-Cubs Andre Rodgers (85), Johnny Welch (113), Hal Leathers (121), Art Jähn (124), John Hibbard (154), and James "Deacon" White (172) (all posthumously).
Baseball Quotes: "When you hit third, fourth or fifth, you've got to be a run producer. With guys on base, it's your job to get them in." -Sean Casey
I never smile when I have a bat in my hands. That's when you've got to be serious. -Hank Aaron pic.twitter.com/EfNuvDYObK

— Baseball Quotes (@BaseballQuotes1) November 15, 2019
MLB and the Hot Stove
NL Central Hot Stove:
Brewers: Quite surprisingly, Milwaukee has announced that they'll listen to offers on Josh Hader, referring to him as "available." Hader's not without baggage after being called out for making racial slurs on social media while in high school, but he is unarguably one of the best relievers in baseball.
Brewers Willing To Listen On Josh Hader Trade https://t.co/IcR2OLjKba pic.twitter.com/2oa8fUiXKJ

— MLB Trade Rumors (@mlbtraderumors) December 2, 2019
The Brewers have also non-tendered five players: Travis Shaw, Jimmy Nelson, Junior Guerra, Alex Claudio, and Tyler Saladino. Finally, the Brewers have tendered a one-year deal to outfielder Ben Gamel with a 2021 club option.
The Milwaukee #Brewers, who are planning to cut payroll, led all #MLB with five non-tenders, followed by the #SFGiants and #Royals.

— Bob Nightengale (@BNightengale) December 3, 2019
Reds: There'll be a moose on the loose in Cincinnati, as the reds signed Mike Moustakas to a four-year/$64M deal. Presumably, to make room for Moose, Infielder Jose Peraza and RHP Kevin Gausman have been non-tendered.
And they're not done, either. The Reds have plenty more money to spend this winter and they see the National League Central as ripe for the taking. Remember, too, their rotation, with Trevor Bauer, Luis Castillo, Sonny Gray and Anthony DeSclafani, is already very good. https://t.co/Ell2Ir7Hhr

— Jeff Passan (@JeffPassan) December 2, 2019
Even after that, the Reds aren't done buying according to reports.
The #Reds today agreed to terms on a one-year contract through the 2020 season with OF Travis Jankowski.

They also tendered contracts to arbitration-eligible players RHP Trevor Bauer, RHP Matt Bowman, RHP Anthony DeSclafani, RHP/OF Michael Lorenzen and C Curt Casali. pic.twitter.com/61Swutgr6j

— Cincinnati Reds (@Reds) December 3, 2019
From the Rest of MLB:
For the second time in his career, Nelson Cruz is the Edgar Martinez Outstanding Designated Hitter Award winner. ?? pic.twitter.com/MwFHpeBXBf

— MLB (@MLB) December 2, 2019
Nationals: Washington has avoided arbitration with infielder Wilmer Difo, as the parties agreed to a one-year/$1M deal; Difo was projected to make $1.2M in arbitration.
RHP Hunter Strickland has also reached a one-year deal worth a guaranteed $1.6M and up to another half-million in incentives.
Red Sox: After requiring a "platelet-rich plasma injection" in August, Chris Sale has been cleared to start throwing again. Sale missed all of September and much of August after encountering problems with his throwing elbow, landing on the injured list after experiencing inflammation after his start on August 13. The Red Sox expect him to be 100% by the beginning of spring training.
Boston has also declared that they will tender a contract to CF Jackie Bradley, Jr.
Orioles: The Orioles have yet to discuss a contract extension with 1B/OF Trey Mancini. Mancini says that he's "pretty confident" that the O's won't trade him this winter, although he understands that it's not something that he can control.
Two of the biggest names non-tendered: Maikel Franco and César Hernández with the Phillies. Franco being non-tendered was the worst-kept secret in baseball. Hernández should have a good market, but his arbitration number was going to be eight figures, too rich for this 2B market.

— Jeff Passan (@JeffPassan) December 3, 2019
Marlins: Baltimore has also traded second baseman Jonathan Villar to Miami; for an unnamed minor league pitcher. Marlins sign Jesus Aguilar, who was released by Tampa last week.
Dodgers: L.A. has avoided arbitration with LHP Scott Alexander; one-year/$875k deal.
Indians: The tribe has acquired catcher Sandy Leon from Boston in exchange for RHP Adenys Bautista; in turn, Cleveland has DFA'd RHP James Hoyt. Cleveland has also non-tendered catcher Kevin Plawecki.
Braves: Atlanta will on- tender IF/OF Charlie Culberson, John Ryan Murphy, and Rafael Ortega.
Padres: SD has acquired infielder Jurickson Profar from the A's. In return, Oakland will be getting (catcher) Austin Allen and a player to be named later.
Rangers: Texas has claimed RHP Jimmy Herget off waivers from the Reds, designating Jeffrey Springs for assignment.
White Sox: The Sox have signed catcher James McCann to a one-year/$5.4M deal, avoiding arbitration.
A's: Unbelievably, the A's non-tendered Blake Treinen.