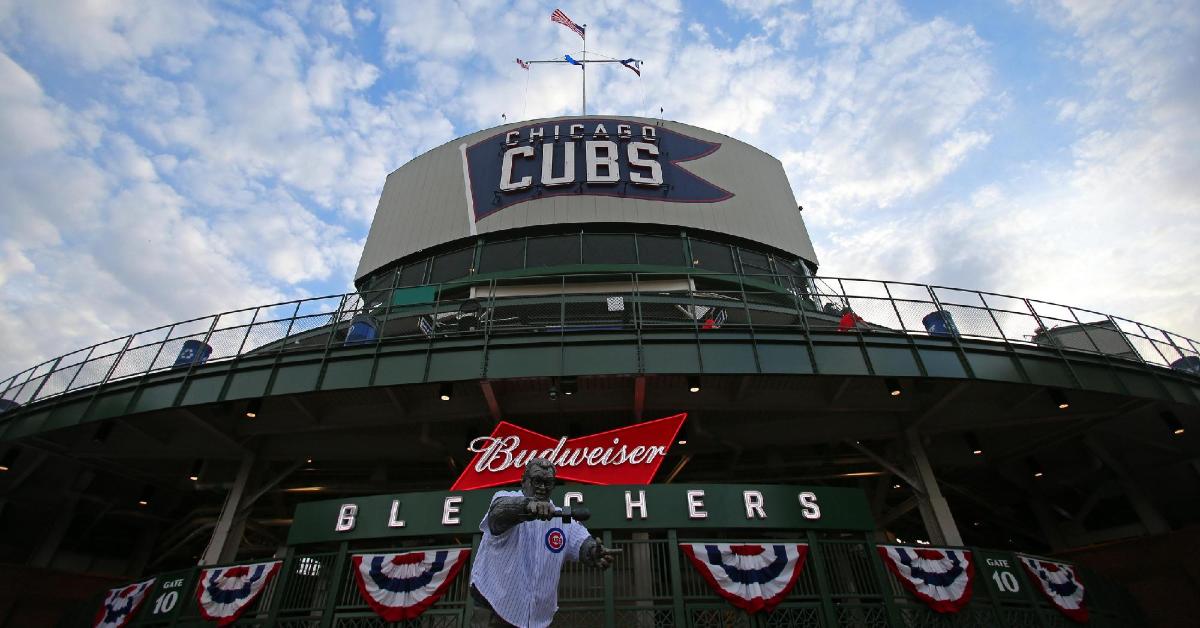 | | |
| --- | --- |
| Cubs News and Notes: Opening Day, Boras has a plan, Anthony Rizzo donating meals, more | |
---
| | | |
| --- | --- | --- |
| Thursday, March 26, 2020, 5:48 PM | | |
CUBS NEWS AND NOTES
Opening Day: Postponed.
Here we are, Opening Day, or at least what should have been. The Cubs should have been In Milwaukee tonight, grabbing what should have been their first win of the season, but instead, players are scattered all over the country in their respective homes.
Well, you can always enjoy this blast from the past. Happy Opening Day.
Wayne Messmer and his wife (Kathleen) even did a virtual version of the Star Bangled Banner today to honor what should have been the season opener.
Go to https://t.co/mo3lLrLrMi on Facebook Live at 3:30 pm Today! Wayne and Kathleen Messmer sing God Bless America and our National Anthem for the Virtual #NiseiOpeningDay @NiseiLounge @Cubs @Chicago_Wolves Set up Malort shots all around! #CityofChicago pic.twitter.com/Z3VUdQN1iP

— Wayne Messmer CSP (@WayneMessmer) March 26, 2020
Remember Ian Happ's opening-day homer a year ago?
There may not be actual baseball today, but that's not stopping us from still having #OpeningDay vibes.

Right, @ihapp_1? pic.twitter.com/uuCvbjTj7X

— Cubs Talk (@NBCSCubs) March 26, 2020
Len and J.D. talk baseball in the following interview:
"I wake up in the morning and not only do I not know what day it is, but I have to remind myself that while it's March whatever, I don't have anything scheduled for the day. That's a really strange feeling." Feeling off with no baseball? You're not alone. https://t.co/rix8lR5zCA

— Sahadev Sharma (@sahadevsharma) March 26, 2020
Boras' brainstorm: Anyone who even remotely knows me, knows I can't stand Scott Boras, based on some of the things he's done with player contracts and his demand for ransom like salaries. Heart be still as I've found something to agree with him on. How does World Series action on Christmas Day sound?
Boras has used his coronavirus downtime to brainstorm a method by which baseball could start on June 1st and still play 162 games, with the playoffs AND a World Series that could end as last as December 26th. Also, Boras has created a second scenario schedule that would provide for 144 games and the playoffs, should baseball start on July 1st. Crazy? Maybe.
This would require the use of neutral stadiums unless, of course, both playoff teams were in a domed stadium or a warm climate. "We have it all mapped out," Boras said. "It's workable. We've done climate studies, and in Southern California, the average temperature in December is 67 degrees, which is better than late March and early April in most cities. We have 11 stadiums we could play postseason games in. I'm going to get my neutral-site World Series after all."
"Baseball has always been the return to normalcy, and if there's any need for it, it's right now, just like there was after [the Sept. 11 terrorist attacks], in wartime, any time. We are the sport that needs to get back." – Derrick Hall, President of the Diamondbacks
The more games that get played, the better for player salaries. Playing a full schedule would also aid in-service time, which would count toward free agency, arbitration, and their pensions.
In the Yahoo Sports article that reported this, it states that" Under [Boras' plan], the bulk of the regular season and all of the playoffs would be played, preserving much of the teams' local television revenues and MLB's national TV revenues, the overwhelming bulk of which come from postseason broadcasts."
Boras also stated that "All the players I'm talking to want to play all the games, and we can map this out," Boras said. "We're just trying to let [MLB] know we have the ability to do it, that there's a logical way to do it. You have the facilities. You have the sites to do it. The difference is how the playoffs are run and where they're played."
Per his plan, the wild card games wouldn't be played until December 3rd, with December 5th through 9th marking the dates for the divisional series. The League Championship Series would run from December 11th to the 17th, with the World Series beginning on December 19th. There would be no postseason off days under this plan.
So it's not Opening Day today. But Commissioner Rob Manfred sounds hopeful! ?? ???? pic.twitter.com/xHbBwzZHrp

— 12up (@12upSport) March 26, 2020
If baseball were to start in July, teams would be forced to play a minimum of a dozen doubleheaders, which would undoubtedly call for expanded rosters, but I think MLB is already prepared to allow those, even if baseball were to start this week.
Boras' plan would cause fans to have to travel to see their home teams, which may not be financially feasible with the money shortage caused by the virus, but hey, they were talking about playing in empty stadiums two weeks ago. For those who could afford the travel, it would help stimulate the economy, as there'd be more money spent on gas, hotels, restaurants, and other travel-related expenses.
No, the crowds probably won't be as big, as season ticket holders may not travel, and a good majority of people in this country can't afford to see a game in person.
Here's my take: Something is better than nothing. No, Boras' plan isn't perfect. If the season runs through December, it will also most likely mean that 2021 won't start until late April, as they'd have to have time to get all of the hot stove festivities in. Like I said, not perfect, but at least it's something.
Fergie says stay safe out there:
Today is tough day for all of us, players and fans included. Hang in there baseball will be back and better then ever! Stay home, stay safe, & listen to the advice from the professionals. Be thankful of nurses/doctors on the front lines.

See everyone at the park soon! #openingday pic.twitter.com/rfP0oryiLp

— Fergie Jenkins (@fergieajenkins) March 26, 2020
Rizzo rocks: Anthony Rizzo and his foundation are on a roll. They've now served over 800 meals in Chicago and Florida to help healthcare professionals.
Definitely not the #OpeningDay I had imagined but let's all stick together (while practicing social distancing) and help one another. #OneTeam

Text Hope44 to 52000 or https://t.co/AfQLkHgb3o pic.twitter.com/8ByanCqTXQ

— Anthony Rizzo (@ARizzo44) March 26, 2020
Cubs' Birthdays: Celebrating today, were ex-Cubs Rob Zastryzny (28), Jason DuBois (41), Jason Maxwell (48), José Vizcaíno (52), and posthumously, Joe Klugmann (125), Brad Hogg (131), Jimmy Lavender (136), and Jack McCarthy (151).
Baseball Quotes: "I could have played baseball another year, but I would have been playing for the money, and baseball deserves better than that." - George Brett
Joey Votto, on what the MLB should do about restricting in-game video usage ????

(Via @TheAthleticMLB) pic.twitter.com/S1MBQoH1jT

— Baseball Quotes (@BaseballQuotes1) March 6, 2020