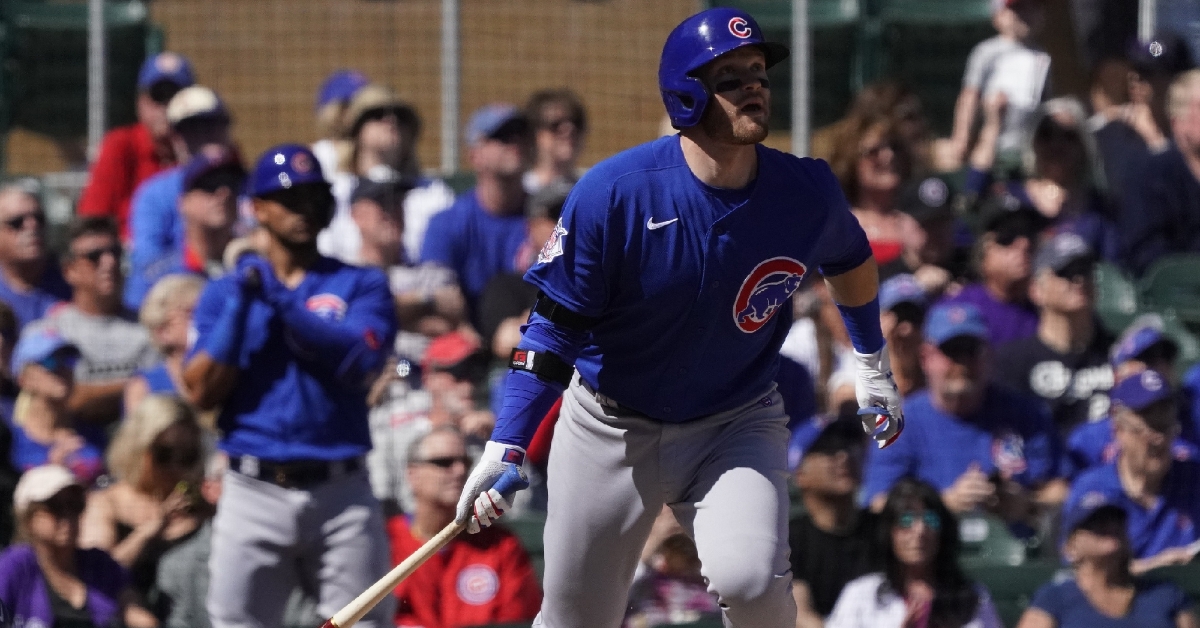 | | |
| --- | --- |
| Cubs News and Notes: Rizzo on past extension, Ian Happ's podcast, Pereda's surprise, more | |
---
| | | |
| --- | --- | --- |
| Thursday, April 2, 2020, 9:05 AM | | |
CUBS NEWS AND NOTES
Baseball held hostage: Day 8.
Anthony Rizzo: Much has been made about the very team-friendly extension that Anthony Rizzo signed with the Cubs in 2013, but Rizz says that he has no regrets. The deal was worth $41M over seven years, but two options could increase the total value to $74M over nine years.
Speaking to NBC Sports Chicago, Rizzo said, "I've had the freedom from 22, 23 years old to financially do whatever I want and play freely. And I'm going to be able to do financially whatever I want for the rest of my life as long as I don't make poor choices.
"At the end of this contract, it'll make a lot of money, and I'm playing the game I love."
Kudos to Rizz for being so down to earth and realizing that $74M goes a long, long way. Along with the big bank account also comes a big heart, as Rizzo gives a lot of that money to charity to help cancer-stricken kids.
The Compound: Ian Happ's found something to do with his downtime; he formed a podcast called The Compound. Happ is co-hosted by Nico Hoerner and Dakota Mekkes. Just hearing Happer laugh hysterically is worth the price of admission (free). Give it a listen. It's pretty good.
Here's a link so you can listen while you work today! https://t.co/s4bzUh0SRs

— Ian Happ (@ihapp_1) March 30, 2020
Fan-less baseball: According to several reports, MLB is beginning to realize that once games start again, they'll quite possibly be played in empty stadiums.
According to Joel Sherman of the New York Post, the League and players have agreed to play as many games as possible, and that is likely to mean doing so without fans in the seats.
According to one team executive, "By a matter of weeks, we will be able to play games without crowds [before we can play games] with them." Another official said, "I think the only way we play, at least initially, is without fans."
In a best-case scenario, we're looking at about six to eight weeks until baseball returns. Still, after a warning from the White House yesterday, saying that the next 2-3 weeks are going to be "some of the roughest we've seen," I'm not putting much faith in baseball before the end of June.
Jhonny Pereda: Last week, the Cubs traded catching prospect Jhonny Pereda to the Red Sox as part of a previous trade. Pereda was the "player to be named later" in that deal. Yesterday morning, Pereda made the news down here in southwest Missouri.
When the Cubs notified him that he had been traded, he refused to believe that it was true, claiming it was his teammates playing a joke on him. It wasn't until the Red Sox called Pereda that he actually believed it. Pereda was the first and only player to be traded since the COVID-19 outbreak.
London canceled: This should come as no big surprise, but MLB has now officially canceled the Cubs/Cards series, which was to be played in London. Because MLB used the word canceled and not postponed, it's highly unlikely that the series will ever be rescheduled.
Cubs-Cardinals series in London officially canceled: https://t.co/jdyuJKoCXX pic.twitter.com/cwWUUd0OOy

— CubsHQ.com (@ChicagoCubsHQ) April 1, 2020
MLB pays MiLB Players: Yesterday, MLB stated that they'd pay minor league players through May 31st or the start of the MiLB season, whichever comes first.
Interestingly, a report came out of St. Louis yesterday afternoon, stating that the Cardinals had released a bunch of minor leaguers, to avoid paying them $400/wk through the May 31st deadline. As it turned out, this looked to be some sort of (bad) April Fool's joke. Instead of being funny, it may have had some of the Red Birds' prospects worried to death – not cool with everything that's going on these days.
From what I can tell, this was someone's idea of an April Fools joke. Poor taste. pic.twitter.com/Zu4FfkkbRn

— Ken Allison (@KenAllison18) April 1, 2020
Cubs' Birthdays: Celebrating yesterday, were ex-Cubs Daniel Murphy (35) and posthumously, Frank Castillo (51), Paul "Jake" Jaeckel (78), and Hal Reilly (126).
Baseball Quotes: "The greatest feeling in the world is to win a major league game. The second-greatest feeling is to lose a major league game." - Chuck Tanner
This isn't a quote, but Albert Belle certainly made a statement…
Albert Belle runs over Fernando Vina to break up a double play! ??

The best part? Eddie Murray, the hitter, was ruled safe at first base! pic.twitter.com/diPCYFeDx4

— Baseball Quotes (@BaseballQuotes1) March 30, 2020
MLB News and Notes:
Lawsuit: MLB, the Red Sox, and the Astros are all being sued by fantasy sports contestants. The suit alleges that sign-stealing corrupted daily fantasy games and that those involved should be held responsible.
MLB is now arguing in court that it shouldn't be forced to turn over notes from the sign-stealing investigation, claiming that turning over those documents could jeopardize future investigations.
In a subscription-based article in The Athletic, Bryan Seeley, MLB's lead investigator and a former federal prosecutor, is quoted as saying,
"If players, club officials, or the MLBPA suspected that conversations with our attorneys or investigators about potential rules violations could be revealed, it would significantly hamper the Commissioner's ability to exercise his investigatory and disciplinary powers under the MLB Constitution.
Interview subjects would be much less likely to voluntarily engage in candid conversations if those conversations, or DOI's (Department of Investigation's) legal analysis of them, were at risk of being disclosed."
Lawyers for MLB wrote, "Plaintiffs' effort to turn this Court into a forum for disgruntled fans to air their grievances about Major League Baseball ('MLB') clubs breaking league rules has now turned to exploiting the discovery process to attempt to satisfy Plaintiffs' curiosity about the contents of MLB's privileged and highly sensitive internal investigation files."
MLB has not yet released its findings on Boston's part in the sign-stealing scandal, and it's unlikely that they'll do so anytime soon. Baseball has already been fractured by issues relating to the coronavirus, and Rob Manfred probably isn't thinking about delivering another jolt to the sport.
I think if the investigation has been concluded, now might be the right time to release the findings and levy punishments. MLB should take advantage of the suspended season and clear the air on the cheating scandal while we wait for the virus to be cleared from the air.