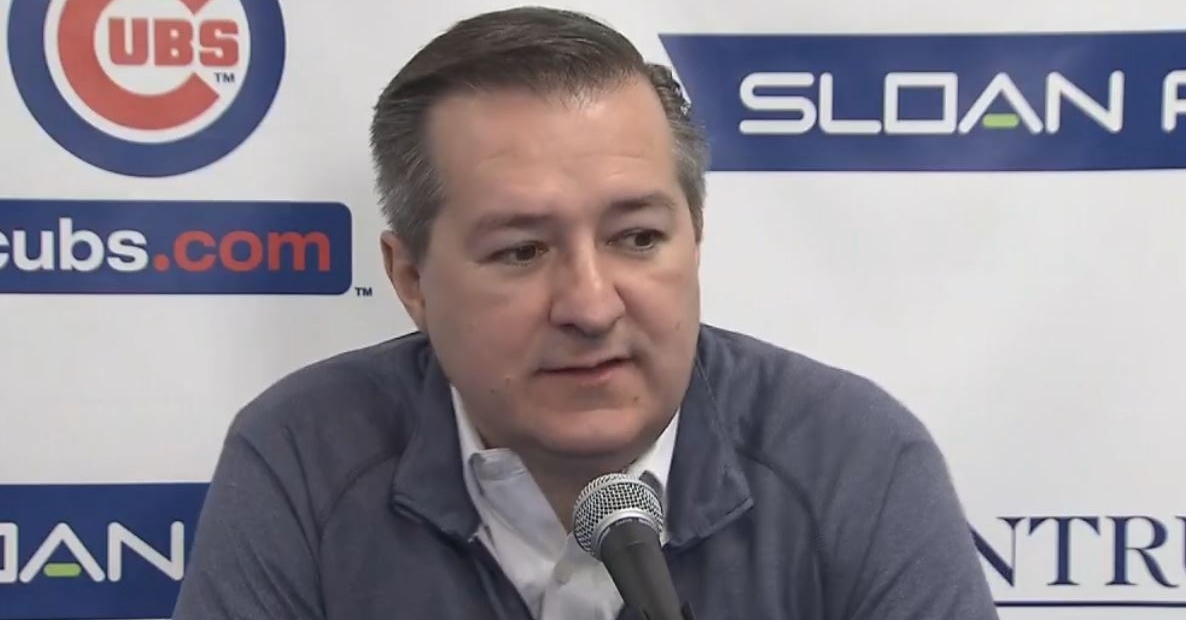 | | |
| --- | --- |
| Cubs News and Notes: Tom Ricketts on 2020 season, Marquee makes progress, more | |
---
| | | |
| --- | --- | --- |
| Tuesday, February 18, 2020, 7:55 AM | | |
CUBS NEWS AND NOTES
Next Game: Next Game: 4 days – Saturday, February 22, 2020: Athletics vs Cubs (Sloan Park).
Opening Day: 37 days - Thursday, March 26, 2020: Cubs vs. Brewers (Miller Park).
Tom Ricketts: Ricketts addressed the media yesterday from the Cubs' Camp in Mesa. Unfortunately, it was more of the same and basically a recap of what's been said all winter. There was a ton of broth in that press conference, but unfortunately, not a whole lot of meat.
Tom Ricketts meets the media from spring training https://t.co/XKYBwjoGfI

— Cubs Talk (@NBCSCubs) February 17, 2020
Ricketts talked about the lack of spending but did add that he wished they could have done more. He reaffirmed that all was OK between the team and Kris Bryant, and he maintains that he thinks the Cubs will see October baseball this year.
I asked Ricketts whether he feels KB deserves to be in the loop about his future with the club: pic.twitter.com/fveDYy1VuR

— Cam Ellis (@KingsleyEllis) February 17, 2020
For the most part, Ricketts shied away from talking about the Marquee Network, basically deferring that to Crane Kenney – who wasn't present at the news conference but took questions earlier in the day.
Ricketts sounded pretty confident Marquee will eventually get on Comcast (by opening day) but has no more info on it. He said he has Direct TV and Comcast in his house. "I might have to cancel one," he joked.

— Jesse Rogers (@ESPNChiCubs) February 17, 2020
Baby steps: Marquee Sports Network has finally added another carrier.
According to the Cubs' press release, "Through the Hulu + Live TV offering, subscribers will have access to Marquee Sports Network, which will feature nearly every Cubs Spring Training game, at least 145 regular-season games, exclusive Cubs content and original sports programming. A majority of the remaining 17 games will nationally televised.
Crane Kenney on Marquee/Hulu agreement pic.twitter.com/qROCEK6vqv

— Mark Gonzales (@MDGonzales) February 17, 2020
But then, there's this. Hardly helpful to out of town viewers.
To answer a question many have: Live #Cubs game broadcasts on Hulu are only available to consumers in the team's geographical market https://t.co/WEfWkapZm2

— 670 The Score (@670TheScore) February 17, 2020
For more on how to find the Cubs, check out my latest article on viewing options.
More from Mesa: David Ross began drills for the infielders yesterday, as the Cubs attempt to get ready for their first spring training game on Saturday.
Cubs infielders meet ahead of drills. On far left, Tribe fans, your first look at Jason Kipnis in a Chicago uniform. pic.twitter.com/TKtEzyi8s8

— Jordan Bastian (@MLBastian) February 17, 2020
"Today's the first day and I keep looking down at my jersey just smiling." -Jason Kipnis #Cubs pic.twitter.com/tGB2HAMC1r

— Taylor McGregor (@Taylor_McGregor) February 17, 2020
Chatty: According to Mark Gonzalez of the Chicago Tribune, Tyler Chatwood was throwing "sharp breaking pitches" during live batting practice yesterday.
Once Chatwood starts relying more on his breaking stuff, he was able to do a complete 180 in 2019, becoming the pitcher everyone said he could be. That fifth spot in the rotation is his, so long as he can keep this up.
Tyler Chatwood threw some sharp breaking pitches for strikes during live BP: pic.twitter.com/BIUsl1CzfW

— Mark Gonzales (@MDGonzales) February 17, 2020
New video: Cubs Productions is at it again, this time with a video entitled "Our Story Starts Now." A great look at spring training, what the Cubs are doing, and how they're coming together under David Ross' leadership. Good stuff.
Our story starts now. #WhereStoriesPlay pic.twitter.com/fAM3Vlhp51

— Chicago Cubs (@Cubs) February 18, 2020
Weather Delays: The Cubs have released an interesting video, discussing how game delay decisions are made.
Cubs Birthdays: Celebrating yesterday were ex-Cubs Cody ransom (44), Scott Williamson (44), Mike Campbell (56), and posthumously, Doyle Lade (99).
Baseball Quotes: This day in Baseball 1943 - Joe DiMaggio, drawing $43,500 from the Yankees, trades in his salary for the $50 a month of an enlisted army man. DiMaggio, in his customary quiet style, gives no notice to the club.
Ernie Banks at spring training in 1957. #Cubs pic.twitter.com/bHcABvUeWE

— Stirrups Now! (@uniformcritic) February 17, 2020
MLB News and Notes:
Brewers: Craig Counsell is switching up his outfield. Christian Yelich will primarily play LF. Avisail Garcia and Ryan Braun will share time in right, with Braun also playing 1B.
This sign-stealing scandal just won't go away. More and more players are discussing their feelings with the media, not bothering to filter themselves. Players are furious, the Astros are being smug and nonchalant, and Rob Manfred doesn't seem to care.
Altuve's sarcasm: Yesterday morning, Jeff Passan tweeted, "Jose Altuve just walked by a group of reporters, took his shirt off, turned around bare-chested, grabbed another shirt and put it on. Yes, there was a tattoo on his left collarbone. I'm not sure if it was bad or not."
Obviously, a passive-aggressive stab at the buzzer rumors, but you'd think Altuve would be smart enough to leave it alone. I've heard so much about the buzzer theory that now every time my phone buzzes, my arms involuntarily twitch as though swinging a bat.
Immunity to players means no discipline but you punish by removing reward (Title) for cheating. We are so concerned about growing the game/next generation-kids have to know cheating is not a path to winning. I think we all agree Cheating and champions is an unacceptable message

— Karl Ravech (@karlravechespn) February 17, 2020
Justin Turner: Dodgers' third baseman Justin Turner ripped into Rob Manfred over the sign-stealing scandal and his lack of adequate punishment.
Justin Turner believes that Commissioner Manfred should have done more to the Astros pic.twitter.com/PCt7T5TcXL

— Baseball Quotes (@BaseballQuotes1) February 17, 2020
Astros: Houston has signed former Reds' reliever Jared Hughes to a minor league deal. Hughes has an invite to MLB spring training. Meanwhile, they lost a pitcher for the year. Astros' hurler Francis Martes has received a 162-game suspension without pay after testing positive for Boldenone, a performance-enhancing substance, in violation of Major League Baseball's Joint Drug Prevention and Treatment Program.
Dodgers: Los Angeles has signed former Cubs' speed demon Terrance Gore to a minor league deal. Gore is in MLB camp this spring.