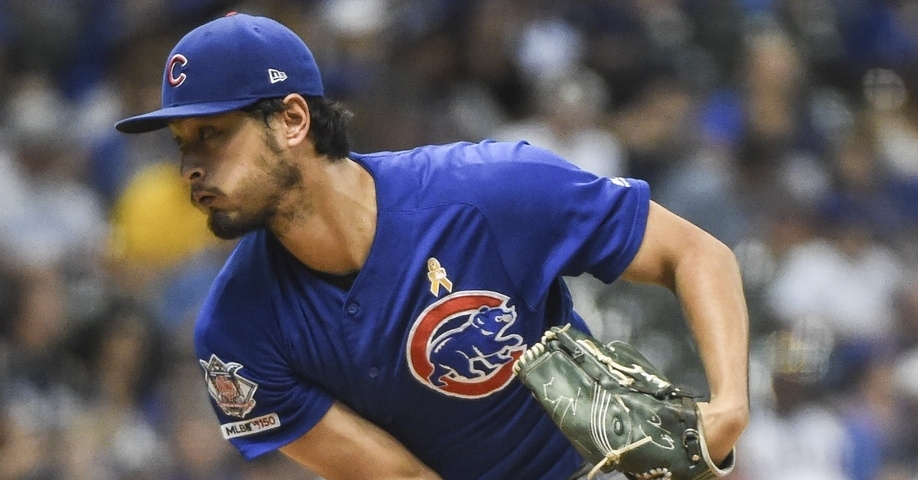 | | |
| --- | --- |
| Cubs News and Notes: Yu staying with Cubs, Happy Halloween, MLB Hot Stove, more | |
---
| | | |
| --- | --- | --- |
| Thursday, October 31, 2019, 7:38 PM | | |
CUBS NEWS AND NOTES
2019-2020 Offseason Calendar: Courtesy of MLB Trade Rumors, this is how this is all going to shake out this winter:
Today: Eligible players officially file for major or minor-league free agency
November 4: End of "quiet period" during which teams have exclusive negotiating rights with their free agents. Deadline to issue qualifying offers ($17.8MM) to eligible free agents. Deadline to exercise or decline options and opt-outs (unless sooner by operation of contract; Stephen Strasburg & Aroldis Chapman reportedly must decide by November 2).
The Cubs first Spring Training game is in 114 days. pic.twitter.com/19qvR0Q9oQ

— Corey Freedman (@CFCubsRelated) October 31, 2019
Happy Halloween: Let's celebrate this last "holiday" with the 2019 Cubs' roster as we know it; by Thanksgiving this should look a whole bunch different.
Happy #Halloween!

Show us your #Cubs-themed creations! pic.twitter.com/qrAbEOeRHY

— Chicago Cubs (@Cubs) October 31, 2019
Baseball pumpkin. pic.twitter.com/LVgwWVHdnI

— Jordan Bastian (@MLBastian) October 31, 2019
Darvish stays: The decision has been made; Yu Darvish will not be opting out of his remaining $84M deal (four years) with the Cubs. I still say Darvish will emerge as the Cubs #1 starter this spring, so long as he shows up in Mesa with his A-game.
Yu Darvish had a big 2nd half (0.81 WHIP, 2.76 ERA, .199 BAA) and 229 Ks fir year, but he will not opt-out of his deal. Has $81M, four years to go. He likes Chicago and had previously suggested his plans to stay.

— Jon Heyman (@JonHeyman) October 31, 2019
"My kids and my wife love Chicago, especially the kids. They only care about the Cubbies." -Yu Darvish
Can confirm @JonHeyman's report that Yu Darvish will not opt-out of his contract with the Cubs. Not a surprise there. Once over injury setbacks and comfortable, Yu thrived down stretch.

K-BB% leaders in 2nd half:

Cole: 39%
Verlander: 36.6%
Darvish: 35.6%

— Jordan Bastian (@MLBastian) October 31, 2019
Ricketts on spending: Via an interview on 670 The Score, Tom Ricketts says, "The real key is you have to develop players. You can't really buy teams. You have to build them. … That's really what our challenge is now looking forward."
Obviously, the top couple teams in the league [this year in terms of payroll didn't] make the playoffs. We spent more than every team that made the playoffs, and probably a couple of them combined. But even if you really thought that spending was the answer, the free-agent market is always fraught. I don't think anyone is any better than anyone else in the free-agent market. It's always a high-risk thing" – Tom Ricketts
Multiple former Cubs get rings: Obviously we all know that Davey Martinez spent time with Chicago (four years as an outfielder 1986-1988, 2000); three years as the bench coach; 2015-2017), but he wasn't the only former Cub to earn a World Series ring last night. Joining Martinez were Nationals bullpen coach Henry Blanco (former Cubs' catcher and quality assurance coach) as well as Nats' reliever Fernando Rodney (former Cubs' reliever in 2015). Congrats to all, and thanks again for an amazing World Series.
John Farrell: As David Ross's coaching staff continues to be the next priority, John Farrell's name has come into focus as (perhaps) Rossy's bench coach.
"It's important given David's lack of experience managing to have someone who has either managed or been a bench coach. That person can stay one step ahead of him early on over the course of the game as he grows into the job." - Theo Epstein
Farrell managed Boston from 2013-'17, leading the Red Sox to a World Series title in 2013 when Ross was one of the team's catchers. Before that, Farrell was the Red Sox's pitching coach from 2007-'10, a time in which Epstein led Boston's front office. Farrell worked in the Reds' scouting department for the past two seasons, and he has two sons who have worked for the Cubs.
According to 670 The Score, two other names to keep an eye on are former Braves' manager Fredi Gonzalez and longtime manager, Jim Riggleman.
Heyward ejected: Nope, not Jason Heyward, but his younger brother, Jacob. The junior J-Hey just became the first professional baseball player to get himself ejected for arguing balls and strikes – with a Robo-ump!
Ernie Banks and Roberto Clemente. Wrigley Field. Tough topping this one #cubs #pirates pic.twitter.com/IOYvxRtwqj

— OldTimeHardball (@OldTimeHardball) October 31, 2019
Cubs' Birthdays: Celebrating today, is Tony Kemp (28), along with ex-Cubs Alex Hinshaw (37), Steve Trachsel (49), Fred McGriff (56); and posthumously, Dee Fondy (95).
Baseball Quotes: Now that he's just turned 21, Juan Soto is (legally) dabbling with the sauce and says, ""I drink everything. I just want to try everything. I love the champagne."
When we played, World Series checks meant something. Now all they do is screw up your taxes. -Don Drysdale pic.twitter.com/urzXnc7Jx3

— Baseball Quotes (@BaseballQuotes1) October 30, 2019
MLB and the Hot Stove
The 2019 postseason was incredible pic.twitter.com/u89kcwuvpJ

— Baseball Quotes (@BaseballQuotes1) October 31, 2019
Now that the World Series is in the books, teams are scrambling to clear room on the 25 and 40-man rosters to make way for new additions. By Monday (when free agency starts), team rosters will be looking leaner, as they begin to flood the free-agent market. Out with the old, in with the new; here we go.
Gerrit Cole: It's amazing how quickly a free-agent-to-be can turn his back on teammates and the team who made him who he was: Just ask Gerrit Cole. Long before the champagne corks quit flying in the visitor's clubhouse, Cole donned a Scott Boras hat and told reporters that he was "no longer an employee of the Astros," but could speak to them as his own representative. Not a good look.
Can confirm @JonHeyman's report that Yu Darvish will not opt-out of his contract with the Cubs. Not a surprise there. Once over injury setbacks and comfortable, Yu thrived down stretch.

K-BB% leaders in 2nd half:

Cole: 39%
Verlander: 36.6%
Darvish: 35.6%

— Jordan Bastian (@MLBastian) October 31, 2019
Rays: Tampa has outrighted outfielder Johnny Davis to triple-A Durham. This is his first outright assignment, so he must accept it.
Mets actually have 5 who are still alive for manager: Shelton, Bogar, Perez, Murphy, Beltran. They are finishing up the 3rd round of interviews which includes Fred Wilpon and will have a call before the GM meetings, which begin Nov. 11

— Jon Heyman (@JonHeyman) October 31, 2019
Orioles: Padres: San Diego has outrighted RHP Brett Kennedy. The team has also announced that it will not be picking up the option for RHP Adam Warren, who underwent Tommy John Surgery in September – a fact that wasn't publicly known for whatever reason. Warren will receive a $500k buyout, rather than his $2M salary.
Giants: SF has announced that RHP Kyle Barraclough has been designated for assignment.
Phillies: Philly has claimed RHP Robert Stock off waivers from the Padres. The Phils have also announced Bryan Price as their new pitching coach. Finally, Philly says that they aren't picking up the $7M option on RHP Pat Neshek.
Reds: MLB Trade Rumors says, "The Reds recently wrapped up a 75-win season, their sixth consecutive sub-.500 campaign. President of baseball operations Dick Williams and general manager Nick Krall have seen enough. They have every intention of assembling a playoff-caliber roster for 2020."
I honestly thought they'd accomplished that feat last winter, but as quickly as they signed names like Roark, Puig, and Kemp, the wheels fell off the train.
D-Backs: Arizona has announced that Matt Herges will serve as their new pitching coach.
Royals: Determined to make a strong showing in 2020, the Royals have hired exiled Cardinals' manager, Mike Matheny, to lead their team in 2020. Wondering how many KC players Dexter Fowler may call, to express his condolences?
Yankees: NY has declined picking up the $20M option on first baseman/designated hitter, Edwin Encarnacion. Instead, Encarnacion will get a $5M buyout and enter free agency.