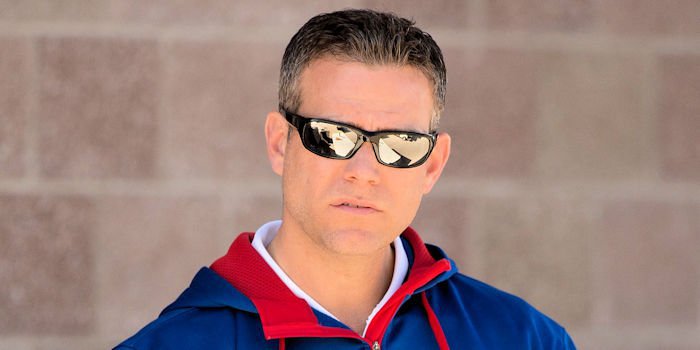 | | |
| --- | --- |
| Cubs Odds and Ends: Sorting through Theo's words, Cubs' window and plan | |
---
| | | |
| --- | --- | --- |
| Tuesday, November 12, 2019, 5:20 PM | | |
Sorting through Theo's words
The GM meetings are just over 24 hours old and what I wouldn't do to be in Scottsdale – not even for the meetings, as much as the weather.
Theo Epstein has never been one to avoid a camera or microphone and I didn't figure this year would be any different, especially with a new manager, a new (almost assembled) coaching staff and the reality that the 2020 Cubs will likely look a ton different than the 2019 Cubs. With less than one full day in the books, Epstein already has the media talking and social media abuzz.
If there's one thing that Theo does well, it's that he speaks volumes without saying much at all. Though frustrating at times, I admire the way that he's able to espouse his views in black and white without ever leaving the gray. Using carefully crafted words, Epstein has a God-given gift which allows him to say one thing, quite possibly mean another, and never look for a minute as though he's lied or fallen back on his word.
The first of his quotes captured on Monday, addressed the trade rumors that are beginning to swirl feverishly.
"We're not going to contribute to this environment where there's this hysteria about a certain player on a given day, and it turns out not to happen, and the next day it's on the to the next player who's definitely going to get moved."
That gem can be taken one of two ways, or even both ways, if you're feeling especially lucky.
One school of thought suggests that you can quit focusing your hope solely on the names Whit Merrifield, Mookie Betts or Francisco Lindor. To others, it screams, don't get yourself down and out because you've heard the names Kris Bryant, Javier Baez and Willson Contreras mentioned as trade targets.
"The nature of any offseason, there are gonna be rumors about your major-league players and even your best players and that doesn't necessarily mean they're true," Epstein said. "No one knows how this winter's going to evolve. Even us. We have no idea who will be available for us, so I think taking any name that comes up in a trade rumor with a mouthful of salt is appropriate — not just a grain – because I think they're usually untrue."
What did I hear? "I'm not about to tip my hand 24 hours into the damn meetings. I've been doing this job for a long, long time and I'm not about to cause the ante to be upped prematurely. I know who I want, I know what the Cubs need, and one way or the other, I'll make this team competitive.
"So far as our current roster is concerned, more than a few have rested on their laurels and now we're all paying the price. Changes are still coming, and you probably won't like some of them, but I'm going to do what I'm going to do, and the media generated trade rumors aren't going to change that."
Well said, Theo, but I still believe that where there's smoke, there's fire.
Is the window shut?
It happens. Young and cost controllable cores grow into stars who'll eventually earn big paydays. Theo kept stressing "a sense of urgency," throughout 2018 and 2019, but somehow that message seemed to have gotten lost in translation when it was passed down to Joe Maddon, then subsequently from Maddon on down to the players. Theo seems to have acknowledged that some vital time has slipped past and definitely sounds as though as he's prepared to take the next inevitable steps.
"This was coming. It's not like it was going to be one generation of players and that's it. We knew, when a lot of our best players were cost controlled, those were the years we could squeeze the most amount of talent on the roster, and there would be difficult decisions and change ahead at some point. We're just rapidly approaching that time, that's all." -Theo Epstein
I think that we're more than "rapidly" approaching that time. The time is here, and it has been for over a year now. I've said for two seasons that Maddon wasn't the right guy anymore and I specifically said that, for whatever reason, he was no longer able to extrude talent from his players. The move to replace Maddon is coming a full year later than it should have and unfortunately, no matter who the new manager is, you can't get that time back.
So what's the plan, Boss?
"In an ideal world, you can enhance your major-league team and put a really compelling product out there — a team that has a legitimate chance to win the World Series and also take significant steps toward ensuring your future and make sure there's not that big of a drop-off after 2021. There's probably a series of moves that we could pull off that could bring that about, but it won't be easy and you normally have to make sacrifices one way or the other and operate in a world where there are real tradeoffs.
"So, we'll have to see what's available to us. This is the start of that process, really seeing what are realistic paths we can take, not just these sort of idyllic paths that we try to create in our mind."
"In an ideal world:" Those words scare me, as, if there's one thing I've learned in life, it's that the world is far from ideal. So, theoretically the Cubs have a chance, but Theo's not holding his breath this year. That's fair, I suppose.
Compiling a World Series worthy team is a challenge even with the most wide-open checkbook, something that Theo won't have this winter. One or two pieces – the right pieces – can turn this team around on a dime, but who really knows what's right until it either happens or becomes too late to change?
Epstein can do as much for the Cubs by parting ways with a couple of select players, as he can by signing (or trading for) superstars. With a little luck, the overall mindset will be changing under David Ross' watch and not everybody may be on board.
By all accounts, the Cubs have maintained (and enjoyed) a healthy clubhouse environment, but per Maddon's own words, he focused less on stressing wins last year, instead, choosing to allow the players to police themselves while having fun during what I'm sure he knew would be their last hoorah together. I knew when I read those words that it was a recipe for trouble, and quite frankly, I can't believe Theo, Jed and Tom ever allowed that message to be conveyed.
It's now time for Theo Epstein to get busy again, doing what he can do, in order to reassemble a roster decimated by free agency, declined club options and impending trades, while David Ross figures out how to unravel the effects of the final years of Maddon's tenure.