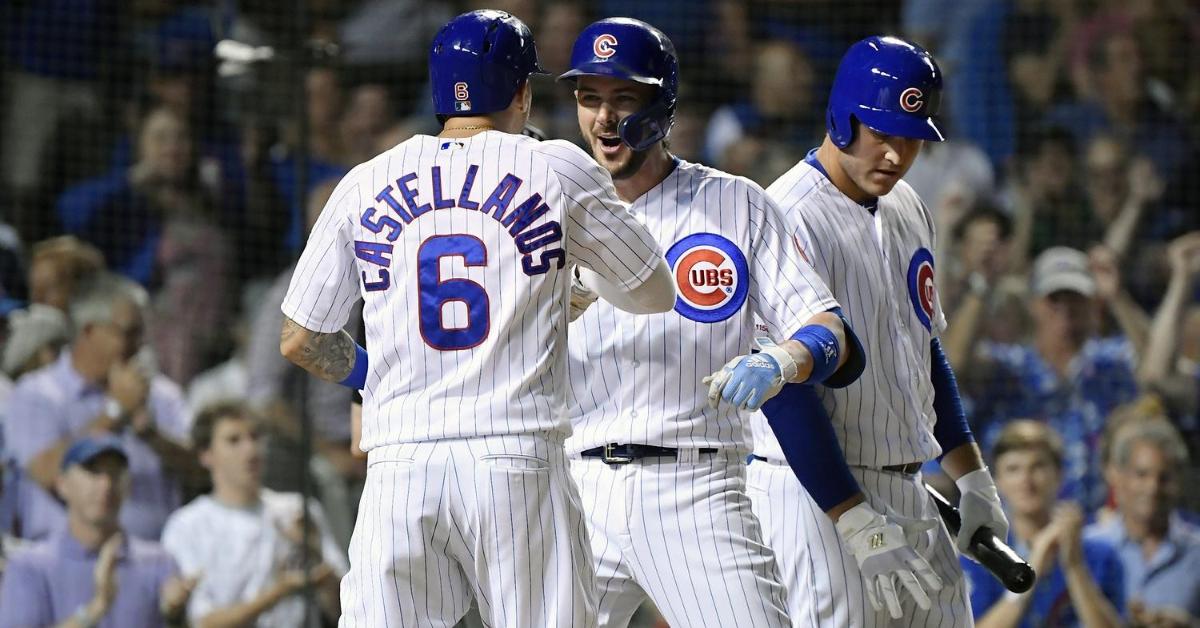 | | |
| --- | --- |
| Cubs Odds and Ends: The realism and lunacy surrounding the Cubs' Hot Stove season | |
---
| | | |
| --- | --- | --- |
| Saturday, November 9, 2019, 6:02 PM | | |
The nature of the offseason beast
There's a reason that I tend to focus more on possible free-agent signings than trades – even if trades generally do net younger players. Free-agent signings are tangible, that is to say, that they're listed as free agents, you know they're available, you have a good idea of their asking price, and you know – at least in most cases – that they'll be signed by someone over the winter.
They may be a little older ("seasoned" or "veteran" are the terms that agents like to use), but they generally have some track record – the big question being whether or not they can keep the pace they'd established once they've been signed. Sometimes it works, sometimes not (think Daniel Descalso), but if the deal comes cheap enough, most GMs are willing to take the chance.
Trades are quite a different animal.
When it comes to speculating about trades, it's easy for me to see who should be dealt away from a team that I write about day after day. It's not really that hard to point to an extremely talented player from another organization and say, "Boy, could the Cubs ever use him." When it comes to assessing "who's worth who" is when things get a little gray for me, I've always found truth in the saying that something (or in this case, someone) is only worth what someone is willing to pay.
Case and point: You have a $5M mansion that you desperately need to sell, and you're willing to settle for $3M. If I'm the only guy who's interested and can only afford $1M, guess how much your "$5M" castle is now worth? It's worth a million bucks.
How bad do you really need to sell?
That's how it is with trades. Who'd have known last year that Yu Darvish was going to blossom into the strikeout machine that he suddenly became? Yet, I'll bet that 12 months ago, Theo would have traded Darvish for three good minor league prospects and a new organist to cover for Gary Pressey's impending retirement. Today? Darvish had a legitimate reason to consider opting out of the $84M he's still owed.
A player's worth is very fluid, and it's often a question of whether it's worth taking a chance on a "lesser" player in a trade to upgrade in another area of deficiency in the team's roster. I like to think, but man, this stuff is enough to short circuit my brain.
My strategy for analyzing this is simple; I watch insiders that I trust, I listen to what they're saying, then I use that information to try and figure out whether a seemingly credible rumor would make for a good trade. It's not rocket science, but it can be nerve-racking.
Sometimes I get lucky, though, as I sift through what should be a no-brainer and what should be run through the shredder. I saw one of each of those yesterday, and I'm certain that you can probably tell which is which.
Cubs reportedly targeting Whit Merrifield
Thankfully, I read about this before I started stumbling upon the nonsensical trade hypotheticals that pulse through the internet at the speed of light.
According to Mark Gonzalez of the Tribune, Whit Merrifield may be one of the Cubs top priorities this winter, as there's reportedly a match between the Cubs and KC involving "an outfielder and an infielder."
I suggested a while back that Kris Bryant could be packing for KC, as the Royals vowed to spend money this year while looking for "a substantial upgrade at third base." The Cubs and Royals tend to work together quite frequently, and my only question about a trade for KB is who the Royals had that the Cubs may want. Admittedly, my focus was on pitching – something that the Royals aren't necessarily rich in, but in the back of my head, Merrifield's name seemed a possibility.
Merrifield would certainly satisfy Chicago's hunger for a legitimate leadoff man while providing solid defense in either the outfield or at second base. So, the question is, are they referring to Merrifield as the outfielder or infielder in the trade scenario?
If they call on Merrifield to serve as a second baseman, Nico Hoerner would almost certainly be (at least temporarily) displaced; I'm not even going to discuss Addison Russell, as I'd bet the farm that one way or another, he's about to be done as a Cub. If Merrifield is considered the outfielder in this scenario, you may start preparing to say goodbye to Nicholas Castellanos, though maintaining nick and adding Whit should prove lethal.
No matter how this shakes out on Theo's end, adding Merrifield would be quite the decisive move, especially this early in the winter. Once (if) that deal comes down, buckle-up, as dominos will start falling. For his part, Merrifield batted .302 with 16 homers, 74 RBIs and an OBP of .348, shying away from the stereotype of the prototypical leadoff hitter, as his walk rate is low. Just before last season (2019), Merrifield signed an insanely team-friendly four-year/$16.25M deal with the Royals.
A trade that won't be happening:
A friend messaged me about a proposed trade that he saw somewhere in cyberspace, suggesting that Kris Bryant and Albert Almora Jr. could go to the Braves for Max Fried, CF Ender Inciarte, and RHP Bryse Wilson. Huh? My first question to my friend, was "Where in the hell, do you even find this crap?"
From what he said, Fried seemed to be the centerpiece of the deal, which in and of itself makes little sense. Fried shows promise, but after a 2018 campaign that saw him post a 2.94 ERA, the southpaw's ERA shot to 4.02 in 2019. In fairness to Fried, every pitcher's ERA (other than Gerrit Cole's) seemed to shoot up in 2019, thanks in part to those baseballs which were "in no way, shape or form tampered with." Fried for Bryant isn't nearly enough (for the Cubs) by itself, but the thought that adding Almora to the mix on the Cubs half for Inciarte and Wilson would seemingly tip the scale into a losing deal for the Braves.
I laughed as I read on about this "blockbuster proposal," wondering to myself why we couldn't just add Addison Russell, Willson Contreras, Javier Baez, and Nico Hoerner to the deal, in exchange for Freddie Freeman, Ozzie Albies, Ronald Acuna Jr. and Julio Teheran. Hell, while we're at it, let's re-sign Ben Zobrist and add him to the deal in exchange for Mike Foltynewicz, Kevin Gausman, and Brian Snitker, who'd fit perfectly as Rossy's new bench coach.