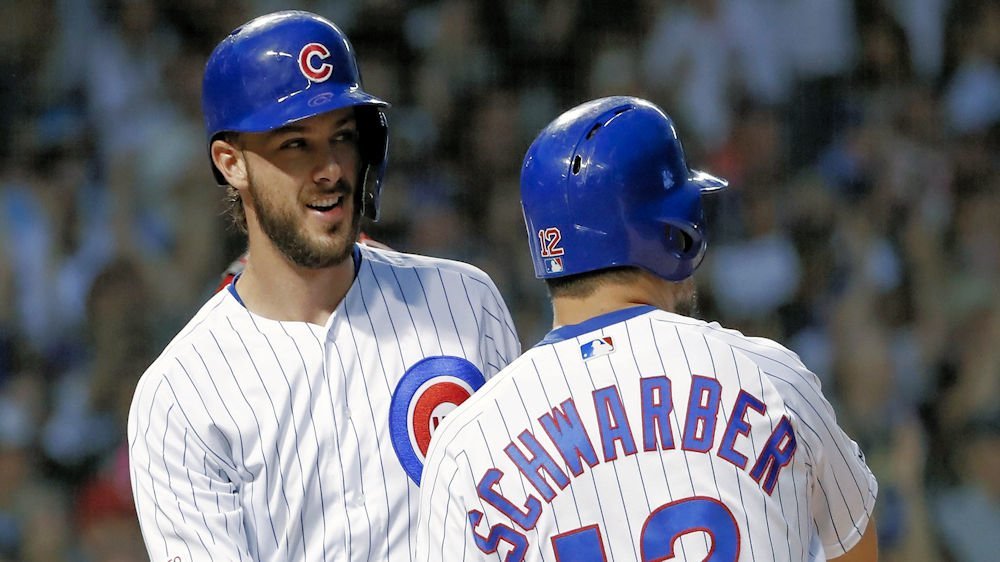 | | |
| --- | --- |
| Cubs vs Mariners Series Preview: TV times, Starting pitchers, more | |
---
| | | |
| --- | --- | --- |
| Monday, September 2, 2019, 12:37 PM | | |
When the Cubs and Mariners last met (April 30-May 1 in Seattle), it was a quick, two-game sweep for the Cubs- their last road series win for almost three months. At that time, Seattle was tucked neatly behind Houston for second place in the AL West (1.0 games back), while the Cubs sat 3.0 games back of St. Louis. The times have changed, and while the Cubs still trail St. Louis for control of the NL Central, the Mariners are languishing 31.0 games behind the Astros.
Injury Report:
CUBS: Anthony Rizzo (day-to-day, back injury)' Willson Contreras (hamstring); Daniel Descalso (ankle): Steve Cishek; Allen Webster (arm); Ben Zobrist: (Day-to-day, restricted list).
MARINERS: Austin Adams (shoulder); Dan Altavilla (forearm); Tim Beckham (80-game suspension for PED); Braden Bishop (abdominal); Brandon Brennan (shoulder); Keon Broxton (two-game suspension for throwing equipment at an umpire); Mitch Haniger (ruptured testicle); Connor Sadzeck (back); Domingo Santana (elbow); Arodys Vizcaino (elbow).
Series Overview:
While the Mariners have nothing to lose, the Cubs have everything at stake, and this two-game set could prove to be what makes or breaks the Cubs in 2019. The Mariners have been limping along, winning as they can, while being decimated by injuries and suspensions, while the Cubs have been doing the same, in part due to an unreliable bullpen and a sluggish offense. Yes, we can argue about my use of the term "limping along" with regard to the Cubs, if you want to, especially after Chicago's recent winning streak and good fortune on the road, but this team has the talent to be five, six, even eight games out in front of the NL Central, and yet they're still clinging to second place.
The Cubs offense has got to show up for these games, and they have to attack Seattle's starters (especially Felix Hernandez) hard and fast. Justus is relatively inexperienced, but if King Felix gets a foothold, trouble is likely to follow.
I think that despite the expanded roster, the starters must go deep for Chicago, as you never what'll be emerging from the bullpen. The Mariners rank in the bottom half of the AL in most offensive stats, but they love to rake triples and steal bases- something that may hinder Jon Lester.
Mound Matchups
Monday: RHP Kyle Hendricks (9-9, 3.47 ERA) vs LHP Justus Sheffield (0-1, 7.94 ERA). Game information: 1:20 PM CDT; Televised on WGN and SAP WGN.
The Professor is due to take the mound for the first game of this mini-series, and he'll be looking to get back on track after the Mets tagged him for six runs on eight hits (2 homers) and a walk over just 4.2 innings last week.
Although Hendricks hasn't seen the Mariners yet this season, the head to head matchups seem to favor Kyle and the Cubs.
Justus Sheffield has never faced any of the Cubs, but his 7.94 ERA over 11.1 innings pitched this year (two starts, one relief appearance) speaks volumes for what the Cubs' offense should be able to do to this kid. Sheffield has yet to make it past 4.1 innings, and in his minimal experience, he's already given up a total of 10 earned runs, three homers, 15 hits and has walked seven. Sheffield's first appearance this year was back in late-April, but then he was shelved until just over a week ago, with him making two starts since August 23.
Tuesday: LHP Jon Lester (11-9, 4.36 ERA) vs RHP Felix Hernandez (1-4, 6.02 ERA). Game information: 7:05 PM CDT; Televised on NBC Sports Chicago.
Last time around (May 1), Jon Lester and the Cubs pummeled the Mariners, scoring nine runs in the first four innings, then adding another pair in the ninth, on their way to an 11-0 shutout. Lester raked eight strikeouts that game, as he cruised through seven solid innings of one hit, one walk, ball.
Lester's ERA was a mesmerizing 1.73 back then, but a ton of bad outings since that time, have seen Big Jon continuing to struggle, elevating his ERA to over 2-½ times that number (currently 4.36).
King Felix Hernandez. Mariner or not, you have to bow to a man who's spent each of his 15 MLB seasons with the same team. During his reign, Felix has logged over 2,700 innings on the mound as a Mariner, collecting 169 wins and 2,508 strikeouts along the way.
When the Cubs faced Seattle on April 30, Hernandez did the pitching (vs. Cole Hamels), but the Cubs were able to get to him for four runs over six innings, coming as the result of eight hits (2 homers) and a walk. King Felix was able to capture a total of eight Ks in the game, but neither he nor the Mariners could hold onto a 3-2 lead by Seattle after the fourth.
Despite coming to Chicago from Detroit, Nicholas Castellanos has only faced Hernandez a total of five times, netting himself a pair of hits in the process. (Go figure.) The bad news is that Hernandez has played hell on the rest of the team, with Jonathan Lucroy's .231 average (13 at-bats) looking promising.
Series Prediction:
Game-1: I think Sheffield will suffer miserably at the hands (and bats) of the Cubs' offense, and God help him if the wind is blowing out.
Game-2: Hernandez can be tough, but he's struggled immensely in what will probably be his final season. Likewise, Jon Lester has struggled as well, but I do believe the Cubs' offense can overcome what little problems Lester may get the Cubs into.
It's been a long while since I predicted a sweep, but I'm predicting one for this series. Cubs take this thing, two games to none.
Next up: Four against the crew at Wrigley North, with action beginning Thursday at 6:10 PM (NBC Sports Chicago).