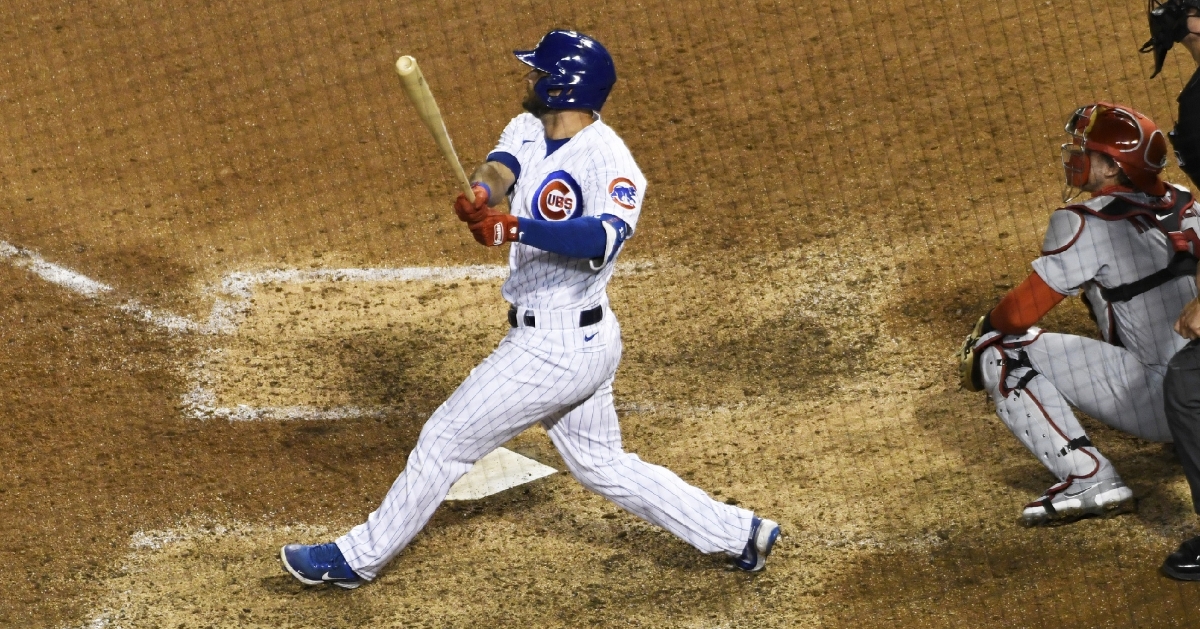 | | |
| --- | --- |
| David Bote's clutch three-run blast saves Cubs in win over Cardinals | |
---
| | | |
| --- | --- | --- |
| Monday, August 17, 2020, 11:20 PM | | |
CHICAGO — Coming into the nightcap of Monday's doubleheader at Wrigley Field, the most prominent hit of Cubs infielder David Bote's career was a walkoff grand slam in a pinch-hitting spot. While it did not quite reach that level of excitement, Bote's pinch-hit three-run blast on Monday night did prove to be the winning hit. The Chicago Cubs (14-7) served as the de facto road team against the St. Louis Cardinals (5-5), as the contest constituted a makeup game of the recent postponed series that was slated to take place at Busch Stadium in St. Louis. Therefore, the Cubs batted first in the contest, something that the Cubs last did at home in 1908.
The Cardinals won game one of the doubleheader 3-1, but the Cubs triumphed 5-4 in game two. A starting pitching matchup between youngsters took place at the Friendly Confines, with Tyson Miller making his MLB debut on the mound for the Cubs and the Cardinals' Alex Reyes making his first big-league start since 2018. St. Louis controlled most of the seven-inning ballgame, but Cubs manager David Ross' decision to use Bote as a pinch hitter in the top of the sixth changed the fate of the contest.
---
Inning-by-Inning Breakdown:
---
T1: Immediately after a passed ball contributed to the Cubs getting on the scoreboard in the top of the first, Reyes and the Redbirds were bailed out by a questionable baserunning decision. Reyes walked three batters in the opening frame, and a passed ball suffered by catcher Andrew Knizner allowed Anthony Rizzo to score from third. Kyle Schwarber tried his luck at coming home but was thrown out to end the half-inning.
Score: Cubs 1, Cardinals 0
---
B1: Other than a two-out walk, Miller was unblemished his first time out.
Score: Cubs 1, Cardinals 0
---
T2: The Cardinals relied on a litany of young pitching in the loss. Ricardo Sanchez relieved Reyes at the start of the second and issued a two-out walk but nothing more in a scoreless frame.
Score: Cubs 1, Cardinals 0
---
B2: Following a leadoff walk, an instance of Miller-on-Miller crimes provided the Cardinals with the lead. Brad Miller skied a 420-foot jack off a first-pitch fastball from Miller. The two-run blast put St. Louis ahead 2-1. Miller walked Harrison Bader later in the inning and balked soon after that. Bader was left stranded, though, as Rizzo made a great play at first base to out Tommy Edman. Edman hit a grounder to Rizzo, who went to the ground and lunged toward the bag in order to out the speedy Edman, swiping first base with his mitt just in time.
Score: Cubs 1, Cardinals 2
M??LLER the sequel pic.twitter.com/ev6UYVZlQ9

— St. Louis Cardinals (@Cardinals) August 18, 2020
Who says you shouldn't dive for 1st?@Cubs #GoCubsGo pic.twitter.com/COyq4shqx0

— Billy Krumb (@ClubhouseCancer) August 18, 2020
---
T3: Rizzo drew his second base on balls of the evening but did not make it beyond first base in the top of the third.
Score: Cubs 1, Cardinals 2
---
B3: Ryan Tepera relieved Miller midway through the third and struck the side out swinging in the bottom half of the inning.
Score: Cubs 1, Cardinals 2
---
T4: Cardinals hurler Rob Kaminsky pitched a three up, three down fourth.
Score: Cubs 1, Cardinals 2
---
B4: Kyle Ryan took the mound for the Cubs in the fourth and struggled, giving up back-to-back solo bombs with one out. First, Miller powered out his second dinger of the game, with the round-tripper to left traveling 367 feet. Max Schrock then hit a 372-footer to left for his first career dinger. Former Cubs outfielder Dexter Fowler went into the seats and retrieved the memento for Schrock. The Cardinals tallied a pair of infield singles with two outs, resulting in Duane Underwood Jr. relieving Ryan and garnering an inning-ending strikeout.
Score: Cubs 1, Cardinals 4
M ?? LLER the sequel's sequel pic.twitter.com/CJkKafxoHl

— St. Louis Cardinals (@Cardinals) August 18, 2020
A Schrocket ??

...and a back-to-back jack! pic.twitter.com/oAutVuUeOu

— St. Louis Cardinals (@Cardinals) August 18, 2020
A class act from Dex: He retrieves Schrock's first MLB home run ball from the empty stands at Wrigley. #STLCards

TV: FSMW Plus
Stream: FSGO - https://t.co/JtxY4ZXQiS pic.twitter.com/1fRIpvxnGf

— FOX Sports Midwest (@FSMidwest) August 18, 2020
---
T5: St. Louis reliever Genesis Cabrera walked the leadoff man, Victor Caratini, but then drew three consecutive outs.
Score: Cubs 1, Cardinals 4
---
B5: Underwood tossed a scoreless fifth, in which he sat the Cards down in order.
Score: Cubs 1, Cardinals 4
---
T6: The Cubbies took the lead in the sixth, thanks to Bote's aforementioned heroics. Javier Baez was hit on the lower body by a pitch to kick things off. Schwarber then made another bone-headed decision by trying to bunt with two strikes and fouling it off for the first out. Tyler Webb entered to pitch and gave up a double to Willson Contreras that caromed off the wall in left field. Baez scored on the two-bagger but hobbled a bit after crossing the plate. In addition to getting beaned, he fouled a ball of his lower body in game one of the doubleheader. Thankfully, "Javy" was able to shake it off and remain in the game. Ian Happ tried for a bunt single but was thrown out, with Contreras advancing to third. After Jason Heyward drew a walk, Bote pinch hit for Caratini and hammered a 434-foot no-doubter out to straightaway center field. The go-ahead three-run bomb served as the second pinch-hit home run of Bote's career.
Score: Cubs 5, Cardinals 4
SANTA MARIA! @BinnysBev pic.twitter.com/JrJy5tPue7

— Chicago Cubs (@Cubs) August 18, 2020
---
B6: Cubs reliever Dan Winkler walked Miller before drawing a foulout and forcing Knizner to ground into an inning-ending double play. The 5-4-3 double play saw the Cubs go around the horn.
Score: Cubs 5, Cardinals 4
---
T7: Making his big league debut, Nabil Crismatt toed the rubber for the Cardinals in the seventh. Rizzo went down to a knee and lifted a double off the wall in right-center against Crismatt. Schwarber drew a one-out walk before Contreras grounded into a fielder's choice that resulted in a force out at second. Crismatt then fanned Happ for the third out.
Score: Cubs 5, Cardinals 4
---
B7: Jeremy Jeffress earned the save for the North Siders, with the Cardinals grounding out twice prior to Daniel Carlson fouling out to the third base side for the game's final out. The win snapped a four-game losing streak for Chicago.
Underwood notched the first winning decision of his MLB career and became 1-0 on the season. Furthermore, Webb dropped to 0-1 with the loss, and Jeffress recorded his second save of the summer.
Final Score: Cubs 5, Cardinals 4
---
Statistical Breakdown:
Chicago Cubs: Batting: 5 R, 3 H, 2 2B, 1 HR, 4 RBI, 3 2-Out RBI, 1 SH, 1-4 RISP, 7 LOB; Fielding: 0 E, 1 DP; Pitching: 5 H, 4 R, 4 ER, 4 BB, 6 K, 3 HR, 0 HBP, 0 IBB, 0 WP
St. Louis Cardinals: Batting: 4 R, 5 H, 3 HR, 4 RBI, 1 GIDP, 0-2 RISP, 4 LOB; Fielding: 0 E, 1 PB; Pitching: 3 H, 5 R, 4 ER, 9 BB, 10 K, 1 HR, 1 HBP, 1 IBB, 0 WP
---
Studs of the Game:
Chicago Cubs: David Bote (PH-2B): 1-1, 1 R, 3 RBI, 0 BB, 0 K, 1 HR, 3 2-Out RBI, 1-1 RISP, 1 defensive assisted DP
St. Louis Cardinals: Brad Miller (DH): 2-2, 2 R, 3 RBI, 1 BB, 0 K, 2 HR
---
Duds of the Game:
Chicago Cubs: Kyle Ryan (RP): 0.2 IP, 4 H, 2 R, 2 ER, 0 BB, 1 K, 2 HR, 0 HBP, 0 IBB, 0 WP
St. Louis Cardinals: Andrew Knizner (C): 0-3, 0 R, 0 RBI, 0 BB, 1 K, 1 GIDP, 1 PB
---
Up Next: Tuesday, Aug. 18, is the only day of this series to feature just one game. The nine-inning contest will begin at 7:15 p.m. CDT on a clear, warm night at Wrigley Field. Expect slightly windy conditions on the evening. Right-hander Yu Darvish (3-1, 1.88) will start on the mound for the Cubs and square off against Cardinals right-hander Daniel Ponce de Leon (0-1, 6.75).
---
Highlights:

Tags: Chicago Sports Baseball
,
David Bote
,
Tyson Miller
,
David Ross
,
Anthony Rizzo
,
Kyle Schwarber
,
Ryan Tepera
,
Kyle Ryan
,
Dexter Fowler
,
Duane Underwood
,
Victor Caratini
,
Javy Baez
,
Willson Contreras
,
Ian Happ
,
Jason Heyward
,
Daniel Winkler
,
Jeremy Jeffress
,
Yu Darvish