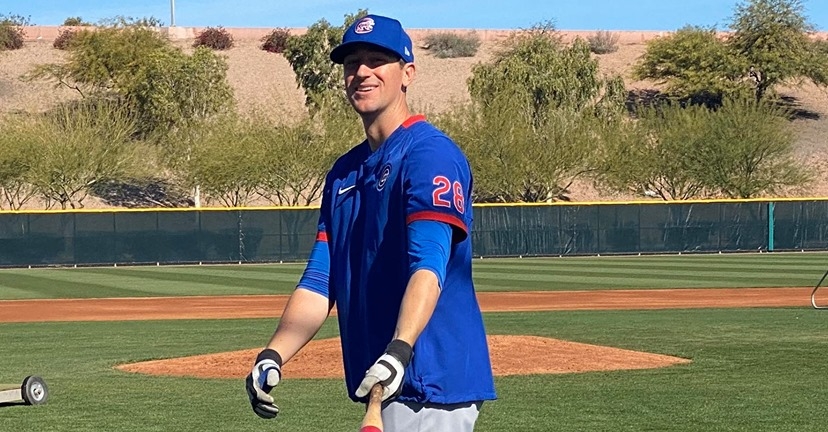 | | |
| --- | --- |
| Everyone can learn from Kyle Hendricks' attitude | |
---
| | | |
| --- | --- | --- |
| Friday, July 24, 2020, 5:01 PM | | |
The day is finally here, Opening Day 2020, for the Chicago Cubs.
After a long and bumpy offseason, preseason, and second offseason, it is time for the Northsiders to begin the 60 game sprint at Wrigley tonight against the Brewers.
And starting the Cubs season off on the mound is going to be none other than the Professor, Kyle Hendricks.
David Ross had announced to the team and informed Hendricks of his decision to give the 30-year-old his first career opening day start.
"Just a really cool experience for me just to be able to say that it's happened," Hendricks said to media recently. "But it was even cooler to have those other guys in the room with me and congratulating me for my first one. Especially guys like Jon (Lester) that have been around so long and somebody that I've looked up to for years on this team and learned so much from him about how to do it, how to go about it the right way."
Ross ultimately decided in Hendricks' favor because he is the most game-ready and stretched out amidst these conditions, but mentioned that Hendo earned it. Back in March, Ross took Lester out of the running despite his pedigree because he wasn't at a place in his career like Yu Darvish and Hendricks were — all while Ross was leaning toward the Professor.
Following Hendricks, the rotation sits nicely. Darvish and Tyler Chatwood follow Hendricks. Then, Lester and Alec Mills round out the rotation until Jose Quintana returns from the injured list after injuring his hand while doing the dishes.
The opening day nod is not a knock on the other pitchers by any means. Darvish is coming off one of the strongest half seasons in his career while still adding pitches to his resume and mastering the art of pitching. And Lester, who has started three of the last four opening days for the Cubs, could be rewarded for his stellar career in Chicago as a workhorse on the mound in both the regular season and the playoffs. Instead, the Cubs and Ross went in a different direction, and Hendricks has earned it.
For Hendricks, it is a well-deserved honor. Among all active pitchers, Hendricks has the second-lowest career ERA.
The accolades are plentiful for him, as he won baseball's ERA title on his way to also winning a World Series ring in 2016.
Hendricks is coming off an 11-10 campaign with a 3.46 ERA. Not his best year, but Hendricks had some electric outings last year.
He won't blow the ball past you, but he can still dominate you because he has come close to mastering the art of pitching. He was hammering the corners with command. That is no better illustrated than his 81 pitch complete-game shutout over the Cardinals last season.
Hendricks has a nasty bite on his changeup, movement on the fastball, and locating a curveball that Hendricks himself has said is the best it's ever been is a solid start for the Cubs' ace — and he showed that during a solid outing in an exhibition game against the White Sox.
Throughout this 60 game season, staying the course and maintaining your emotions will be almost as important as staying healthy and winning, which is why Hendricks' personality is perfect to lead by example for the Cubs during this sprint.
Hendricks brings the same intensity and emotion, whether he is pitching in an exhibition game against the Sox or pitching in game seven of the World Series — both very little. Never too high, never too low... just a constant model of consistency.
When every game matters 2.7 more than the usual game, maintaining that level head is more important than ever, which is why Hendricks' often emotionless appearance is so valuable this season. Hopefully, the rest of the Cubs can follow in his footsteps this go around.
Tonight when the Cubs take the field, it will ironically and likey be to the tune of "Sweet Emotion" and the Cubs will trot out behind their ace and opening day starter Kyle Hendricks.
Now let's hope that we all can watch them fly the w.