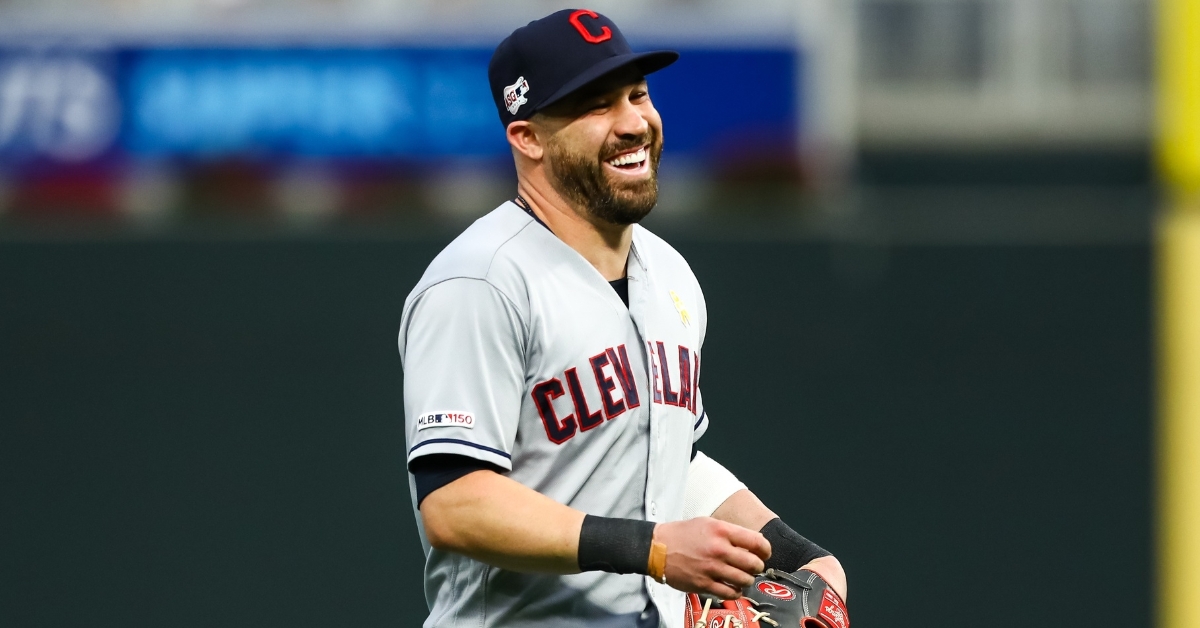 | | |
| --- | --- |
| Five reasons why Jason Kipnis would be a good fit for Cubs | |
---
| | | |
| --- | --- | --- |
| Friday, February 7, 2020, 12:20 PM | | |
The Cubs continue to be in contact with tons of players as they are still fine-tuning their roster just two weeks before spring training begins. One of the positions that continue to be discussed is the current state of second base, which remains a mystery. Ideally, the Cubs and their fans would love for Nico Hoerner to come into Spring and run with the job, which could solve the problem right there.
Let's just say he doesn't do that, then where do the Cubs stand in terms of second. Currently, the Cubs have David Bote, Ian Happ, Daniel Descalso and Robel Garcia whom all played time at second base last season. Add in Hernan Perez as a non-roster invite and the Cubs have plenty of options to fill at second base should Hoerner be sent to AAA. However, the Cubs have also done their homework on the FA market and have been in contact with a few savvy vets that could do the job as well.
Earlier this offseason, the Cubs reportedly inquired about Joe Panik and Scooter Gennett as possible signings to play second. Now a new name has started to pop up in the likes of former Cleveland Indian Jason Kipnis. Of all the names mentioned above, Kipnis is the one I would feel most comfortable with the Cubs taking a chance on, but how exactly would he fit in Chicago.
Chicago is very familiar with Kipnis as a matter of fact as they faced off against him in the 2016 World Series when Jason was at the peak of his game. Born as a Chicago native, Kipnis has always loved the Cubs and has even said it would be a dream to play for them someday. Could his dream be on the verge of becoming a reality?
For his career, the 32 soon to be 33-year-old Kipnis has done a great job as he has put together a solid career. The former teammate of new Cubs coach Mike Napoli, Kipnis is a 261-career hitter with 123 home runs and 135 stolen bases. That includes a .446 slugging percentage against righties as opposed to 342 against lefties.
Although those numbers don't stand out as elite by any means, they are better than what most of the Cubs' current second base options are at this point. Up until last season, Kipnis was a terrific hitter since signing his extension in 2014 and even was a plus .300 hitter for a pair of those seasons. Last season in an injury-riddled campaign, Kipnis saw his average fall to .245 but did manage to smack 17 homers and accumulate 62 RBIs.
After nine long years in Cleveland, the Indians decided to let him go making him a free agent. While his average needs to be better, his defense continues to rate very well according to defensive metrics stats but hasn't had an above-average season since the Indians' World Series run back in 2016. Even though his offensive stats are nowhere near where they once were, he still provides a solid contact rate of 91.4% while offering you solid defense at second.
Kipnis will also come with a cheap price tag, which remains one of the biggest requirements for the Cubs this winter. When you look at some of the names the Cubs have been discussing this offseason, Kipnis is a realistic option compared to either Panik or Gennett. Going off the most recent rumor of Gennett, and both him and Kipnis offer short term upside, improved contact ability, and can be had at the cheap. This could allow the Cubs to bring Hoerner up a little bit slower to make sure he is ready to handle the everyday second base job.
While this is just a rumor right now, it does show us two things about the Cubs as we head into spring training. Not only are they trying to upgrade the team any possible, but it appears they are still focusing on second base despite having Hoerner waiting in the wings.
I like the addition of Kipnis for a variety of reasons for this team.
1. He is a left-handed hitter that is better from the strong side, but still respectable overall.
2. Plays above-average defense, which will be essential for the Cubs at second base this season.
3. He is a hometown boy who would love the chance to play for his favorite team growing up.
4. Will come at a lower price than most free agents or trade targets.
5. He is a veteran who not only knows how to win but will accept any role on the Cubs to make this a better team.
Kipnis is an ideal fit for a roster looking to add a veteran presence while also adding to the team without breaking the bank. We will see if a deal gets done before the opening of Spring in two weeks.