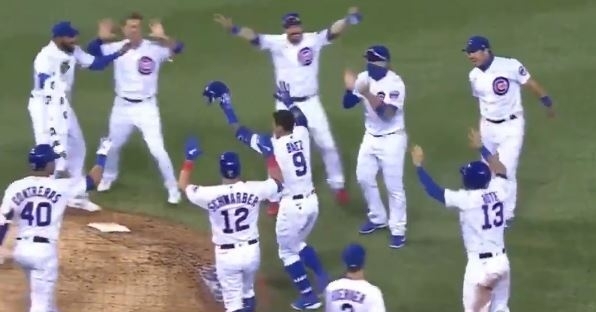 | | |
| --- | --- |
| Fly the W: Cubs sweep Pirates with walkoff win in extra innings | |
---
| | | |
| --- | --- | --- |
| Sunday, August 2, 2020, 7:15 PM | | |
CHICAGO — Winning in walkoff fashion, the Chicago Cubs (7-2) secured a three-game sweep of the Pittsburgh Pirates (2-7) on Sunday. Following a late rain delay, the Cubs and the Pirates went to extra innings, which culminated in Cubs shortstop Javier Baez hitting a walkoff single.
The Cubs won 2-1 in 11 innings, notching a victory in their extra-inning affair of the season. Jon Lester started on the mound for the Cubs and gave up just one run in six innings of work. As for Baez, his lone hit of the day was the walkoff base knock, which led to an interesting postgame celebration at Wrigley Field.
---
Inning-by-Inning Breakdown:
---
T1: Kevin Newman made the first blemish against Lester's ERA this season when he skied a solo home run out to left field in the opening inning. Lester issued a walk and gave up a single later in the inning but only allowed the one run.
Score: Pirates 1, Cubs 0
??GONE@OfficialKBN with a blast to get us going here in the opening frame!#LetsGoBucs pic.twitter.com/Vt8jYON8rd

— Pirates (@Pirates) August 2, 2020
---
B1: Pirates starter Steven Brault breezed through the bottom of the first, striking out two batters on three pitches apiece.
Score: Pirates 1, Cubs 0
---
T2: The Buccos recorded a single in the second inning but did not threaten to add to their lead.
Score: Pirates 1, Cubs 0
---
B2: Brault sat the Cubs down in order again in the second.
Score: Pirates 1, Cubs 0
---
T3: Newman hit a leadoff base knock. Lester later forced Colin Moran to hit into an inning-ending 6-3 double play.
Score: Pirates 1, Cubs 0
---
B3: Brault capped off his shortened start with yet another perfect inning.
Score: Pirates 1, Cubs 0
---
T4: Lester needed just nine pitches to get through the fourth. Steven Souza Jr. made an impressive overhead catch in right field for the third out.
Score: Pirates 1, Cubs 0
---
B4: Chad Kuhl replaced Brault on the mound, and Chicago went three up, three down. Pittsburgh third baseman Erik Gonzalez snagged a line drive off the bat of Baez to usher in the fifth inning.
Score: Pirates 1, Cubs 0
---
T5: Lester struck two batters out looking in a scoreless top half of the fifth.
Score: Pirates 1, Cubs 0
---
B5: Willson Contreras registered the Cubs' first hit of the day with a double that bounced off the left field wall. Contreras hustled to second base and slid in headfirst, avoiding the tag on a close play at the bag. Kyle Schwarber followed that with a double off the wall in center field. Contreras ran through a stop sign at third base and was lucky to score, as he knocked the ball loose from Pirates catcher Jacob Stallings' mitt while sliding across the plate. Kuhl was removed not long after that due to a finger injury. The Cubs sported runners at the corners with two outs soon after that, but Albert Almora Jr. grounded out to leave them stranded.
Score: Pirates 1, Cubs 1
Kyle Schwarber ties the game at 1-1 with an RBI double. #mlb #baseball #cubs #pirates #everybodyin #letsgoteam pic.twitter.com/kPPL9J169K

— Justin Groc (@jgroc) August 2, 2020
---
T6: Lester retired the first two batters to extend his streak of 10 straight Pirates batters failing to reach base. Nico Hoerner ended that streak by allowing a grounder to roll through his legs at second base. Following Hoerner's error, a groundout ended the half-inning.
Score: Pirates 1, Cubs 1
---
B6: Anthony Rizzo singled to right with one out, but the Cubs did not score in the sixth.
Score: Pirates 1, Cubs 1
---
T7: Casey Sadler relieved Lester and worked a scoreless seventh.
Score: Pirates 1, Cubs 1
---
B7: With Nik Turley toeing the rubber for the Pirates, the Cubs were unable to reach base.
Score: Pirates 1, Cubs 1
---
T8: Sadler was removed with runners on first and second and two outs. Dan Winkler entered to pitch and struck Moran out swinging.
Score: Pirates 1, Cubs 1
---
B8: David Bote drew a base on balls with two outs before Rizzo flied out.
Score: Pirates 1, Cubs 1
---
T9: Winkler stayed in to pitch the ninth. He issued a leadoff walk that was followed by a sacrifice bunt. With two outs, a fluky balk call moved the runner to third, but Winkler was bailed out by an ensuing groundout.
Score: Pirates 1, Cubs 1
---
B9: Heavy rainfall between innings culminated in a rain delay that lasted approximately an hour. Once play resumed, Baez swung at the very first pitch and fouled it back. Stallings made a great catch in the netting behind home plate for the first out. Schwarber walked with two outs, but Souza then popped up on the infield and slammed his bat down in disgust.
Score: Pirates 1, Cubs 1
---
T10: For the first time on the season, the Cubs took part in extra innings. With the new rules in place, the Pirates started the 10th inning with a runner on second base. Stallings, who was placed at second, was sent home by the third base coach on a leadoff hit off the bat of Josh Bell. Schwarber gunned a throw home to Contreras, and Stallings was tagged well out in front of the plate. A replay review commenced in order to determine if Contreras was blocking the plate, and the call was upheld. Ryan Tepera pitched a scoreless 10th for Chicago.
Score: Pirates 1, Cubs 1
7-2 putout to lead off the 10th! pic.twitter.com/DxABlG2g90

— Chicago Cubs (@Cubs) August 2, 2020
---
B10: Souza started the bottom of the 10th on second. Pirates reliever Sam Howard walked Ian Happ, and Souza stole an uncovered third base during the course of the next at-bat. However, Howard recorded two straight strikeouts before drawing an inning-ending foulout.
Score: Pirates 1, Cubs 1
---
T11: Pittsburgh's extra inning baserunning woes continued in the 11th. Newman, who began the inning at second, attempted and failed to reach third when the leadoff man hit a chopper right to Baez at shortstop. Baez threw to Bote at third, and Newman was tagged out. Jeremy Jeffress pitched a scoreless 11th for the Cubs.
Score: Pirates 1, Cubs 1
---
B11: Making his MLB debut, Cody Ponce pitched for the Pirates in the 11th, with Bote starting off at second. Rizzo hit a fly ball to deep right that enabled Bote to tag up and advance to third. Soon afterward, with Baez batting, a low pitch got away from Stallings, but Bote held at third. Baez then came through with a clutch base knock up the middle, scoring Bote to give the Cubs the walkoff win. A hilarious socially distanced celebration took place on the infield as a result.
Final Score: Pirates 1, Cubs 2
Right on time, Javy!@pepsi pic.twitter.com/EQANMXRsCO

— Chicago Cubs (@Cubs) August 3, 2020
---
Statistical Breakdown:
Chicago Cubs: Batting: 2 2B, 2 RBI, 2-10 RISP, 7 LOB; Baserunning: 2 2B; Fielding: 1 E, 1 DP, 1 Assist; Pitching: 6 H, 1 R, 1 ER, 1 BB, 4 K, 1 HR, 0 HBP, 0 IBB, 0 WP
Pittsburgh Pirates: Batting: 1 HR, 1 RBI, 2 SH, 1-8 RISP, 9 LOB; Pitching: 4 H, 2 R, 1 ER, 4 BB, 10 K, 0 HR, 0 HBP, 0 IBB, 0 WP
---
Studs of the Game:
Chicago Cubs: Jon Lester (SP): 6.0 IP, 4 H, 1 R, 1 ER, 1 BB, 4 K, 1 HR, 0 HBP, 0 IBB, 0 WP
Pittsburgh Pirates: Kevin Newman (SS): 2-3, 1 R, 1 RBI, 1 HR, 1 SH
---
Duds of the Game:
Chicago Cubs: Nico Hoerner (2B): 0-4, 0 R, 0 RBI, 0 BB, 1 K, 0-2 RISP, 1 E
Pittsburgh Pirates: Colin Moran (DH): 0-5, 0 R, 0 RBI, 0 BB, 2 K, 0-1 RISP
---
Up Next: The Cubs are scheduled to play four games in four days against the Kansas City Royals (3-7), with the first two games taking place at the Friendly Confines and the next two games taking place at Kauffman Stadium in Kansas City, Mo. Monday, Aug. 3, will see the Cubs and the Royals clash at Wrigley Field beginning at 7:15 p.m. CDT. Right-hander Alec Mills (1-0, 3.00) is slated to start for the Cubs against Royals left-hander Danny Duffy (0-1, 5.79).
---
Box Score:
Pittsburgh Pirates at Chicago Cubs | F/11
Aug 2, 2020
1
2
3
4
5
6
7
8
9
Extras
R
H
E
Pittsburgh (2-7)
1
0
0
0
0
0
0
0
0
0, 0
1
6
0
Chicago (7-2)
0
0
0
0
1
0
0
0
0
0, 1
2
4
1
W: Jeremy Jeffress (1-0) L: Cody Ponce (0-1)
---
Highlights:

Tags: Chicago Sports Baseball
,
Jon Lester
,
Willson Contreras
,
Kyle Schwarber
,
Albert Almora
,
,
Anthony Rizzo
,
Casey Sadler
,
David Bote
,
Ryan Tepera
,
Ian Happ
,
Jeremy Jeffress
,
Alec Mills