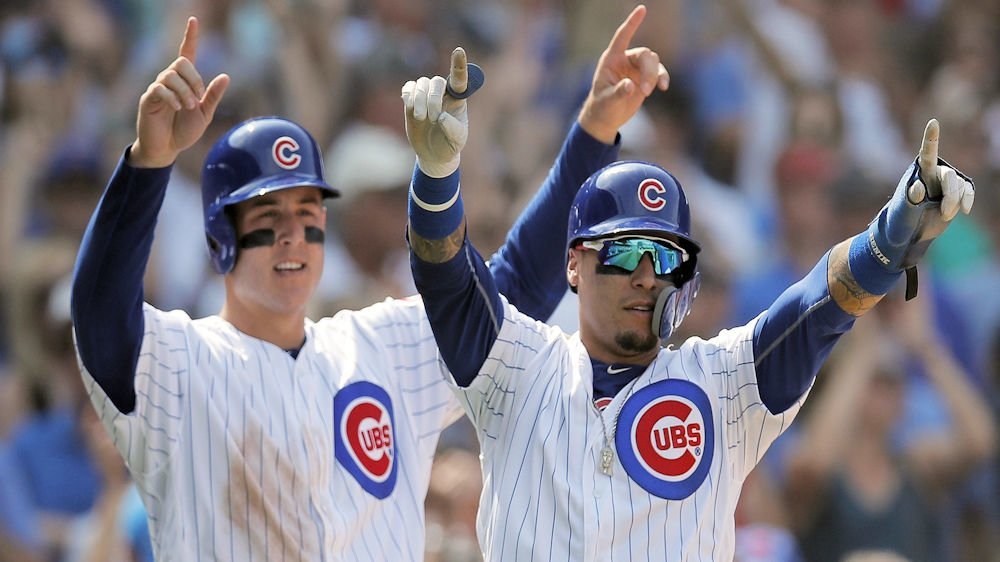 | | |
| --- | --- |
| Fly the W: My Cubs All-time team revisited | |
---
| | | |
| --- | --- | --- |
| Thursday, April 23, 2020, 12:30 PM | | |
During these globally uncertain times amidst the COVID-19 Pandemic, the MLB is experiencing its first April without baseball in years. To compensate, the MLB has decided to put together a list of every franchises' all-time team and create an NCAA tournament-style bracket to create a bit of fun and entertainment during these trying times.
This a way for fans to reminisce, vote, gamble, and experience a fraction of the excitement that the baseball season typically brings.
The MLB's selections for the Cubs all-time team are as follows:
Starters:
C: Gabby Hartnett
1B: Anthony Rizzo
2B: Ryne Sandberg
3B: Ron Santo
SS: Ernie Banks
LF: Billy Williams
CF: Hack Wilson
RF: Sammy Sosa
DH: Andre Dawson
Bench: Kris Bryant, Javier Báez, Mark Grace, Aramis Ramirez, Frank Chance, Jody Davis
Pitchers: Fergie Jenkins, Mordecai Brown, Greg Maddux, Jon Lester, Kerry Wood, Jake Arrieta, Hippo Vaughn, Lee Smith, Bruce Sutter, Pedro Strop, Carlos Marmol
Which reminded me of an article I wrote previously for CubsHQ with my choices for the all-time Cubs Team:
C Gabby Hartnett
Hartnett is a player that not many people are familiar with, but those people missed out on 19 years of a great catcher.
From 1922-1940 as the Chicago Cubs catcher and a dominant force across the MLB. He finished his career with 236 home runs and drove in 1,179 runs across his 20-year career — he played his last year with the Giants before retiring after the 1941 season.
Hartnett collected various accolades across his two-decade-long career, including eight top 20 MVP finishes, two top-two finishes, and one MVP award in 1935. Hartnett made six consecutive all-star games from 1933-1938 and was named to the MLB Hall of Fame in 1955.
Despite being a player that is often forgotten in the storied franchise that is Cubs history, but he was not forgotten on our list of best Cubs catchers — and he assuredly earned the starting spot.
1B Anthony Rizzo
Rizzo is an all-time great right in front of our eyes. He cemented his place in Cubs lore forever by securing the final out of the 2016 World Series in his glove, and slyly placing it in his back pocket.
The Italian epitomizes what it means to be a Cubs fan — he dealt with the heartbreakingly bad seasons — and got to cherish the true triumph of winning the World Series.
Rizzo is a philanthropist and humanitarian in terms of cancer research, mainly because he is a survivor himself.
But if we are calling Rizzo the best Cubs first baseman ever, we've got to justify that with his play on the field.
In just nine seasons, Rizzo already has hit 218 home runs and driven in 729 runs. Rizzo is a surefire bet from year to year to hit 25-30 hr and drive in around 100 runs.
Rizzo brings an old school approach to the plate that has put his batting average at .273 in his career, with a .373 on-base percentage due to his great eye and his 145 hit by pitches all time.
Rizzo has some accolades to go with that sparkly ring, including three gold gloves, a silver slugger award, a platinum glove, and three trips to the all-star game.
Rizzo has set himself up well to get a flag on a foul pole and a statue out front — and earning himself the starting spot on the all-time team.
2B Ryne Sandberg
You all saw this one coming, didn't you? From the "Sandberg game" to the flag flying on the right field foul pole, Sandberg is a Cubs legend. In the 1980s, Sandberg is the one known for putting and keeping the Cubs on the national map, and he did not slow down.
Sandberg won the 1984 NL-MVP, to go along with nine straight Gold Gloves from 1983-1991. Not to mention, Ryno made the all-star game in every season fro 1984-1993, another incredible nine-year stretch.
He played all but one season of his 16-year career with the Cubs and finished his career with Hall of Fame numbers. He made is debut in 1981 and 16 years, 2,386 hits, 282 home runs, 1,061 RBIs, nine gold gloves and all-star games later - Sandberg was the Cubs best and perhaps baseball's best second baseman of all-time.
Sandberg was every Cubs fan in the 80s favorite player, and a huge contributor to the Cubs becoming the NFL's version of America's team as they were aired on WGN across the country — but it was Ryno who made them watchable.
A phenomenal second baseman, the best the Cubs have ever had is Ryne Sandberg.
SS Ernie Banks
Was there ever a doubt? The greatest Cub of all-time is the best shortstop of all-time for the Cubbies. Not only was he the first black shortstop the Cubs had, and the best one, but he was one of the first black players the Cubs ever had — and his contributions were massive.
Remembered for his iconic 500th homer, positive attitude, and saying, "Let's play two," Ernie will forever live on in the Cubs' legacy.
Banks had a smooth right-handed swing that led to 512 home runs, 1,636 RBIs, a .274 average, and a 67.5 WAR.
Banks was a two-time MVP, 14-time all-star, and a gold glove winner — as a consolation to never winning a playoff game.
Banks has the best legacy of any Chicago Cub — being remembered as Mr. Cub — commemorated in a flag with his name and number flying on the left-field foul pole and a statue that stands just feet away from the iconic ballpark's main entrance.
Without a doubt, Mr. Cub is the best shortstop the Cubs have ever had.
3B Ron Santo
Ronny was everything it meant to be a Cub, the joy and the heartbreak intertwined. Santo showed it off on the field and supplemented that in his time in the broadcast booth.
Santo has a flag flying in left field for the immense impact he made in Chicago and was finally named to the Hall of Fame in 2012.
Santo's boyish features are similar to those of Bryant's, quickly making him a fan favorite in the sixties.
Santo never got to experience real winning in Chicago, but he did earn five gold gloves and nine all-star game appearances in what was a truly remarkable career.
That all was more than enough to earn Ronny the starting spot on our all-time team.
LF Billy Williams
Sweet singing Billy Williams gets the nod in left field.
Billy was a staple for the Chicago Cubs from 1959 until 1973 — and is still heavily involved with the organization.
Williams hit 426 career home runs, drove in 1475 runs and had a career batting average of .290, and was known for his smooth looking swing from the left side of the plate.
Williams continued to rack up accolades throughout his career, including six trips the all-star game, a Rookie of the Year award in 1961, a batting title in 1972, and he was named a Hall of Famer in 1987.
Williams was also awarded a flag on Wrigley's right-field flag pole and a statue of him batting left-handed outside the iconic park.
Williams is unquestionably the Cubs' best left fielder of all time.
CF Hack Wilson
Wilson takes the cake in our countdown of top centerfielders in Cubs history. Hardly anyone reading this will have remembered Wilson's play, but he was an absolute force for the Cubs in the 1920s and 1930s.
Wilson hit 190 of his 244 career home runs and drove in 769 of his 1063 career RBIs while playing for the Cubs. He finished his career with a .307 batting average and was a sound center fielder throughout his career.
Hack had a career war of 38.9 in the early ages of baseball and was recognized by the MLB by being named to the Hall of Fame in 1979, over 30 years after his way too early death in 1949.
He is also recognized here, in our all-time Cubs lineup.
RF Sammy Sosa
We know there is some controversy behind this pick - because of Sosa's involvement in the steroid era of baseball and his disconnection from the franchise since.
But no one, and I mean NO ONE, ignited a Wrigley Field crowd like Sammy.
Sosa paced some dominant Cubs teams in the last 1990s and early 2000s - and put butts in seats at Wrigley Field. He was involved in the great home run chase with Mark Mcguire and was one of the faces of the game when the game needed it most to get back on the map.
He is the one Cub part of the 600 home run club, he drove in 1667 runs and had three seasons with over 60 home runs. Although those numbers are tainted from that era as a whole and Sosa's proven involvement with performance-enhancing drugs.
Sosa won an MVP, made the all-star game seven times, and won the silver slugger six times on top of his memorable home runs.
That and more is enough for the all-time team, but still not enough for Sosa to be named to the league's Hall of Fame. Maybe that changes eventually?
BENCH
Kris Bryant
Kris Bryant could have easily been a starter, and very well may end up there, but because he is not a hall of famer *yet* he comes in at a bench player on our all-time team.
Bryant, the player who fielded the groundball that was eventually turned into the out that clinched the Cubs' first World Series Championship in over a century.
But Bryant's contributions to the Cubs in his five-year career have been plentiful. He was the Cubs' most hyped-up prospect ever and has consistently delivered. He was named college player of the year and minor league player of the year before hitting his way to the big leagues.
KB didn't stop there — he won the rookie of the year in 2015 and was an offensive force for the 2016 champions and won the 2016 NL MVP award.
Bryant has bounced around the field and played as a very versatile player, but the majority of his career has been at third base. His 138 homers are the most by a Cub in his first five seasons, and Bryant has also been named to three all-star games, among other accolades.
Bryant could find himself in the lineup at some point, especially if his days in Chicago aren't numbered — but as it sits now, he is the second-best third baseman the Cubs have ever had.
Andre Dawson
How can we put into words how good the Hawk, Andre Dawson was. Well, for one, he won the 1987 MVP award on the last place Cubs team, where he hit 49 home runs and drove in 137 runs.
Dawson was the definition of a five-tool player and collected accolades in his career to prove it. He is one of the only players ever to have 2500 or more hits (2774), 1,500 or more RBI (1,591), 500 or more doubles (503), 400 or more homers (438) and 300 or more stolen bases (314).
Aside from winning the MVP, he was named the Rookie of the Year in 1977, he was both an eight-time all-star and eight-time gold glover, and he won four silver sluggers.
He was named to the Hall of Fame in 2010 and could indeed have started on this team.
Javier Baez
Javy has played dynamically at both second base and shortstop in his career — a testament to his unworldly athleticism and magic he can create with his quick glove and rocket of an arm.
After making a 2018 all-star game as a second baseman, Baez followed his second-place MVP finish with a strong 2019 — leading to becoming the first-ever player to start back-to-back years in the middle infield at different positions in the all-star game.
Baez flashes with his glove, his base running, his long, violent swing, and his vibrant personality — he is arguably a face of the MLB. Baez will be featured as the cover athlete of MLB the Show, a nice tribute to somebody who is nationally recognized as one of the best the sport has to offer.
Baez was on the field when the Cubs clinched that World Series victory in 2016, and with shortstop now his to lose and the Cubs are reportedly working on a long term contract extension — Javy has room to improve his career resume and earn a spot on the all-time team.
Cap Anson
Odds are you may not have watch Anson play, mainly since his 27-year playing career saw the beginning of the Chicago Cubs and ended in 1897.
Anson did not showcase a ton of power, but his contact skills were ahead of his time. He had 3,435 hits and finished with a career batting average of .334. Not to mention, Anson won four batting titles in his career as a Chicago Cub.
Although his playing career ended before the Cubs won their three World Series in the early 1900s (yes, the ones that were 108 years apart from the next one), his contribution to the franchise should not go overlooked as he earns a spot on the all-time team.
STARING PITCHER(S)
Greg Maddux
Maddux's finesse style and impeccable command were perfected. Maddux was incredible in his career despite not having a high velocity on his fastball.
Maddux began his incredible career with the Cubs in 1986, and his 23-year career ended with the Dodgers in 2008. Maddux played for the Cubs until 1992, then played for the Braves for the next 11 years before returning to the Cubs for the next three years of his career. He finished with the Dodgers and Padres and wowed the entire way.
Maddux ended his career with a 106.6 WAR, with 355 wins and 3.16 ERA and over 3,000 strikeouts.
Maddux won the 1995 World Series with the Atlanta Braves. The original Professor also won the ERA title four times, won 18 gold gloves, and won the Cy Young award four times. Maddux was also named to eight all-star games and the Hall of Fame in 2014.
133 wins and 47 complete games of his magical career were in Chicago — and assuredly earned him a spot on our all-time team.
Ferguson Jenkins
Despite Maddux being an overall better pitcher, it's no secret that Fergie (who shares number 31 with Maddux). Is deserving of our a spot
Both Jenkins and Maddux numbers fly on opposite foul poles, and both for great reason.
In 19 years in his career, Jenkins spent ten seasons in Chicago. Jenkins ended his career with 284 wins and pitched to the tune of a 3.34 career ERA.
167 of those wins came for the Cubs.
Jenkins threw 154 complete games in his Cubs career, 29 of them shutouts — and threw 267 and 49 respectively in his career in total.
Jenkins won a Cy Young award in Chicago in 1971 and made three all-star games in his career, all for the Cubs. Jenkins also had six top 25 MVP finished, and five additional top 10 Cy Young finishes.
Jenkins was elected in the Major League Baseball's Hall of Fame in 1991 — and his career fits the all-time roster very well.
RELIEVER(S)
Bruce Sutter
It would be a crime if we did not include Hall of Famer Bruce Sutter on our all-time team. Many Cubs fans remember Sutter for serving up a pair of game-tying homers to Cubs legend Ryne Sandberg in the Sandberg game, but many forget how dominant he was.
Sutter was a Cub before the showdown with Sandberg, and he spent the first five years of his twelve-year career with the Cubs and was named to four consecutive all-star games during that time. Sutter tallied a perfect 300 saves in his career, and 133 of those came in Chicago.
A career .280 ERA with over 800 strikeouts was enough to earn Sutter Hall of Fame honors in 2006 and is enough to earn him a spot on our team.
Lee Smith
Lee Smith spent the first eight years of his 18-year career in Chicago, before bouncing around the league for ten years. In his nearly decade long stay, Lee Smith was a staple in the backend of a bullpen that dominated for part of the 80s.
Smith shaped the closer position into what it is today and was the league's all-time save leader for many years before Trevor Hoffman, and Mariano Rivera leapfrogged him in the past decade.
Smith had electric stuff that would play in any time period, but dominated from 1980-1997. Smith saved 180 of his record-setting 478 games in Chicago — and will forever be remembered (for now) as the best reliever the Cubs have ever had.
Smith was named to the Hall of Fame in 2019, a very late but well-deserved honor for the best reliever to put a Chicago Cubs uniform on.
Here's how I put this lineup together:
Anthony Rizzo
Ryne Sandberg
Ernie Banks
Sammy Sosa
Hack Wilson
Billy Williams
Ron Santo
Gabby Hartnett
Pitcher (Bryant or Dawson for DH)
There you have it, my Chicago Cubs all-time team which is relatively similar to that of the one chosen by the MLB.
In MLB's mock tournament, the Cubs have their opening game of the seven-game series to be simulated against the All-Time New York Mets.
The Mets' all-time team looks like this:
Starters:
C: Mike Piazza
1B: Keith Hernandez
2B: Edgardo Alfonzo
3B: David Wright
SS: José Reyes
LF: Cleon Jones
CF: Carlos Beltrán
RF: Darryl Strawberry
DH: Pete Alonso
Bench: Howard Johnson, John Olerud, Mookie Wilson, Yoenis Céspedes, Tommie Agee, Gary Carter
Pitchers: Tom Seaver, Dwight Gooden, Jerry Koosman, Jacob deGrom, Al Leiter, Sid Fernandez, Johan Santana, Tug McGraw, Jesse Orosco, John Franco, Seth Lugo
If the Cubs beat the Mets in this simulated seven-game series, the Cubs will advance to face the winner of the all-time Giants and all-time Brewers. We at CubsHQ will keep you posted on the simulated results.