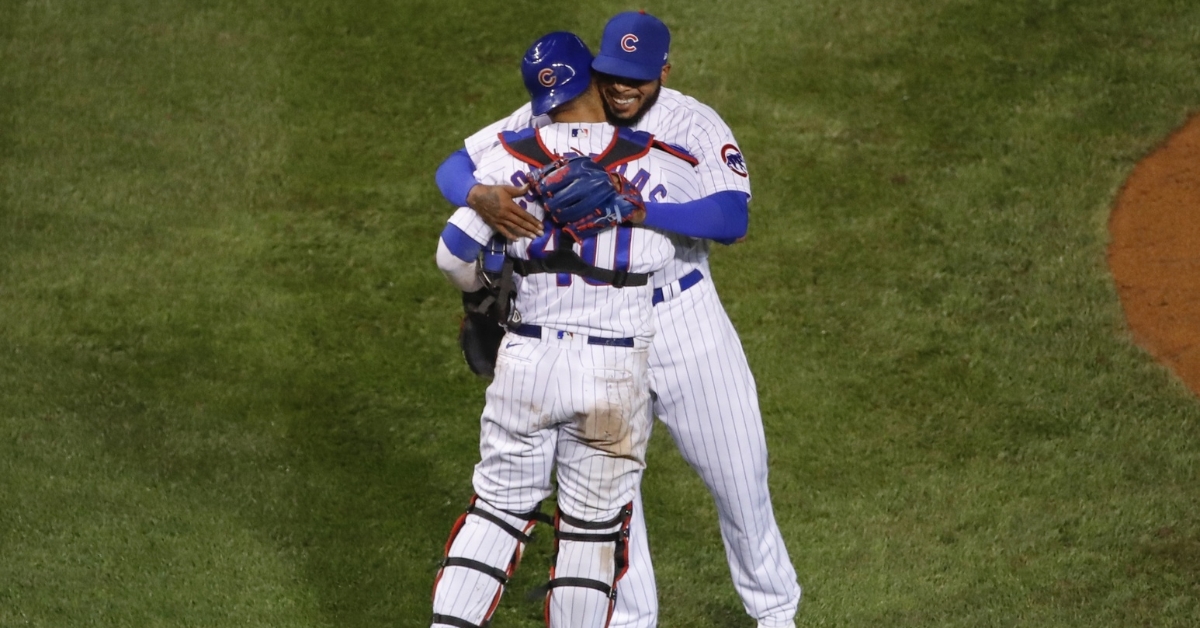 | | |
| --- | --- |
| Four Takeaways from Cubs-Reds Series | |
---
| | | |
| --- | --- | --- |
| Friday, September 11, 2020, 11:20 AM | | |
Just when it looked as if the Reds were about to take two of three from Chicago, the Cubs found a way to rally against Sonny Gray and claim the series 2-1. Not only that, the win last night gave them a winning record against Cincinnati this season (6-4) and has the Cubs three games ahead of the second-place Cardinals for the stretch run.
With St. Louis still having a few double headers left to play, the Cubs know now is the time to get things right with hopes of putting together a solid end of season run. Cincinnati was a team many felt would not only contend but walk away with the Central Division title this season. For whatever reason, their offense still hasn't played the way they expected as the team sits in fourth place and has an uphill battle for the postseason. Here are four takeaways from the series.
Give Credit where credit is due
Whether you're for or against Trevor Bauer's post-game comments from Tuesday, I must give credit to the Reds pitcher. Going back to last season, Bauer was added to an already great staff and helped them become the best in the National League in 2019.
This season, Bauer was off to a CY young type of start before a few minor setbacks took him out of that conversation. We saw Tuesday how good Bauer can be, and we saw how good Gray can be through three innings last night. The Reds pitching is legit, and I must give them credit for finding ways to keep the Cubs offense quiet for nearly three games.
All good things come to an end
The run Yu Darvish has been on this season is nothing short of incredible, but you know it had to end sometime. Take away his first start of the season, and Darvish has not only won every decision since but has nearly been untouchable in the process. Tuesday saw a Darvish we haven't seen in two months even though it lasted just one inning.
Up against Bauer for a second time, Darvish struggled with his command, where he not only walked consecutive hitters for the first time this season but walked more than two hitters in a game for the first time in over a year. Darvish also hung a breaking ball to Mike Moustakas, who deposited it in right for a 3-0 lead.
While that first inning was a rough one for Darvish, he didn't allow another run for the rest of the night as he quickly found himself once again looking like the Darvish of the past year. I am not worried about his outing as it was one hit that did him in. He is still the ace of this staff and is still a Cy Young contender at this point in the season.
Yu Darvish still a frontrunner for NL CY Young: https://t.co/TRAQMU2NF6 pic.twitter.com/Ndzjk92KvB

— CubsHQ.com (@ChicagoCubsHQ) September 10, 2020
Willson Contreras is snapping out of it
Most of the talk all season long has been about the Cubs offense and the struggles it continues to have. When six of your nine regulars are hitting under 240, it is incredible this team is where they are in the standings. While some of their stars are not coming around, Willson Contreras is starting to come around.
His average is still sitting in the .260 range, but going back to the Tigers series on, he has raised his average nearly 50 points as he appears to be locked back in. His power numbers are not where you would expect during a streak like this. However, his eye at the plate is what is turning his season around. Not only is he working counts, but he is laying off the tough pitches forcing pitchers to pitch to his strengths or working a walk. Hopefully, this recent trend continues the final two weeks of the season, as his bat will undoubtedly be needed.
With this great night (4-for-4, walk), Willson Contreras is basically at his career numbers.

Entered .265/.350/.464, .348 wOBA, 115 wRC+ for his career.

Now at .261/.361/.430, .345 wOBA, 114 wRC+ this season.

— Matt Clapp (@TheBlogfines) September 11, 2020
A season-changing win?
The Cubs have been in first place for most if not the entire season, but ever since their 13-3 start haven't been the same team. They're struggling to hit the ball, starting pitching is inconsistent, and the bullpen continues to be a work in progress as David Ross is looking for his best arms.
Even with those struggles, the team remains in first, although their lead in the division continues to shrink with the pesky Cardinals staying alive. Facing a pitcher who has dominated them in the past and danger of their lead shrinking to just two games, the Cubs found a way to not only rally against Gray but chase him out of the game in the third inning as they plated five runs that frame.
The #Cubs offense finds its spark. @pepsi pic.twitter.com/gvOTMwokO6

— Chicago Cubs (@Cubs) September 11, 2020
A win like that against a pitcher of Grey's caliber could be what I like to call a season-changing win as maybe that is the wake-up call the Cubs need down the stretch. With 15 games left, the Cubs are in an excellent position to not only win the division but make the playoffs as a wildcard team at the very least. Their schedule will not be easy from here on out.
Hopefully, the Cubs continue to focus on winning series, and the rest will take care of itself.