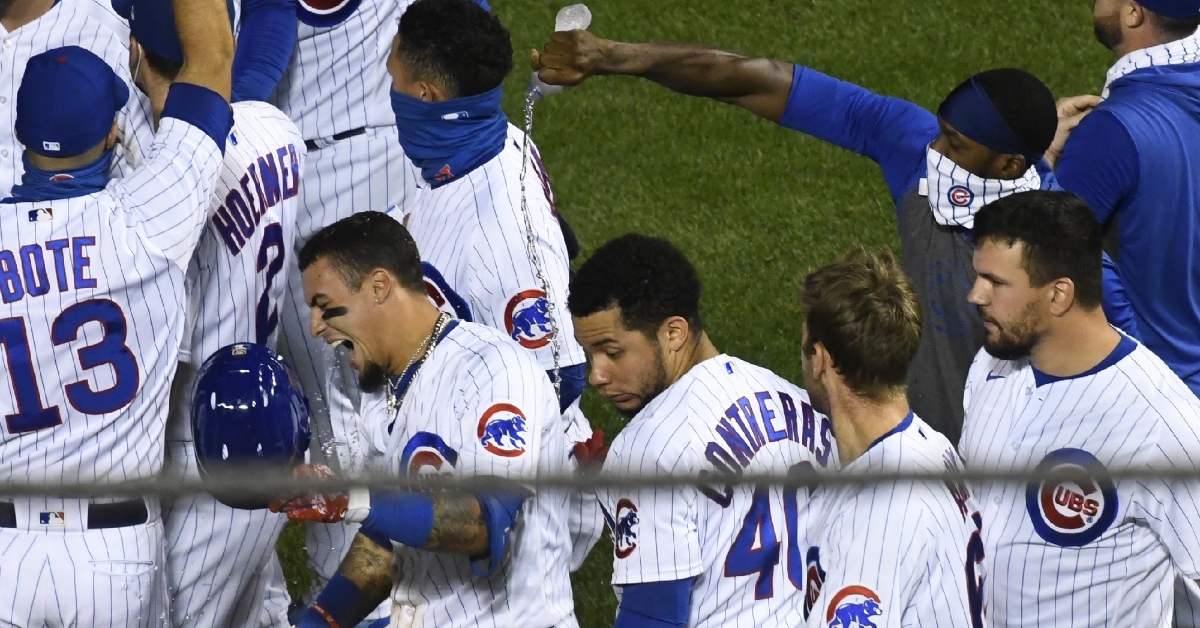 | | |
| --- | --- |
| Four Takeaways from Cubs sweep of Indians | |
---
| | | |
| --- | --- | --- |
| Thursday, September 17, 2020, 6:01 PM | | |
That may have been one of the more exciting two-game series you can have as the Cubs completed the Indians' mini-sweep. Not only that, but Chicago also swept the season series going 4-0 against the Tribe in 2020, and are now 7-3 against the Indians over their last 10 meetings dating back to the World Series.
Chicago may have caught Cleveland at the right time as the Cubs are now riding a four-game winning streak while the Indians are currently in the middle of an eight-game losing streak. Not to mention the Cubs also missed their ace, Shane Bieber, in both series this season, so the Cubs dodged a bullet there. Despite all that, Cleveland played the Cubs tough in all four games this season, especially in Wrigley's most recent series.
This had a postseason feel, and this is what the postseason should look like for most teams in 2020. After starting 13-3, the Cubs have gone through their fair share of struggles, but have climbed back to a season-high 10 games over as we reach the stretch run.
Here are some takeaways from this series sweep of Cleveland.
Yu Darvish is human: To say we have been spoiled by Darvish this season would be an understatement. Not since the run that Jake Arrieta went on in 2015 has a Cubs pitcher been as dominant as Darvish has since last July. He is proving to be worth every penny the Cubs spent on him.
However, over his last two outings, Darvish has yielded six earned runs after yielding seven earned runs in his previous eight starts. That proves he is human, after all. Despite allowing six earned runs across his last two starts, Darvish managed to throw 13 innings in those outings as his ERA is still under 2.00 at 1.86. If his outing against the Indians and the Reds is a bad outing for Darvish, I will take that all day long, given how tough he has been.
.@faridyu has struck out at least 7 batters in 8 of his 10 starts. pic.twitter.com/k6mKNi3C03

— Marquee Sports Network (@WatchMarquee) September 16, 2020
Cubs have corner cannons: Jason Heyward was not the most liked player over the past five seasons, but his defense has never been questioned. While most people talk about his gold glove defense, we tend to forget his accurate and robust arm on full display Monday when he nailed Francisco Lindor at home.
Heyward has always had a good arm, and teams respect it enough to know not to test him too often. Add that to the arm that Kyle Schwarber has in left, and the Cubs have two cannons in the outfield that sit in left and right. A strong and accurate arm is a game-changer, but teams must think before acting on the bases when you have a pair of them.
92.3 MPH from Heyward to nab Lindor. pic.twitter.com/dGIdDI8ZiC

— Marquee Sports Network (@WatchMarquee) September 16, 2020
Cubs lineup taking shape: With 10 games left until the postseason, the Cubs are hoping to start peaking in hopes of playing their best ball of the season. It appears the lineup is beginning to take shape from an offensive side of things as we may have found the postseason lineup.
Ian Happ is going nowhere in terms of the lineup, but the rest of the lineup has struggled all season long. Willson Contreras has begun to heat up and has moved from the six spot up to the four. Kyle Schwarber continues to struggle, moving down to the five spot while Jason Heyward continues to crush the ball out of the seventh spot. Even though Kris Bryant and Anthony Rizzo continue to struggle in the NO. 2 and 3 spots, they have been putting together much better at-bats in recent weeks, which has helped them see some results.
However, one player who appears to be getting locked in is Javy Baez. After sitting in the top four most of the season, Baez looked lost at the plate and was looking like a rookie once again. It David Ross a long time to do it, but Baez has been dropped to the six spot in the lineup, and let me tell you it may be the best thing Ross could have done.
Having Baez hit in any regard will make this team better, but he is starting to hit the ball hard. Yes, the strikeouts are still there, but since moving down, the contact is more consistent and harder. Maybe that is because he doesn't have the pressure to drive in runs as he did in the cleanup role. Regardless of the reason, Baez needs to stay in the six spot as the Cubs offense could reach their early-season success.
Two-out, two-strike magic!#ElMago #WhereStoriesPlay pic.twitter.com/NWc02MeW7O

— Chicago Cubs (@Cubs) September 17, 2020
End of an Era at Wrigley: Although nothing is official yet, Jon Lester may have made his last start at Wrigley as a Cub last night. The 36- year old lefty signed as a free agent in 2015 and is eligible to become a free agent again next season. Unless the Cubs wild card series goes three games, last night appears to be Lester's final start in his Cubs career.
Lester was emotional last night, stating that he never thought six years could go so fast. Even if his production the past few seasons hasn't been where we would have liked, he will go down as one of the best free-agent acquisitions in Cubs history as he helped break a 108-year curse.
I would love for the Cubs to pick up Lester's option next season, but at 37, 25 million dollars would be steep. Maybe the Cubs let him test the market only to bring him back for a cheaper deal. I know he loves this city, I know the fans love him, and with no fans in the stands this season, he wasn't able to get the swan song he deserves. Lester deserves to have the fans see him one last time and if he is done after this season. He will forever have a place in Chicago.
Blown away by all the love y'all. Make no mistake Chicago is home, the Cubs are family, and there's no uniform I'd rather wear next year for my 200th win. But for now let's ring in 2020 like it's 2016! #NVRQT

— Jon Lester (@JLester34) September 17, 2020
Jon Lester forever. pic.twitter.com/1EOxsmWtS0

— Chicago Cubs (@Cubs) September 17, 2020

Tags: Chicago Sports Baseball
,
Yu Darvish
,
Jake Arrieta
,
Jason Heyward
,
Kyle Schwarber
,
Ian Happ
,
Willson Contreras
,
Kris Bryant
,
Anthony Rizzo
,
Javy Baez
,
David Ross
,
Jon Lester