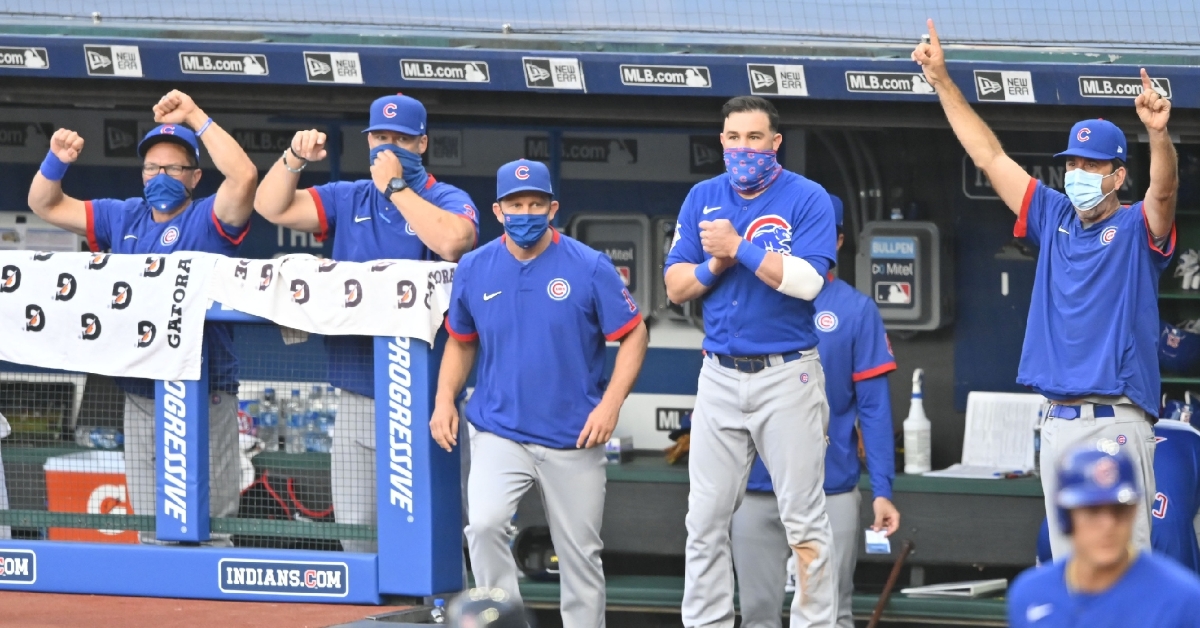 | | |
| --- | --- |
| Four takeaways from two-game sweep of Indians | |
---
| | | |
| --- | --- | --- |
| Thursday, August 13, 2020, 10:40 AM | | |
The beat goes on for the 2020 Chicago Cubs as they continue to impress under first-year manager David Ross. Not only are the Cubs coming off another mini two-game sweep, this time over the Indians, but they have yet to lose a series this year. Not to mention they are also the only team in the league that has yet to lose consecutive games, and you can see why they have the best record in the MLB at 12-3.
When looking at this team, it is impressive that they are 12-3, given their top three hitters in the lineup really haven't gotten going yet. That is scary to think about when you look at the track record of Kris Bryant, Anthony Rizzo, and Javier Baez, knowing how good they can be when they get hot. The pitching continues to lead the way, and if this is what we are going to get all season, Chicago will win a ton of games.
Here are a few takeaways I took from the series.
Rust? What Rust?
After having their weekend series with the Cardinals postponed due to COVID-19 in the Cardinals organization, the Cubs had four days off before opening their series with Cleveland. Given how well the team was playing heading into that layoff, I was a little concerned it would throw them off and mess up their mojo.
I am happy to admit I was wrong and that the time off didn't bother the Cubs. They continue to play well and pick up where they left off, but the offense got back on track after struggling for a handful of games. Starting pitching was solid, and even the bullpen pitched well, allowing just one earned run in six innings of work. That is going to be the recipe for success for this team.
Back at the scene of where it all happened. And the @Cubs are rolling!#MLBCentral pic.twitter.com/2EjDw9OJPK

— MLB Network (@MLBNetwork) August 13, 2020
Lester is pitching like an ace again
With having the weekend off, the Cubs did some shuffling in the rotation as Lester pitched his regular spot in the rotation with everyone else moving around. The extra time off sometimes affects veterans, but in this case, Lester continues to provide the Cubs with great outings.
In three starts this season, Lester has yet to allow more than one earned run in any of those starts and continues to pitch like the ace he was three seasons ago. Yes, he may not be overpowering anymore and pitches to contact more than ever, but he is crafty and knows how to get outs. This is the Lester I was hoping to see this season as I felt last year, he never was able to reincarnate himself. Lester knows he is at that point in his career where he is no longer an overpowering ace and has shown he can adjust to the game.
Since 2016, Jon Lester ranks 3rd in the majors with 48 starts of at least 6 IP and one or fewer runs allowed.@NationalPro pic.twitter.com/k8Tt2lPrkj

— Chicago Cubs (@Cubs) August 12, 2020
A week ago, I was all on board with having Jeremy Jeffress be inserted as the team's closer. I'm still on board with that as he has yet to allow an earned run or even a hit. His velocity is getting back towards the 95 MPH range. However, Wick is starting to supplant himself as a guy who also has the stuff to close.
Not only does he have a mid 90's heater, but his over the top, 12-6 curve is a hammer pitch that is making hitters look silly. Wick has his moments where he struggles, but for the most part, he has a closer mentality written all over him. I would leave him in the role he is in and only give him save chances if the Cubs have no other options. However, the more I watch this man pitch, the more I like him as the Cubs have found a diamond in the rough.
Rowan Wick, Wick-ed Curveball. ??

Not sorry. pic.twitter.com/Dfxydb8McS

— Rob Friedman (@PitchingNinja) August 13, 2020
Has Jason Kipnis overtaken Nico?
The talk all spring was the weather or not Nico Hoerner was going to be sent to AAA or do enough to make the big-league club. After the Cubs and Jason Kipnis agreed to a minor league deal, many thought Kipnis had the inside track to open the season at 2B, allowing Nico to be brought up slowly. Once the minor league season was officially canceled, Nico was getting the opening day nod at 2B, but now has been getting less playing time.
I am not sure if this was by design or not, but once Kipnis made the team, you knew he was going to get his fair share of at-bats. Hoerner was making it hard for him to get those at-bats the first week of the season as he hit the cover off the baseball. Since then, however, Hoerner has been scuffling at the plate, which has allowed Kipnis to get more looks in the everyday lineup.
So far, that has worked as Kipnis has started six games this season and has recorded at least one extra-base hit in each game. He is hitting north of .340 currently. Watching Kipnis play, you can see how much more comfortable he is getting as he sees more at-bats. I wonder if he has earned more of an everyday 2B job over Hoerner, much like Ian Happ took the CF job away from Albert Almora.
Hoerner will still get his at-bats this season as the Cubs want to see what they have in him. The problem is where and when will he get those at-bats. Kipnis is crushing it right now, and I do not want him to sit now. Should Hoerner get in the lineup, I would like to see him in CF or move Kipnis to DH to keep his bat in the lineup. Regardless, the Cubs are proving that depth is not an issue this season.
Jason Kipnis salutes the Cleveland fans after video tribute.#Indians#Cubs pic.twitter.com/yjCnM3fP4S

— Tom Withers (@twithersAP) August 11, 2020
Has Jason Kipnis earned himself more playing time?@ColeWright & Ryan Sweeney make their case. pic.twitter.com/MYpARRmpyR

— Marquee Sports Network (@WatchMarquee) August 13, 2020